American Enterprise Institute
Expanding human potential and building a safer world.
The American Enterprise Institute (AEI) curates research and educational resources for current affairs issues. With a broad scope of publications, AEI required a streamlined content database with filtered search features for a cohesive user experience.
Originally, AEI had four different properties on separate platforms. To maintain their identity as a powerful think tank, they required site strategy and a unified structure. WDG partnered with AEI to migrate the four properties into a single streamlined experience on WordPress with flexibility and consolidated content management capabilities for admins.
Challenge
To maintain AEI's identity, they required a comprehensive site strategy and unified structure.
Solution
Migrated AEI's four properties into a single streamlined experience on WordPress with flexibility and consolidated content management capabilities for admins.
Result
Improving AEI's site structure has leveraged user transactions, new user registrations, user profile updates, and event registrations.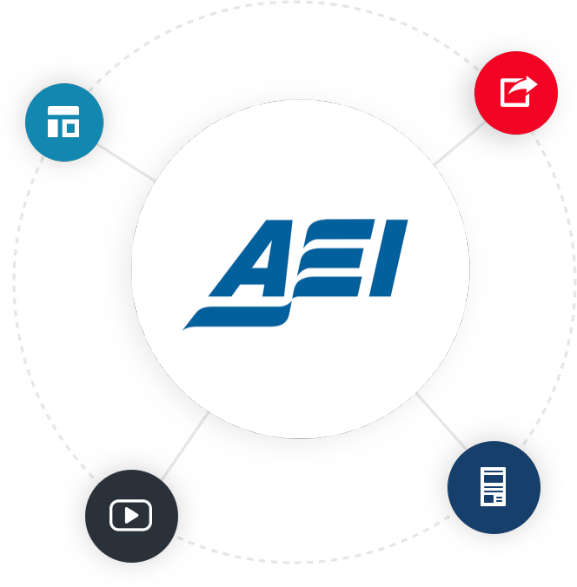 Seamless site integration.
WDG partnered with AEI to integrate four distinct properties, each built on separate platforms, into a single, unified site. As a publication-based site, over 50,000 pieces of individual content needed to be migrated to a common content database. WDG strategists and designers worked to create a consolidated hub for different content types, topics, authors, and media by implementing a new taxonomy structure and reorganizing the information architecture to create a more streamlined user experience.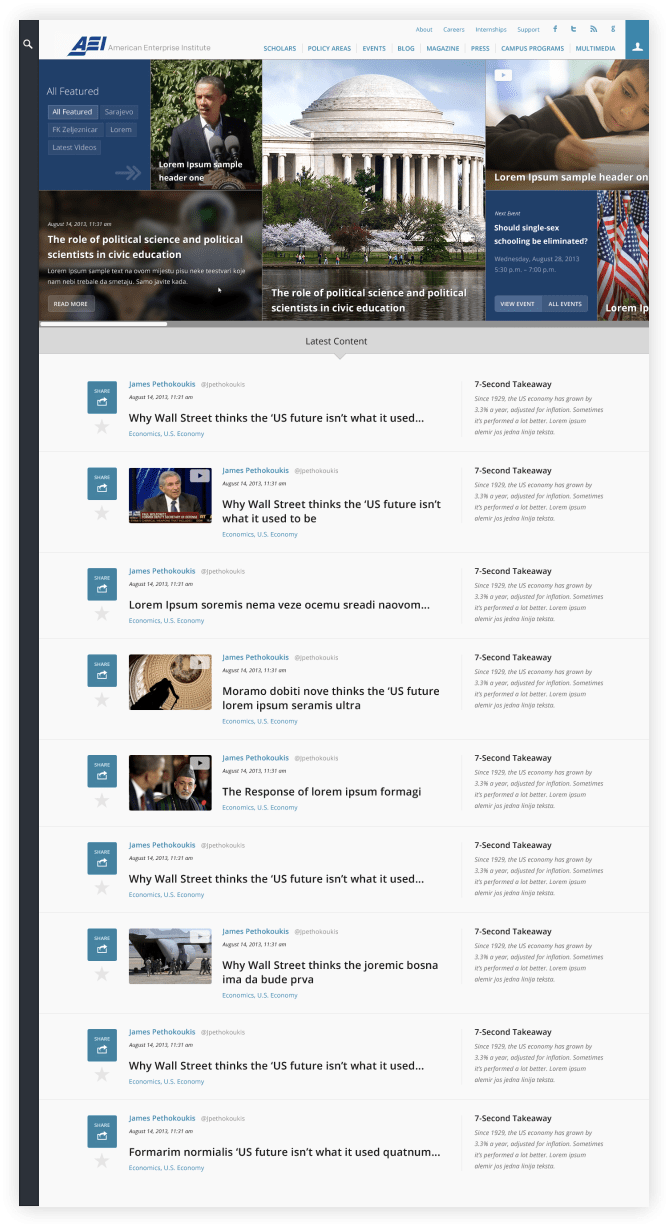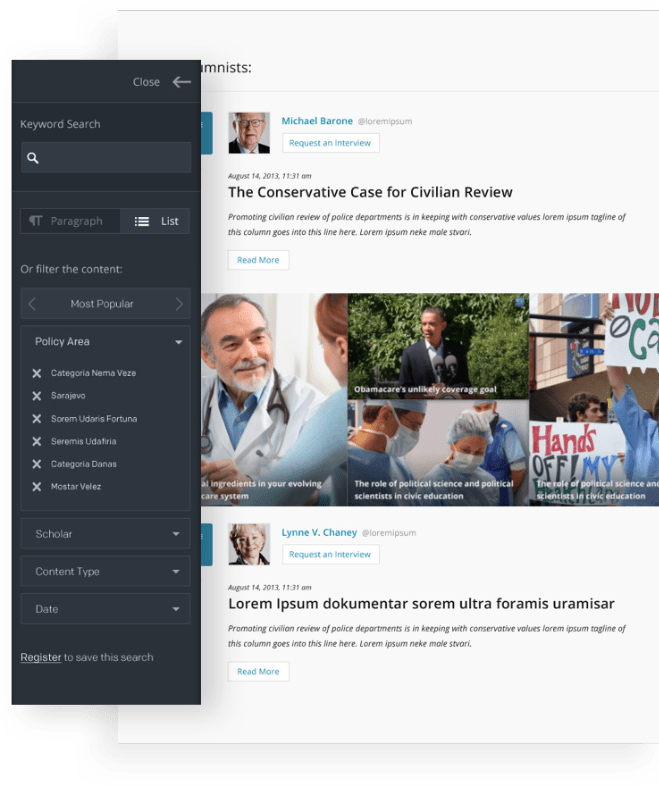 Perfect search with Apache Solr.
WDG developers integrated Apache Solr as AEI's search engine, given Solr's length of development, documentation, and mature community of contributors. To refine search results for the broad content pool, WDG's team set up a separate server to work with custom post types, taxonomies, and additional fields in the system. This allows AEI admins to easily adjust the relevancy of search returns and weight them accordingly. Extensive search testing was done with AEI's editorial staff throughout the process to pinpoint contextual relevancy and internally customize the indexing and querying of content.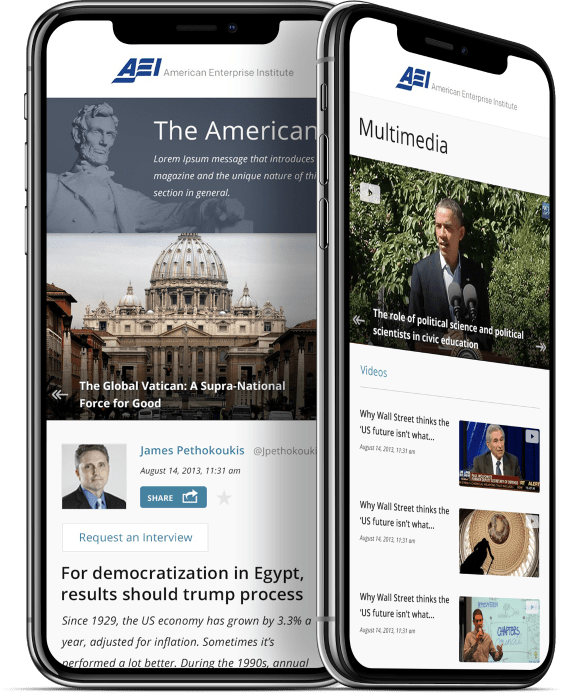 UI/UX
Managing with Salesforce.
To simplify and improve their user management process, WDG developers implemented Salesforce to replace and consolidate these various online implementations. To maintain site function while migrating to Salesforce, WDG developers created a temporary user management system without a third party CRM integration.
WDG migrated AEI's users to the WordPress installation and built secure mechanisms to prevent the need for constant password resets. Access to profile information, event registration, and reporting were also enabled through the WordPress dashboard.
We then worked with AEI's Salesforce vendor to build a custom API for leveraging user transactions. We documented, tested, and revised the API to accommodate various stages of the Salesforce development cycle and launch. Transactions including new user registration, user profile update, returning user login, user logout, and event registration were pivotal to AEI's overall experience.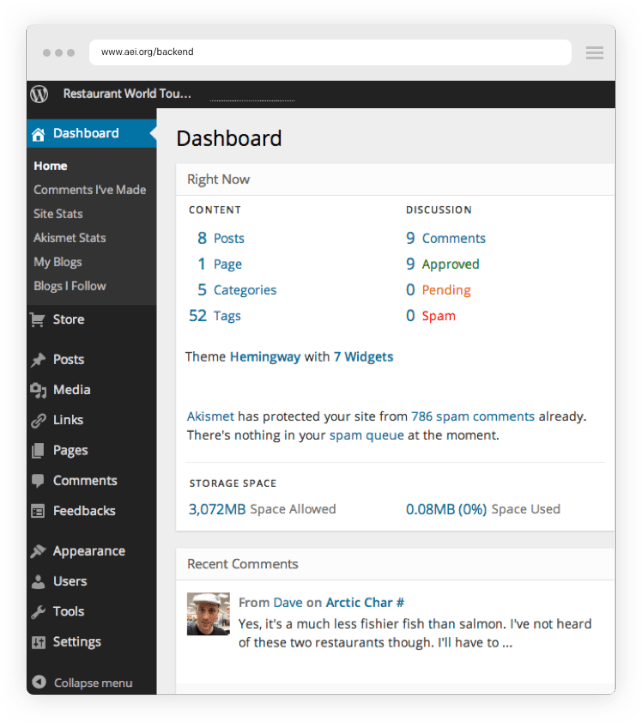 Employing a CMS for decentralized content.
AEI has an internal IT, web development, and management team that WDG worked closely with to delineate work and create collaborative processes that both teams could contribute towards. Our strategists also worked closely with AEI's editorial team to ensure that workflows, user roles, and permissions were reflective of the needs of the organization. By locking down content access by group, the dashboard experience for different teams was less distracting and more effective to undergird content governance requirements.
Start a Project
Let WDG Help You
Grow Your Business!
Let's Talk