American Enterprise Institute
We brought four sites into one WordPress phenomenon.
American Enterprise Institute
We brought four sites into one WordPress phenomenon.
UX Consulting
Visual Design
Data Migration
WordPress Development
The American Enterprise Institute curates research and educational resources for current affairs issues. Originally, AEI had four different properties existing on separate platforms, making it difficult to maintain their identity as a political think-tank. The Web Development Group partnered with AEI to migrate the four properties into a single streamlined experience powered by WordPress, an open source publishing platform.
Launch Project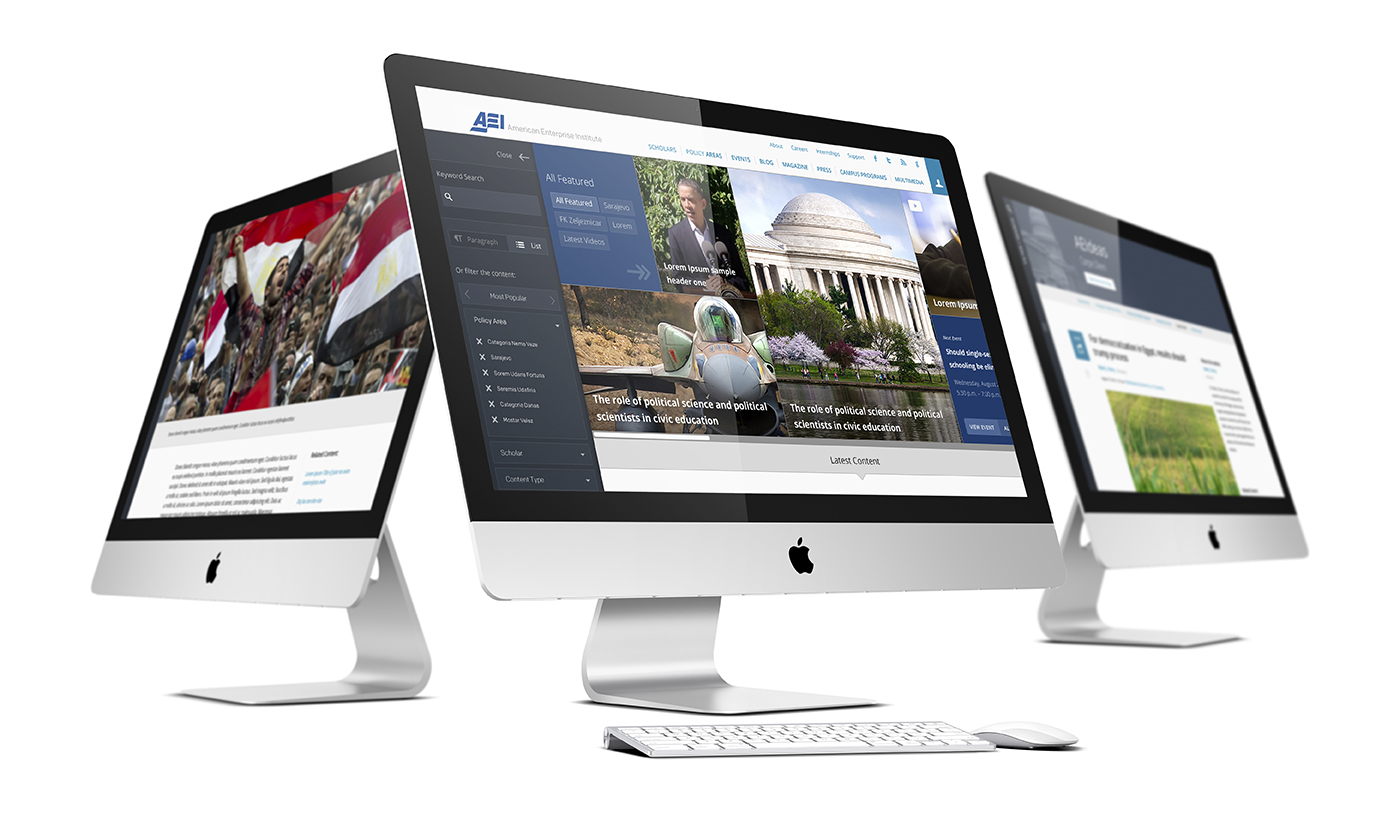 Designing for the End Users in Mind
Given the large amount of content on AEI's website, our creative team's primary challenge was presenting the information in a light, seamless way, allowing the user to discover and explore content. Since AEI is a research-based organization, we needed to provide a robust way of filtering content and searching with varying facets.
To achieve this, we designed an expandable left bar that is displayed to the users throughout the entire experience on AEI. This implementation ensured the user would have full control over their reading and discovery experiences.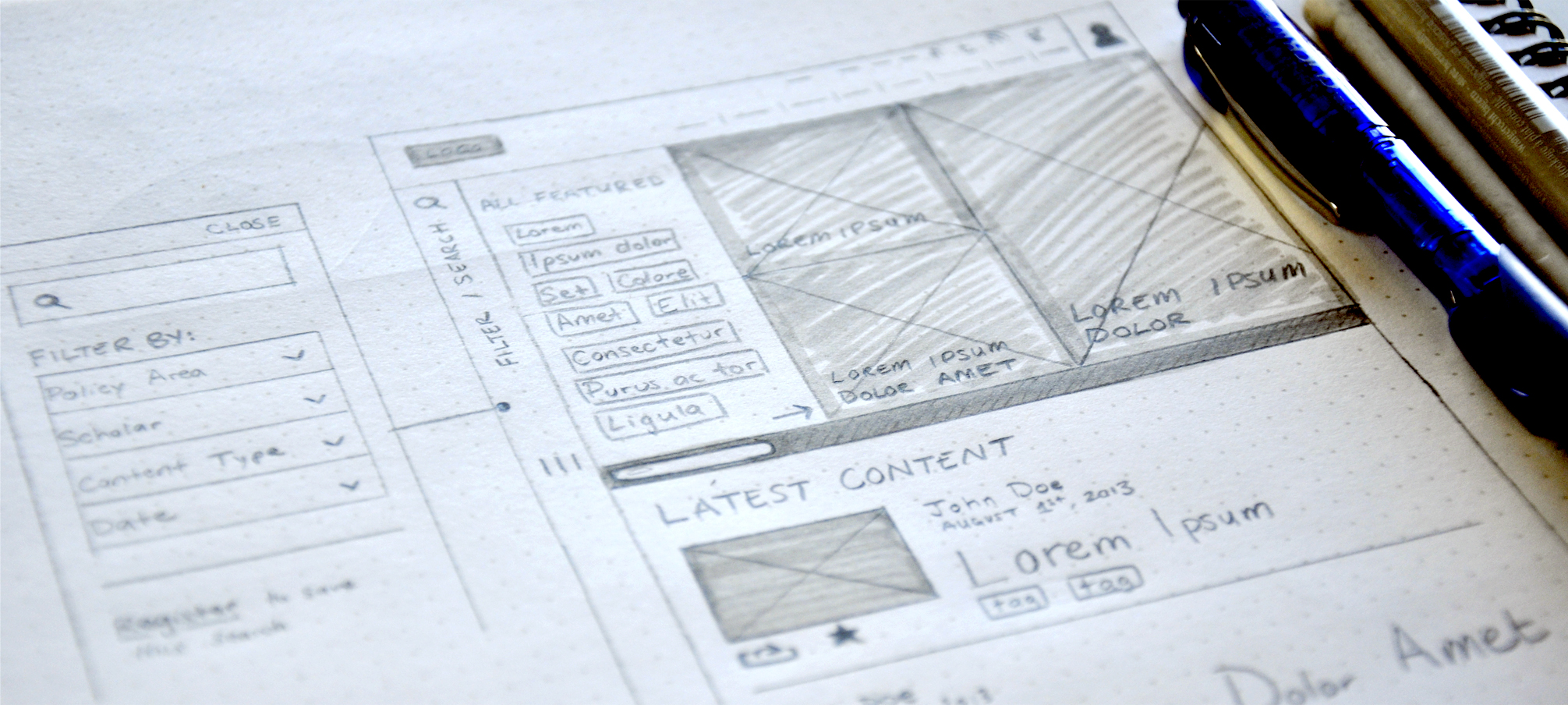 Migrating 4 Separate AEI Properties
The new AEI website was a conglomeration was four separate properties: Banter: An AEI Podcast, built on WordPress; American Magazine, built on Plone; AEI.org, a custom PHP content management system; and AEI-Ideas, built on WordPress.
With over 50,000 individual pieces of content coming from different locations, AEI's content migration was not simply about moving items from one point to another. The challenge was in merging overlapping content, authors, and media into the same system under one common content database.
At the same time, we had to consider the relationships between different assets, a new taxonomy structure, multiple authors, and public versus private posts. While most migrations comprise only one phase in the entire process, we needed to run AEI's migration throughout the redesign. We did this to guarantee the accuracy of the migration on a consistent basis.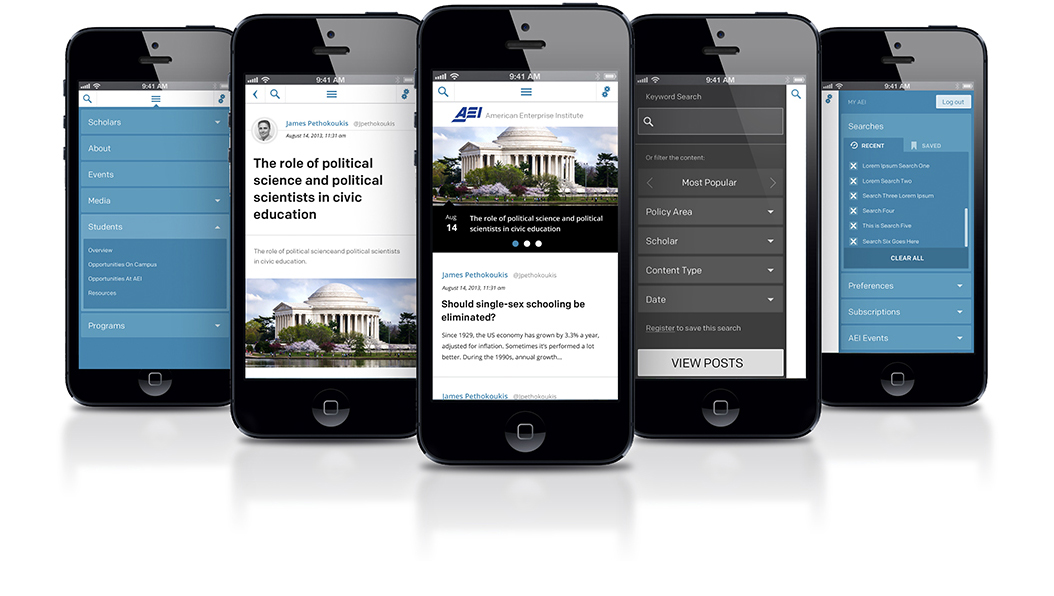 Perfecting Search with Apache Solr
Before choosing a search solution, we built out two demonstrations allowing AEI to compare Elasticsearch with Apache Solr. For each demo, we leveraged migrated content from one of the properties and explored the ease of customization and default relevancy. Given Solr's length of development, documentation, and mature community of contributors, it was chosen as AEI's new search engine.
Because such a large amount of content was being pulled together, it was important to give AEI users accessible tools for finding information to refine search results. We set up a separate server to work with custom post types, taxonomies, and additional fields in the system. We weighed each content type, taxonomy and field differently so AEI could adjust the relevancy of search returns. If a certain topic became popular, for example, AEI could weigh the keyword so it could return higher in the search results.
Extensive search testing was done with AEI's editorial staff throughout the process to pinpoint contextual relevancy and internally customize the indexing and querying of content.
Creating Customized User Profiles
My AEI is a personalized user dashboard allowing individual users to customize their experience on AEI's website. Users can chose their policy area preferences and receive daily updates notifying them when new content in that area is published. We also gave users the ability to view and remove themselves from registered events, see their search history and saved searches, and favorite content to be stored and read at another time.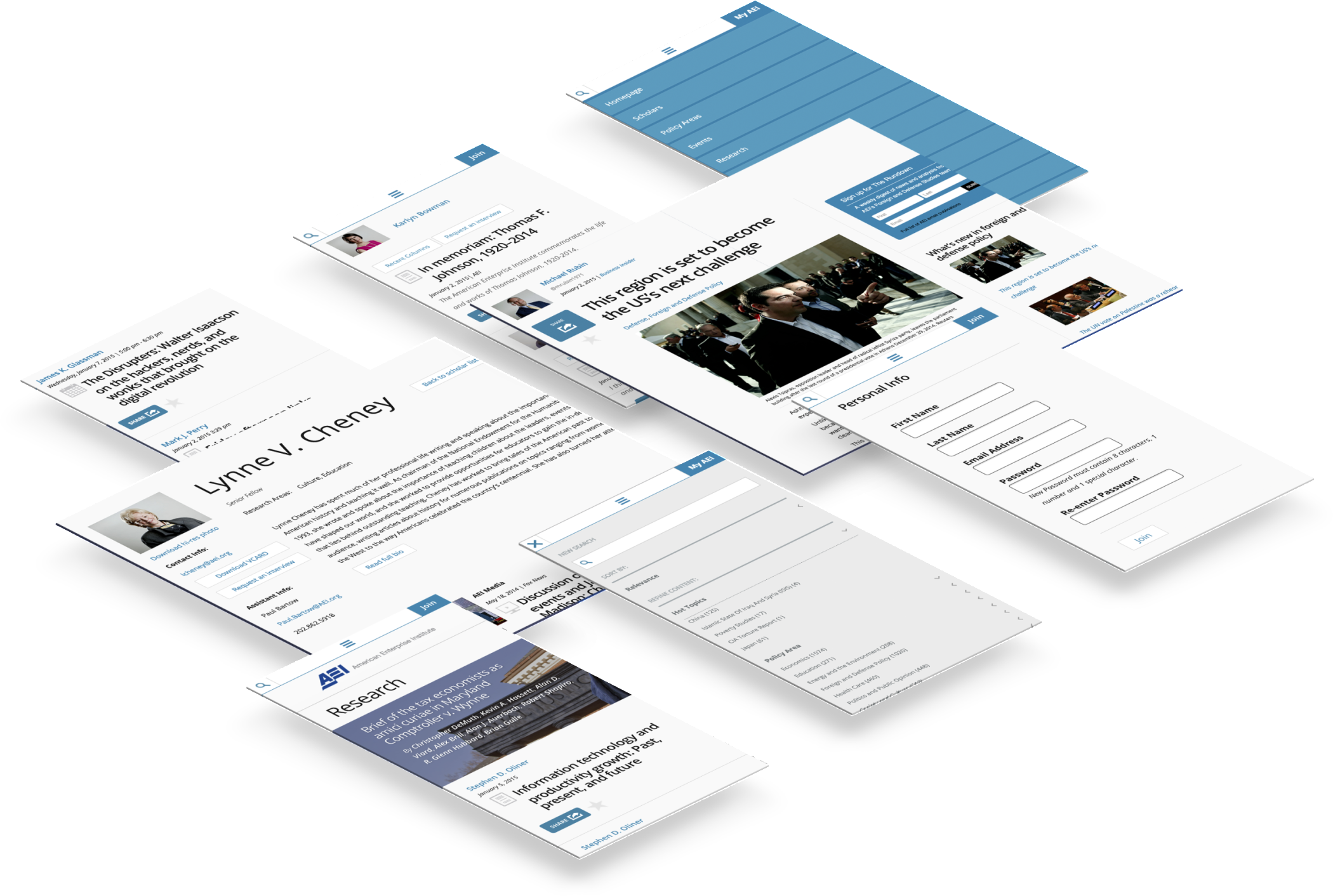 Integration with Salesforce
AEI's systems managed their subscribers and donations through Blackbaud's Raiser's Edge and Financial Edge. Online donations that were not processed through Financial Edge were integrated with Kimbia and maintained on a separate database with Paramount for AEI's newsletter subscribers. Finally, Corridor was being integrated with for event management.
To improve their user management system, AEI sought to leverage Salesforce to replace and consolidate their various online implementations. These systems for AEI's users were built in two phases. First, we needed to temporarily manage users without a third party CRM integration before Salesforce was in place. We migrated AEI's users to the WordPress installation and built secure mechanisms to prevent the need for constant password resets. Access to profile information, event registration, and reporting were also enabled through the WordPress dashboard.
We then worked with AEI's Salesforce vendor to build a custom API for leveraging user transactions. We documented, tested, and revised the API to accommodate various stages of the Salesforce development cycle and launch. Transactions including new user registration, user profile update, returning user login, user logout, and event registration were pivotal to AEI's overall experience.
Next Steps
If you enjoyed our case study on AEI and want to learn how WDG can help your brand, connect with us at [email protected].
The WDG team knows how to reach and engage your audiences.