NCASI
Maximizing environmental compliance and sustainability.

NCASI is a scientific research association organized to serve the forest products industry and maximize their environmental compliance and sustainability goals. A partnership with NCASI allowed their breadth of content to be more accessible and clearly communicate their industry impact and membership value.
Challenge
Content needed to be migrated from Ektron to a new WordPress CMS and be restructured for an optimal end-user experience.
Solution
Information architecture, reassembled taxonomies, and improved in-site search – users could navigate intuitively and find the resources they need in context.
Results
A website that fulfills the promise of NCASI's gravitas as a globally recognized preferred provider in the field of environmental science.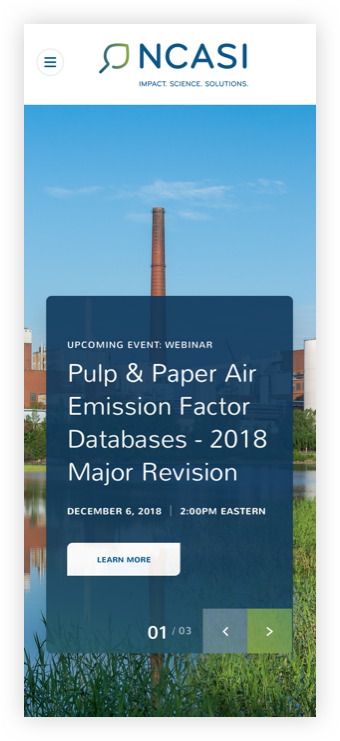 A Clearer Path
It's not just about where you're going — it's how you get there. WDG wanted to ensure that NCASI's users could easily find the detailed resources that NCASI.org provides. For ease-of-wayfinding, their content was indexed for in-site search. As for content governance, four focus areas were leveraged as pillars — Research, Training, Insights, Membership — to deftly manage their offerings.

Many research organization websites do not make it clear what they do on their homepage. Establishing that NCASI is a vital scientific resource for eco-sustainability issues was paramount — through streamlined user experience, NCASI's story and purpose now resonate on the screen. To relay the value of NCASI membership was of equal importance during the site rebuild. The message of cost-effectively meeting sustainability needs had to be clearly communicated to current and prospective members, from forest product companies to testing labs and engineering/consulting firms.
WDG needed to put what's at stake for eco-sustainability — Earth itself — front and center on NCASI.org. Rendered in perfectly pixelated, crystal clarity — the images throughout the site of nature's untouched elements pull into focus the necessity and urgency of NCASI's mission. The visual assets a visceral reminder from WDG's Design Team that the research NCASI does is in fact world-saving.
Start a Project
Let WDG Help You
Grow Your Business!
Let's Talk