WTOP
The Washington, D.C.-area's favorite news station just got better.
WTOP
The Washington, D.C.-area's favorite news station just got better.
Content Migration
WordPress Development
Responsive Ads
As the top news radio station in the Washington, DC region, WTOP is known for delivering the latest in quality local and national news to hundreds of thousands of listeners on a daily basis.
To continue building their online audience, WTOP approached us to develop a new and improved website built with WordPress, the world-leading publication-focused content management system. One of our primary development tasks was to improve many of the custom features existing on WTOP's website.
Launch Project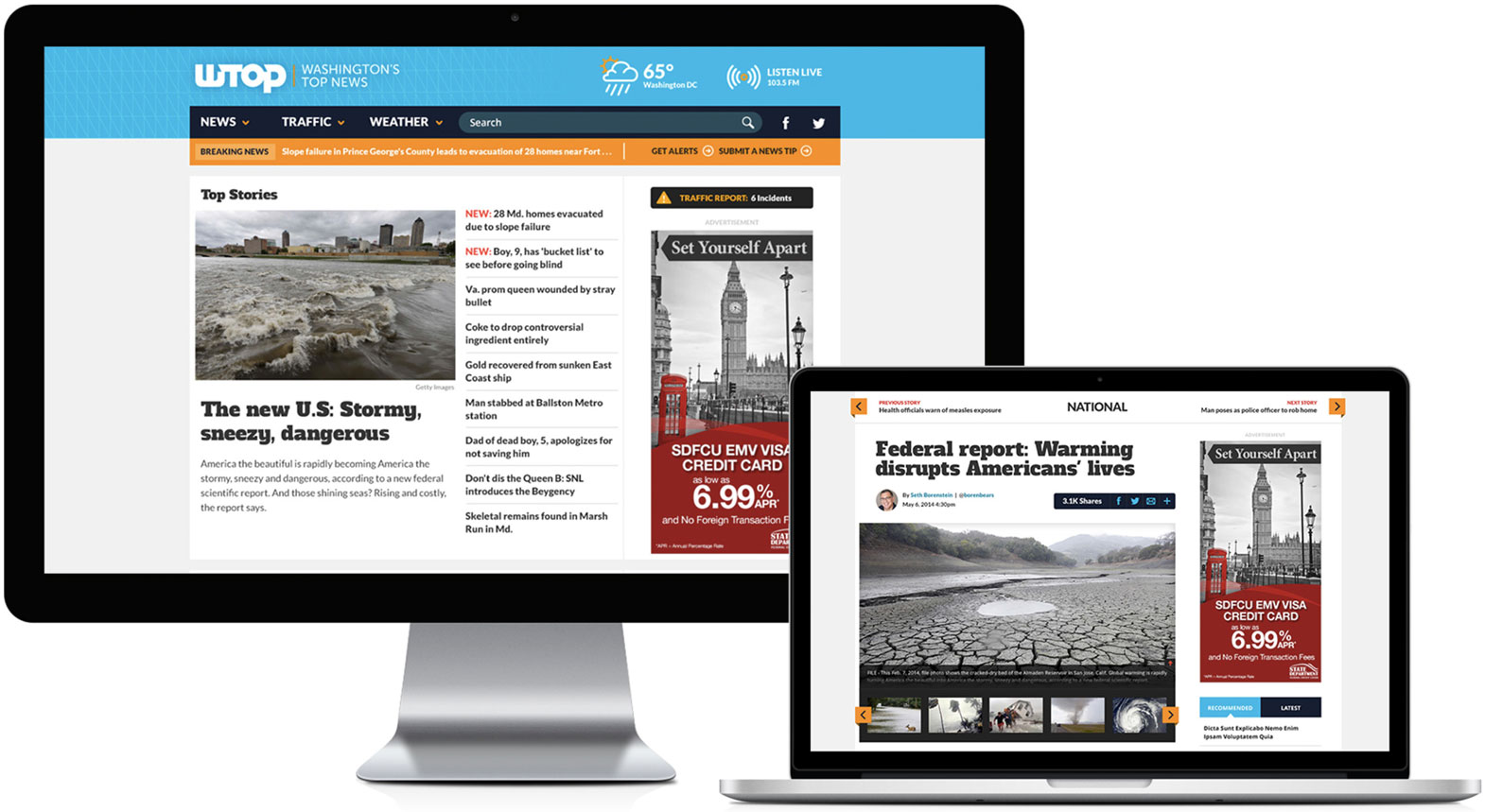 Custom Homepage for Editorial Control
As a news provider, WTOP needed a streamlined avenue for creating, curating, and publishing content from several different sources. To remedy this layer of complexity, we built a system allowing WTOP's teams to edit content separately, and from different places, through a custom curated homepage. Giving them the capability to prepare, stage, and publish individual sections separately allowed the teams to get content out quickly, without conflict.
Migrating Over a Large Content Pool
There were over a hundred thousand online articles existing in WTOP's content repository. Our first step was to build and implement a migration from their MYSQL database to a MYSQL format WordPress could understand. We made use of WordPress Command Line Interface, WP-CLI. Using WP-CLI sped up the migration process, and also allowed us to run as many supplemental migrations as needed without harming data from a previous migration.
After migration, we worked with WTOP's content team to develop an automated taxonomy mapping process to replace WTOP's old system of organization to a new structure of taxonomies. The final piece of the migration was to ensure the old urls mapped accurately to the new urls for content across the site. We used a multi-step process to ensure all urls were accounted for, relying on both the migrated information as well as one-off redirect rules.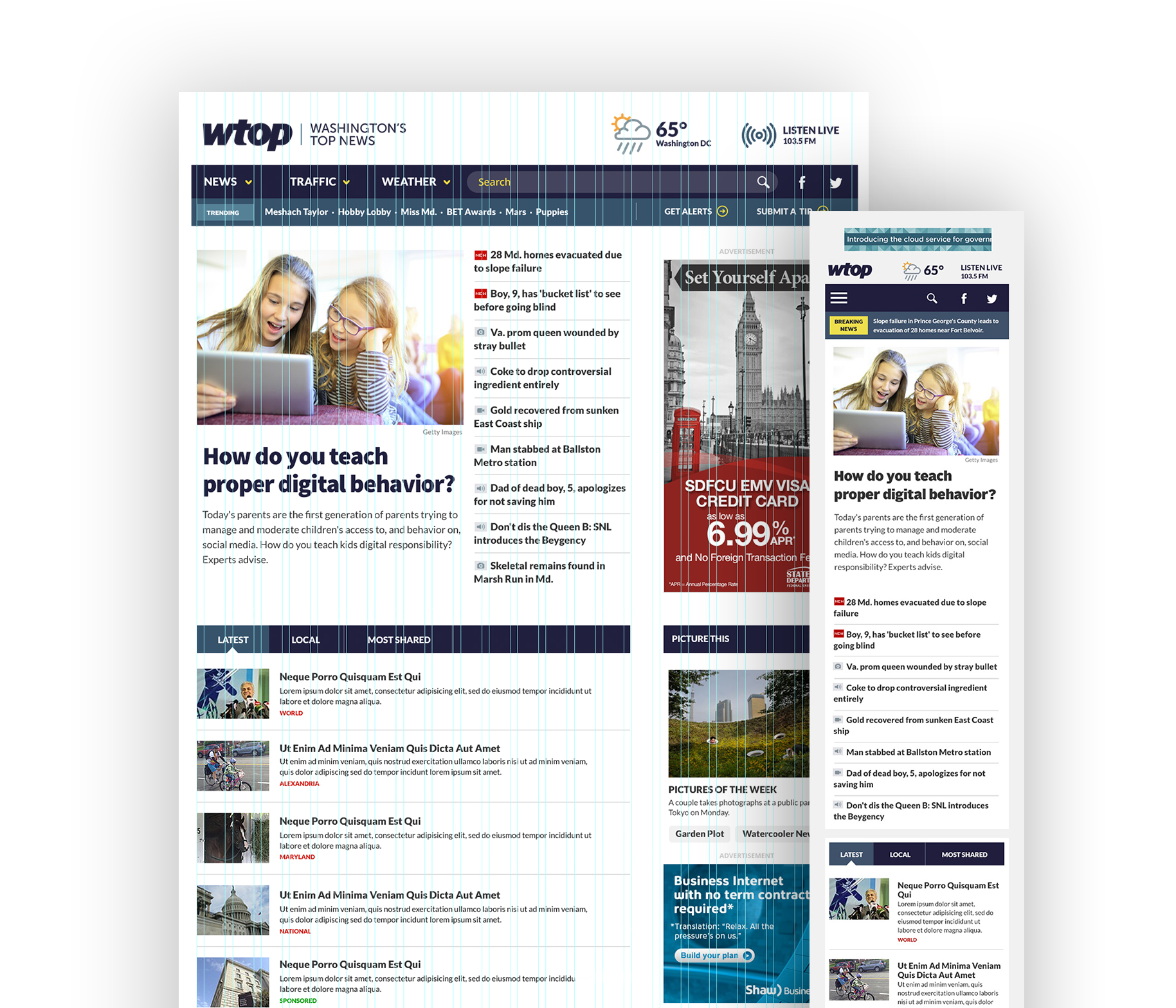 Highlighting a Rich Media Gallery
Along with their robust collection of written articles, WTOP also had a large range of media items to integrate within their new WordPress website. We built out flexible, media-rich galleries that could successfully handle all the different types of visual content WTOP had to offer. Editors could upload images, videos, and even embeddable content—including tweets, Instagram pictures, and Facebook posts—onto the galleries and reorder them as they saw fit. As a radio station, we also developed WTOP robust ways of integrating on-air audio into articles.
Responsive Ads with DoubleClick for Publishers
The previous WTOP site was built as a separate interface for mobile and desktop users. Through strategy sessions, we determined a better experience for both users and advertisers would be through a responsive website. This would allow people to have the same experience no matter what size devices they were using. On the advertising side, this let WTOP to target different audiences by screen size and sell ads optimized for all device screen sizes.
To accomplish this, we built a plugin that provided integrations with Google's DoubleClick for Publishers. This gave WTOP the flexibility to select where and how the slots were implemented. On top of this flexibility, we provided pre-defined and free-form key value pairs directly from WordPress, allowing ad managers the ability to target ads based on a large number of criteria. We also implemented custom ad slot types, including interstitial ads, automatic ad slot creation, and time-sensitive ad slots. WTOP is now well-prepared for the future of online advertising.
Results From the New WTOP.com
Since the launch of the new website, WTOP reported a 49% increase in mobile traffic. Overall, that's a 20% increase in sessions on the new site. As for email referrals, the 725% increase represented over 100,000 more referrals from email. Search traffic picked up dramatically, including getting syndicated on Google News.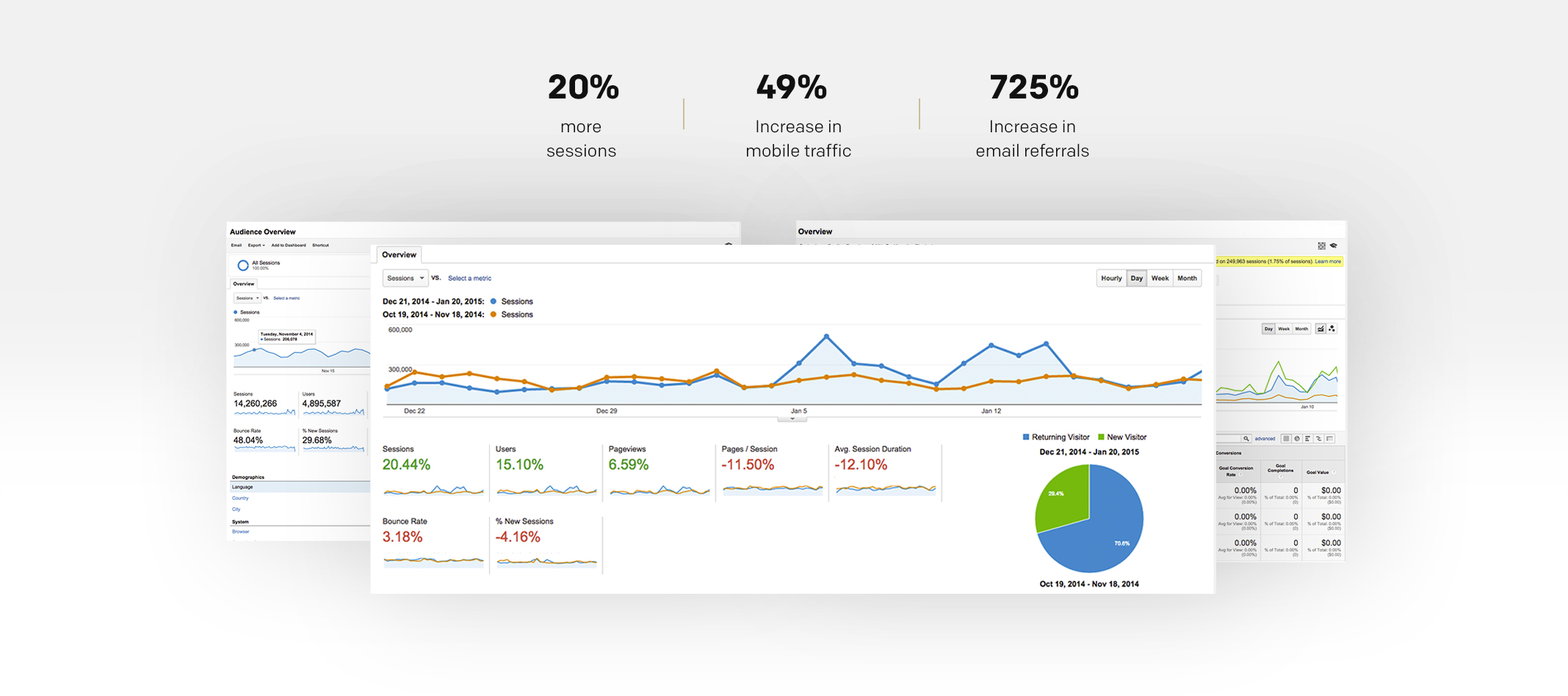 About The Web Development Group
At WDG, we deliver results-driven and engaging device-independent online web properties and communities. While our strategy and design teams are platform agnostic, our web development team specializes in open-source technologies, such as Drupal and WordPress.
Our clients range from successful startups and Fortune 1000 brands to higher education institutions and nonprofit organizations and we thrive on building long term partnerships with our clients. In addition to building WTOP.com, we have partnered with the parent corporation on several other websites, as well as a user-centric music streaming application.
Next Steps
If you enjoyed our case study on WTOP and want to learn how WDG can help your brand, connect with us at [email protected].
WDG can help your organization expand.