8 Ways to Improve Your Digital Strategy in 2018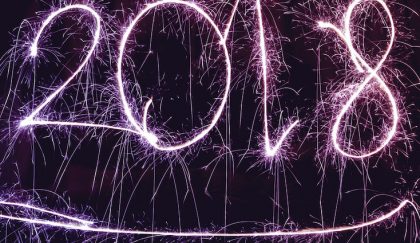 ---
A new year means a new chance to renew your digital strategy. 2018 is bringing prime opportunities for a digital refresh of marketing goals. Leverage these practical tips and tricks to maximize your marketing outreach for the upcoming year.
Here are our best 8 insights for making the most of your digital strategy in 2018.
1. Update Your Users
Your users should always be at the center of your strategy efforts. Building a digital strategy around your users ensures a consistent and measurable impact point for your marketing efforts throughout the year.
For 2018, start by refreshing your buyer personas. If you don't already conduct an annual  review of target audiences, begin by establishing a basic set of proto-personas for 2018. What are your users' demographics, buying habits, and concerns? How do they access your site, and what are they looking for? Conduct stakeholder interviews using real data and market research to support your findings.
Next, think about root causes for changes in user behavior over the last year, taking into account how politics, the economy, or other market trends can alter user needs. This information will help you evaluate how demographics, needs, and buying behaviors shifted with these changes.
2. Always Use Analytics
Leverage data-backed decisions with web analytics from services like Google Analytics to understand your users' behavior. Where do they enter and exit on your site? Is search primarily organic or from referrals? Are there specific pages that have a lower bounce rate? If so, think about how you can capitalize on conversions, maybe with a reconfigured navigation or stronger calls-to-action supporting inbound marketing initiatives.
Not sure which analytics service best suits your site needs? Check out our helpful guide.
A strong strategy team can support your efforts with more targeted understanding of your specific of users. A/B testing through services like Google Analytics Experiments and other data-supported techniques can help you fully understand–and successfully market to–your changing target audience.
Once you have you have fully identified who your buyers are, you can build a proactive plan that supports a renewed digital strategy.
3. Refresh Your Marketing Goals
Marketing goals should never remain static. The new year is the perfect time to review your existing marketing goals to establish what is working…and what is not.
Your marketing goals should be precise and concrete, but they don't necessarily have to be written in stone. Goals should shift with your business plan throughout the year, ranging anywhere from a simple update to a complete overhaul.
Goals should be measurable, consistent with your business objectives, and given specific time frames. Hubspot offers a great guide for making S.M.A.R.T. marketing goals: Specific, Measurable, Attainable, Realistic, and Time-Bound. See their helpful guide here.
Once your goals are set, you are ready to establish a clear plan of action. Break them down into department-specific assignments with clear benchmarks for different phases. Measure your progress throughout 2018, and be prepared to adjust as needed.
4. Don't Start from Scratch
Once you have set clear goals, take stock of your existing marketing collateral. Think about how you can adapt the work you've already done to your new digital plan.
You probably already use basic marketing collateral like social media, email, newsletters, testimonials, and case studies of your work. While the type of marketing collateral varies, how you use it to target specific audiences has probably already demonstrated clear patterns throughout 2017 that are easy to adapt to your new goals.
Evaluate which tools were profitable in 2017 and which need to be adjusted or abandoned. Did social media outperform your newsletter response rate? Did webinar attendance decrease while newsletter subscriptions soared? Once you establish patterns in each type of collateral, adjust according to your audience's changing needs. Try new tools and eliminate old ones that are dated or don't work. Don't fear making mistakes, as they can be a great opportunity to learn more about how your audience engages with your content.
For a comprehensive list of popular marketing collateral, check out Curata's ultimate list here.
5. Take Advantage of Trends
Once you've adapted your marketing goals to your available collateral, you should begin adjusting or eliminating what isn't working while adopting what is based on user trends.
Use analytics to determine which tools failed to deliver desired results in 2017, and figure out why. Did the tool's use shift dramatically in the business sector, or was it not the right fit for your organization? Was there simply a gap in understanding of how to use it, or would something else work better to target your specific audiences?
With your marketing team, examine how marketing trends shifted during the previous year. For example, the new 280 character limit on Twitter changes how users engage with content on mobile, and the rise of AI will certainly dominate 2018. Curious what other trends will grow from last year?  See the top 10 marketing trends of 2017 from Twitter.
Use these insights to inform your decisions about which tools would be most appropriate for your renewed digital strategy. When you have adapted to or eliminated what doesn't work, evaluate the corresponding expertise of your staff. Are there any areas where updated training or even a new staff member could increase your company's ability to effectively use these tools? If so, take the appropriate measures to ensure that the right tools are being used to build an effective marketing strategy as you move forward.
6. Keep Up with Changing Content Requirements
Content is king, as we all know, but the type of content you produce must meet changing user demands. For example, video and augmented reality look to dominate 2018. Forbes predicts real-time video will rival or overtake curated video production as a prime marketing tool for direct user engagement. The huge boon of iPhone X, "notch-gate" and augmented reality are changing the way designers leverage content on mobile. Keep track of trends like these, and adapt accordingly or be left in the technological dust.
Think also about ways to expand branding across marketing channels using these trends, including the all-important social media. Make a list of existing content that can be carried over for the new year or even repurposed with your new marketing goals in mind. Blog posts can be transitioned into webinars or podcasts with ease, for example. Equally important, eliminate any content that no longer supports your renewed marketing goals.
If a general overhaul of content is required, look at the project as a prime opportunity to align updated content with your newly established buyer personas. If your business doesn't already have a dedicated content writer, consider using a full service creative agency to help revamp your strategy.
You should also take advantage of this time to assess your competition and engage them on a level playing field. How have they shifted their strategy in the previous year? Perhaps they have hired a marketing expert or multimedia strategist, increased newsletter production, or started a podcast. Evaluate what has worked for them in the past year (and what has not), using this data to help formulate a plan for your new content strategy.
7. Go Back to Basics
Whatever trends you choose to leverage in 2018, it's vital that you master the basics. Whether you are your own marketer or have a team of experts, make sure to:
Employ a user-friendly, easily navigable content management system (CMS) like WordPress or Drupal. This not only increases user engagement, but creates a much easier process for adding, manipulating, or changing content throughout the year.
Leverage carefully-researched keywords to increase your site's position in organic search engine results.
Follow SEO best practices to ensure higher rankings as well.
Use analytics to evaluate the effectiveness of your email, social media, and other marketing channel campaigns. Make sure to evaluate the metrics and ideate solutions as needed.
Know how to work and maximize each major form of social media.
Use a Customer Relationship Management (CRM) system to facilitate easier customer interactions for your marketing team.
Avoid common content marketing mistakes like these.
8. Stay Flexible
Remember that your strategy should not look the same at the end of 2018 as it does at the beginning. If it does, you've missed out on some great opportunities.
You should have begun your year by mapping out a general strategy related to content, various marketing channels, and broad business goals. However, as that plan is brought to fruition throughout the year, more nuanced strategies and trends should shift the digital goals to best align with new opportunities.
Be prepared for customer feedback and other interruptions that may impede or change the intended flow of your marketing rollout as well. Too often, marketing goals aren't met because rigidity wins out over flexibility. Track your progress in a phased plan throughout the year, and assign specific team members responsibility for maintaining momentum for each task. Most importantly, be prepared to adapt and change your strategy as needed over the course of the year to help guarantee growth instead of stagnation.
A strategy is the perfect way to reinvigorate your digital presence in 2018. By investing the time and effort to revamp your digital strategy, all the hard work you do at the beginning of the year will pay off throughout each quarter. By ensuring content is relevant to comprehensive user personas, marketing efforts are tracked and adapted to with analytics, and goals are clearly defined and maintained, you'll ensure a strong digital strategy from start to finish.
WDG creates comprehensive digital strategies to drive growth for organizations in almost every industry. Contact us to get started!