The Best Tools to Improve Website Analytics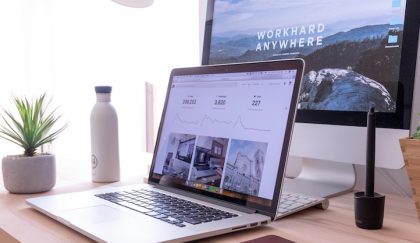 ---
"Analytics" is a term that's often thrown around without much context. Google Analytics is probably the best known available tool, but there are plenty of others that can provide valuable insights. We break down some of the top analytics tools to help you maximize site performance and SEO.
This Google Chrome extension focuses primarily on core metrics. These include traffic ranks, total number of sites linking from external links, speed compared to other sites, similar site rankings, and more.
Unique features:
Global and country rank for website domain.
Comprehensive baseline analytics for bounce rate, time on site, search traffic, and comparison sites.
Information on whether any metrics have dropped in the previous 3 months.
Keyword Difficulty tool breaks down the percentage of search traffic coming from top keywords on search engines.
"Share of Voice" feature benchmarks the level of keyword competition a site can target, explaining which of the top 10 sites are receiving organic traffic from specific keywords.
PROS: It's free! Alexa doesn't even require a login. It's a great stand-in for Google Analytics if need be.
CONS: Alexa's capabilities are not as robust as other subscription-based tools. While it's good for a baseline comparison, a more extensive analytical tool should be used for in-depth marketing, SEO, or keyword analysis.
The subscription-based Moz Pro offers a strong baseline set of analytics specific to URL's. It is a great tool for competitive analysis as well.
Moz Pro is specifically strong in analyzing domain and page authority. Domain authority gives you the prediction of URL strength in getting ranked on search engines based on a variety of factors including interlinks, keywords, metadata, security, social media, backlinks, and more. Page authority allows you to see the strength of a page within that URL using the same metrics.
Unique features:
"Open Site Explorer" feature examines backlinks for damaged links and  link-building opportunities to strengthen SEO.
Comparative analysis with competitor site rankings for domain and page authorities.
Spam Score (affects domain authority).
Inbound link analysis to indicate opportunities to feature content on partner sites with higher domain authority through backlinks.
PROS: Affordable subscription service with a full suite of robust tools pulled into a single, easy-to-use platform.
CONS: Requires annual subscription with different plans available. Keyword analysis is functional, but limits the number of keywords you can analyze based on chosen plan.
This is a fast, easy tool used to understand a variety of metrics on your site. These metrics generally fit into four categories:
Performance
Website Grader examines various aspects of performance, including page size, page speed, and page requests. It also examines browser caching, page redirects, compression ability, and render blocking.
Mobile-Friendly
This tool examines how mobile responsive the website is, analyzing how clean the view port is and if the design is scaled correctly.
SEO Strength
The SEO feature examines the strength of page titles, meta descriptions, headings, and the sitemap. Unsure of where to start with SEO? Check out our SEO starter guide to improve search engine rankings.
Security
Website Grader also tells you if the site has an active SSL certificate to ensure site security.
Perhaps the most unique section of Website Grader is the "What Should I Do Next?" section, which offers a summary of findings with tailored recommendations to improve site metrics.
PROS: Free and user-friendly tool offering strong baseline understanding of metrics with a tailored suggestions for improving site analytics.
CONS: Website grader offers a simple overview of site performance rather than in-depth analytics for your site. The four broad categories should be used for a baseline understanding, only. Additional tools should be used for more in-depth analysis.
This subscription-based tool offers keyword and domain analytics. With over a million users and big name subscribers like eBay and Amazon.com, SEMrush is rapidly becoming the SEO tool of choice.
Unique features:
Domain Analytics
Number of keywords from the site that rank within the first 100 positions on Google.
Analysis of backlinks from external sites.
Advertising opportunities.
Traffic cost to rank on Google.
Organic search position for keywords with indication of changes in position.
Volume per month for user keyword searches.
Keyword difficulty (for ranking on Google).
Traffic percentage driven to site with given keyword.
URL for specific pages keyword search lands on.
Keyword Analytics
Phrase match keywords (variations of keywords that include the keyword exactly).
Related keywords (close matches to the keyword) to determine keyword choice.
User search volume and keyword difficulty rankings.
Organic search results for keyword ranking in relation to other sites.
Keyword analysis is rapidly becoming much more than just a niche tool in the SEO arsenal. Keyword strategy takes some know-how, but can certainly pay off with higher search engine rankings. Check out our helpful guide for using keywords to increase traffic to your website.
PROS: Rapidly gaining big name users, this service is a powerful in-depth tool powering SEO for some of the biggest sites in the world.
CONS: This is a subscription-based tool that is still growing, so it's not as widely recognizable or easily adaptable as Google Analytics.
Google Analytics is the king of SEO tools for a reason. The possibilities within Google Analytics are almost limitless. While we'll be offering a basic overview here, the thousands of available information points within Google Analytics extend well beyond our breakdown.
A surface level overview of Google Analytics includes traffic rate, average number of pages visited, average time on site, new vs. return users, and bounce rate. Analytics offers a strong understanding of user behavior and content performance as well.
Unique features:
Goals feature allows you to set and track site performance goals like conversions, leads, specific events, and more.
Keywords feature identifies and tracks changes in trending keywords with analysis up to one year in length and offers correlated suggestions for Google AdWords bids.
Segmentation allows you to segment your traffic for comparative analysis with optional filtering.
Custom reports from analytics can be created, as well as unique dashboards suited to specific data.
Google Analytics Solutions Gallery is an open platform for users and SEO experts to share working solution resources, including the over 800 tools and counting (like Google Analytics Experiments) that users can choose from.
There are many other available facets on Google Analytics that are immensely useful. For a helpful walkthrough, check out Main Street ROI's Ultimate Guide.
PROS: The most recognizable, robust tool available with a massive number of additional tools. Best of all, it's free!
CONS: The sheer amount of data available does require time and know-how, so you'll need to invest energy into becoming a Google Analytics expert.
While these are just a few of the great tools available to users on the web, there are thousands of others which can help you create a highly performant, fully optimized site. Check out other great tools like Screaming Frog, Kissmetrics, Crazy Egg, and more. Make sure to choose the tools best suited to your business goals and budget, and know that it's worth the investment in time and energy to become an analytics expert.
Want to know how to break down your site analytics with expert guidance in using in tools like these? Contact our team of expert strategists for a comprehensive analytics breakdown and tailored guidance to increase SEO, conversions, and site traffic.