Using Your Website's Data to Create A Website Redesign Strategy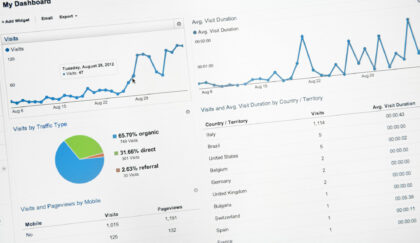 ---
Using your website's dATA TO CREATE A WEBSITE REDESIGN STRATEGY
A website redesign is a huge endeavor that is extremely important to get right because of the important role it plays in your marketing and branding efforts. 
Whether you are considering a website redesign for a new product launch, brand overhaul or simply to increase traffic, a good place to start is by looking at your current website's performance metrics. Analyzing your website's performance metrics in a program like Google Analytics 4 will paint a good picture of which areas of your website need the most improvement.
Data-Driven Goals for a Website Redesign
How your website works is as important as how it looks! An outdated and hard-to-navigate website telegraphs to readers that your organization is behind the times, disorganized and unlikely to deliver a quality product. In other words, your website's design is as important to your customers as the products you sell.
Determining the "why" is extremely important to the redesign process. A successful redesign requires goals that can be tied to measurable results.
Here are some examples of data-driven objectives to consider:
Increase the number of visits and visitors
Increase time on site
Reduce bounce rate
Increase new leads
Increase sales
Improve domain authority
Enhance SEO ranking of keywords
Collecting data will help you to determine which metrics you need to improve upon with your redesign and assist you with creating some of your redesign goals. And when you're workshopping a digital strategy, data can serve as a valuable conversation starter for determining strategic goals.
The importance of benchmarking
Look into your current website's monthly performance data over the last several months. The importance of each of the following metrics will vary depending on your redesign goals, but all of them deserve consideration:
Total sales generated
Number of visits, visitors and unique visitors
Total pages that receive traffic
Time on site
Bounce rate
Top performing key-words
Total new leads and form submissions
Number of inbound linking domains
Total pages indexed
Keep in mind which tools you have used to measure these benchmarks in the past. It is important to use the same tools to gather this information once your redesign is complete, so you're comparing apples to apples when evaluating the performance of your new website.
Create the right content
Increasing traffic to your website is great, but alone is not proof of a successful redesign. Content is the key to customer engagement on your website. It is the difference between visitors scrolling through and making purchases or simply leaving quickly. 

You have to produce content that is useful to your users and demonstrate your company's expertise in the industry. If your content is useful to your customers, they will be more engaged and you will begin seeing more users returning to your website. When your customers are engaged, they are more likely to share your content on social media, which will lead to an increase in web traffic.  

Website analytics will help you understand which content resonates with your customers. You can look at page views to determine which content elicits the most engagement and use that as a guide for future content.
 
The redesigned website for the Council for Opportunity in Education (COE) is a perfect example of how impactful a modern approach to content is for achieving organizational goals. They transitioned to a dynamic, SEO-driven publishing strategy that leverages data on their prioritized audiences to communicate their expertise and attract donors and education partners with their mission.
Reducing bounce rates
Your bounce rate is the percentage of users who leave your site without visiting more links than the one that brought them to you. This statistic is important to determine whether or not your customers are engaging with your content enough to go out of their way to learn more about it. 
A high bounce rate tells you that your customers are not engaging with your content as much as you want them to. Knowing your bounce rate will help you in determining how to improve your website to better convert visitors into customers.
A strong design will keep your bounce rates to a minimum. An attractive page design highlights relevant content in a format that is easy to read.
Determine the success rate of a campaign
How do you know if you're putting your marketing dollars to good use? The answer is in the analytics. Monitor the number of people visiting your website after launching a new marketing campaign. 
Down the road, you can compare the results of each of your marketing campaigns and determine which are the most successful. Knowing which tactics are working allows you to devote more of your resources to them and not waste time and money on tactics that aren't paying off. 
This is especially true when you're looking to develop customizable elements on your website to increase personalization – which can get very expensive very quickly without a strategic approach inspired by audience data.  
Starting on the right page
A website redesign can feel like a daunting task, but there is no need to reinvent the wheel because many of the answers to the questions you're asking lie in your current website's performance metrics. Use these metrics to create achievable and quantifiable goals. The better you define your redesign vision, the more successful it will be. 
Whatever phase you're in on your journey to a full website redesign, we have the experts available and ready to guide you to achieving the best results for your business. Get in touch with us today and start the conversation about how your current data insights can grow into a refreshed, high-conversion digital presence.