How Voice Search Affects SEO and Content Marketing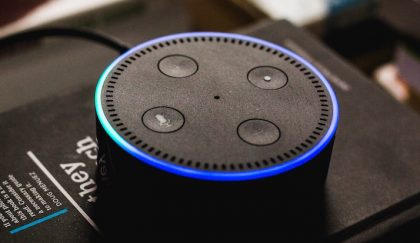 ---
Whether you use Alexa, Google Home, Siri, or Cortana, voice search is changing the way we use the web. Forbes even named 2017 "the year of voice search." 50% of all searches will be voice search by 2020, according to comScore. That means your daily users are accessing search on their desktop and mobile devices with different qualifications than traditional search. Your 2018 digital strategy should account for these new search qualities, persona relationships, and SEO optimization to fit with new search facets. As of January 23rd, 2018, Apple also introduced a new competitor into the home speaker market: Apple HomePod.
What is Voice Search?
Voice search is a logical solution to a multitude of text-based search issues: multitasking, hands-free capabilities, and time investment. No longer the incredible dream of a Star Trek-like future, voice search is revolutionizing how people engage with content on a global scale. Voice search has been steadily growing in market share, with 55% of teens and 41% of adults using it on a daily basis. It's also getting smarter. The evolution of AI has also vastly improved voice search accuracy in the last few years. As of May 2017, Google announced their voice search reached 95% word accuracy rate, the same as humans.
How Does Voice Search Change Traditional Search?
Perhaps the most startling evolution of voice search is the development of distinct search personas. It's a marketing tool that Google, Apple, Microsoft, and Amazon have all taken advantage of. Imagine Siri's voice in your head. Easy, right? That's because Apple invested ample time, money, and research in developing Siri's witty, knowledgeable persona. Siri isn't alone. The Amazon Echo Dot was the single best selling item on all of Amazon during the 2017 holiday season, bringing Alexa into millions of homes.
AI persona research is constantly evolving, as demonstrated by Wally Brill, Senior Persona Researcher for Adecco at Google. Brill leads a team of Google researchers and marketers in understanding how to create a personified brand out of inanimate technology. He explains, "Lots of people have a relationship with a search persona, like Alexa. People understand within 1.5 seconds the attributes of who they're listening to. Education, age, gender, social standing, register…all of these things come through in the voice, so we have to design the persona and the character so that the persona is the brand for users."
In fact, persona-driven marketing is three times more effective than traditional marketing, according to SiriusDecisions. Siri is even working to keep up with Alexa to maintain relevance with new trends in voice technology, as detailed in this research paper. Understanding how users interact with these personas offers huge opportunities for smarter marketing and more targeted user reach.
How Does Voice Search Affect SEO Rankings?
Besides interacting with a distinct persona, the evolution of text-to-speech capabilities has several practical implications. For example, search engines rank voice search differently than traditional SEO. Content creators should consider the following when marketing for voice search:
Length: Does the response match the complexity of the question and provide enough context? Google is looking at the length (how concise or detailed it is) to determine the quality of the answers.
Formulation: Is the response formulated appropriately for a native speakers' understanding of the language? Is it grammatically correct? For attribution, is the source of the content clear and understandable
Elocution: Some results are judged against the accuracy of pronunciation, natural delivery of intonation, and speed at which the response is delivered.
Schema Markup: Appropriate schema should be used as metadata, both for traditional SEO and voice search. This joint venture between Microsoft Bing and Google is a language which identifies discrete pieces of information like hours of operation, links, etc. on websites to ensure accuracy. See www.schema.org for more information.
Security: Search engines are increasing their understanding of security and data accuracy as a key criteria for ranking websites.
Mobile-friendliness: As with normal search engine results, all content should be mobile-friendly. Check out Yoast's recommendations on optimizing mobile voice search.
How Do You Optimize Content for Voice Search?
There are a number of simple things content managers and marketers can do to optimize for voice, in addition to the above recommendations.
Account for User Intent
Optimizing content for voice search follows many of the same principles as traditional SEO, with a few key advances. For one, user intent has evolved. Voice search is most often used to find key pieces of information, including calling someone, asking for directions, executing "near me" searches, playing media, or dictating texts. According to designshack.net, Google has pinpointed four key microinteractions as the most popular: "I want to know," "I want to go," "I want to do," and "I want to buy." Accounting for these key pieces of information, such as clearly demarcated hours of operation or addresses, in text and HTML for images will raise your voice search rank results.
Think in Terms of Questions
Conversational search queries are, logically, the basis of most voice search commands. These are generally spoken by both the user and the device persona as full sentences in Q&A format. Google's Hummingbird update in 2013 made answering questions a priority, meaning every word in the search query is contextualized and accounted for, rather than just keywords.
The five W's, says Yoast.com, should drive how you structure your text for higher rankings in voice search results (Who, What, Where, When, and Why). This allows you to write with phrases in mind, rather than individual keywords. For example, a user might ask "Who are the Patriots playing in the Super Bowl this year?" Results should account for more than keywords "Patriots" and "Super Bowl," which might display the game time or the Patriot's Super Bowl win-loss record. Instead, a phrase like "The New England Patriots are playing against the Philadelphia Eagles in Super Bowl LII in 2018" would return a much stronger result. FAQ pages are also a great way to account for both search queries and long tail keywords.
Use Long-Tail Keywords
A faster rate of speech over text means long tail keywords are increasingly used over short tail keywords. Long tail keywords account for 70% of search results, meaning they are less competitive and more prevalent than short tail keywords. They should be conversational and formulated as complete phrases to match human speech patterns. The best news for marketers? Long tail keywords are often more cost-effective and boast higher click-through rates than shorter queries.
Optimize for Local Searches
"Near me" searches for local information and content account for 22% of searches, according to the Internet Trends Report. You can leverage Google AdWords' location extensions, use Google Maps Local Search ads, or integrate other geolocation technologies to target users with location-based search results. See WordStream's helpful guide for more information.
What's Next for Voice Search?
Voice search and AI are getting smarter as they adapt to human language patterns and needs. Google's "natural language processing" allows Google Voice Search and similar technologies to "learn" the unique characteristics of your individual voice, along with your behaviors, buying habits, browsing interests, and much more. Natural language processing takes unique accents, pronunciations, intonations, and colloquialisms into consideration while amassing information about user behavior. Apple's Siri also has these capabilities, though Amazon's Alexa is late to the game, according to WordStream.com.
EMarketer predicts the use of voice enabled speakers will grow by 130% in 2018. As technologies work to keep up with AI, the future of voice search will continue to grow astronomically. By 2019, according to a report from Technavio via Skyword, the voice recognition market will be a $601 million dollar industry. As we move forward in technology capabilities and the future of AI, content producers and marketers should target voice search optimization as much–if not more than–traditional SEO.
Want to optimize your site for the future of voice search? Contact our expert Strategy team or email us at [email protected].