Hooked on a Feeling: WDG Mixtape, Vol. 1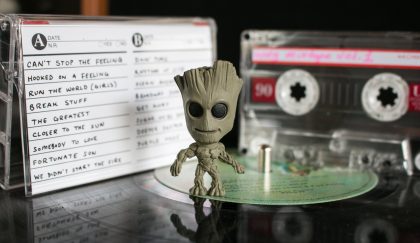 ---
Guardians of the Galaxy Vol. 2 is set to be one of the biggest hits of the summer season. Last year's blockbuster opened with Star Lord grooving his way through a cavernous alien world to Redbone's "Come and Get Your Love." It only got better from there.
For a movie whose buzz was built on its near perfect soundtrack, Vol. 2 has a lot to live up to.  At WDG, we know a little something about fantastic music and living up to high expectations from our clients.
Not only do we love blasting our mixtape in the office, but we've partnered with Hubbard Radio to design and build a digital streaming platform.
For Hubbard, we created a custom listening experience for users to curate the perfect playlist on a highly performant platform. With the ability to like artists and songs, create playlists, share to social media, and subscribe for rewards, users receive a personalized, interactive listening experience on Hubbard.
The innovative rewards program gamifies the the listening experience for users and creates pathways for increased subscriptions and revenue, with real time analytics using Mixpanel for Hubbard admins to analyze and query user data.
Check out our own WDG Team playlist and share the songs that pump you up for the workday by tweeting us @wdgtweet.

 Can't Stop the Feeling (Justin Timberlake)
When things just work, you can't stop the feeling of perfection.
 Hooked on a  Feeling (Blue Swede)
We have video to prove just how good our design team can dance to this song.
 Run the World (Girls) (Beyonce)
WDG has some serious girl power.
 Break Stuff (Limp Bizkit)
Sometimes you have to break the mold to make something great.
 The Greatest (Alabama Shakes)
We know we are.
 Closer to the Sun (Slightly Stoopid)
A little something for those Mellow Monday vibes.
 Somebody to Love (Queen)
We share the love with our community through our nonprofit initiative, GiveBack DC.
 Fortunate Son (Creedence Clearwater Revival)
We're pretty fortunate to work with amazing people (and our office puppies).
 We Didn't Start the Fire (Billy Joel)
Bonusly for anyone who can recite this entire song.
 Doin' Time (Sublime)
Summertime and the living's easy on the Alexandria waterfront.
 Rhythm of Life (Tank and the Bangas)
Like Tank and the Bangas, we know real talent can't be contained and are always on the lookout to grow our team.
 Fantasy (Mariah Carey)
Redefining what greatness is, like we do every day.
 Ocean Avenue (Yellowcard)
Our dedicated developers get the project done right, even if they have to stay up all night.
 Broadway Jungle (Toots and the Maytals)
A classic. Like us.
 Get Away (Vamps)
We love to get away to our favorite Starbucks for afternoon meetings. 1,950 cups of coffee and counting.
 Sugar, We're Goin Down (Fall Out Boy)
Like Fall Out Boy, WDG never goes out of style.
 Deeper Deeper (One OK Rock)
We love music that's as diverse and unique as our team.
 Purple Haze (The Jimi Hendrix Experience)
The best. It's who we are.
Empowering each other to the best with our WDG playlist is made easier thanks to shareable streaming experiences like the platform we've built for Hubbard to utilize. We are proud to partner with them to create a cutting edge listening experience for users everywhere.
Want to see more of our incredible work improving the user experience in every industry? Check out our work, or contact us to find out how we can create a custom digital experience for your organization!