Hubbard Live Streaming Radio
Streaming music just became more powerful with the foundation of WordPress.
UI Design
Realtime Ember Application
Mobile-First Responsive Strategy
WordPress Plugin Development
Hubbard Broadcasting operates across several major markets including the nation's capitol. They desired an online platform that could manage multiple channels and millions of listeners. In order to achieve this goal, WDG would need to create a streaming medium equipped with features that had cutting edge web functionality that would revolutionize the listener experience.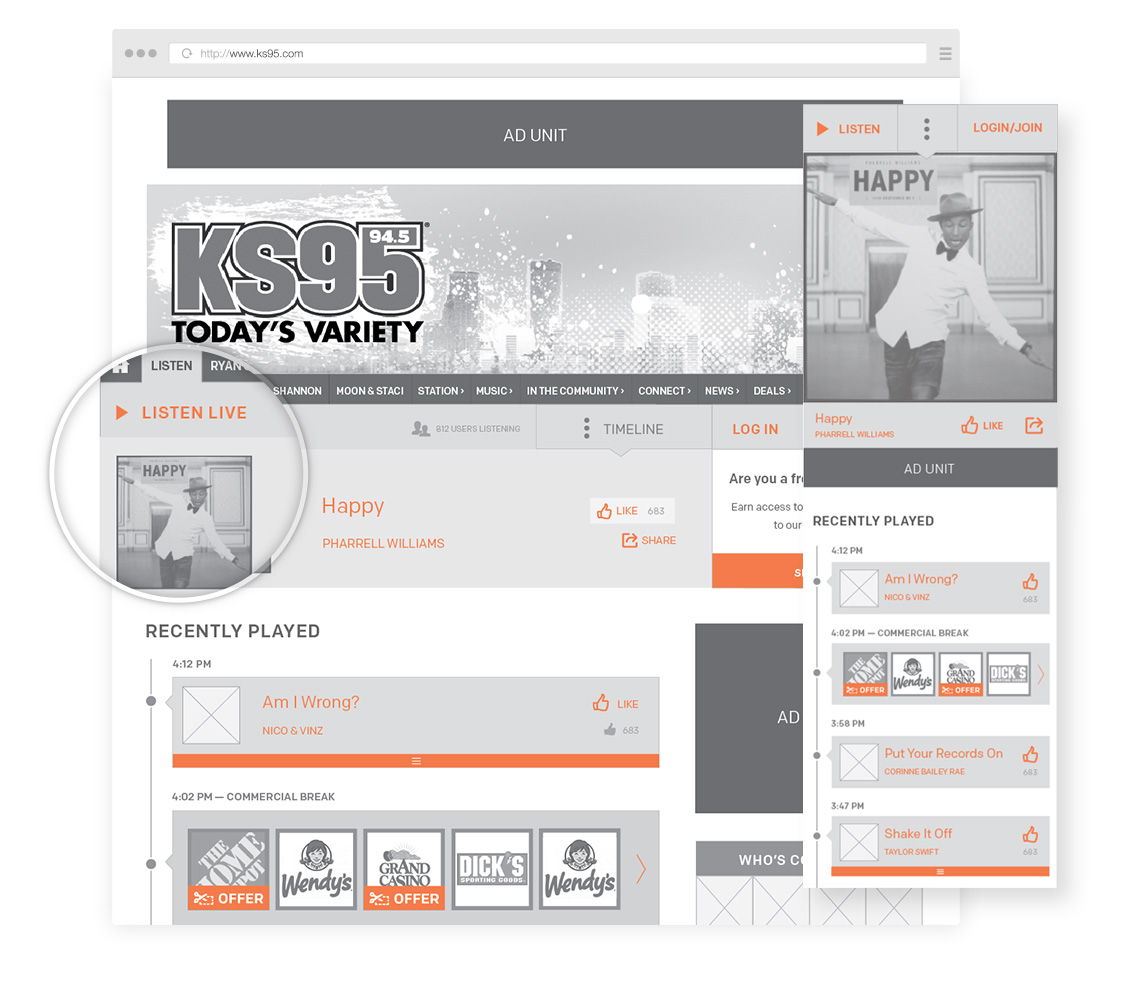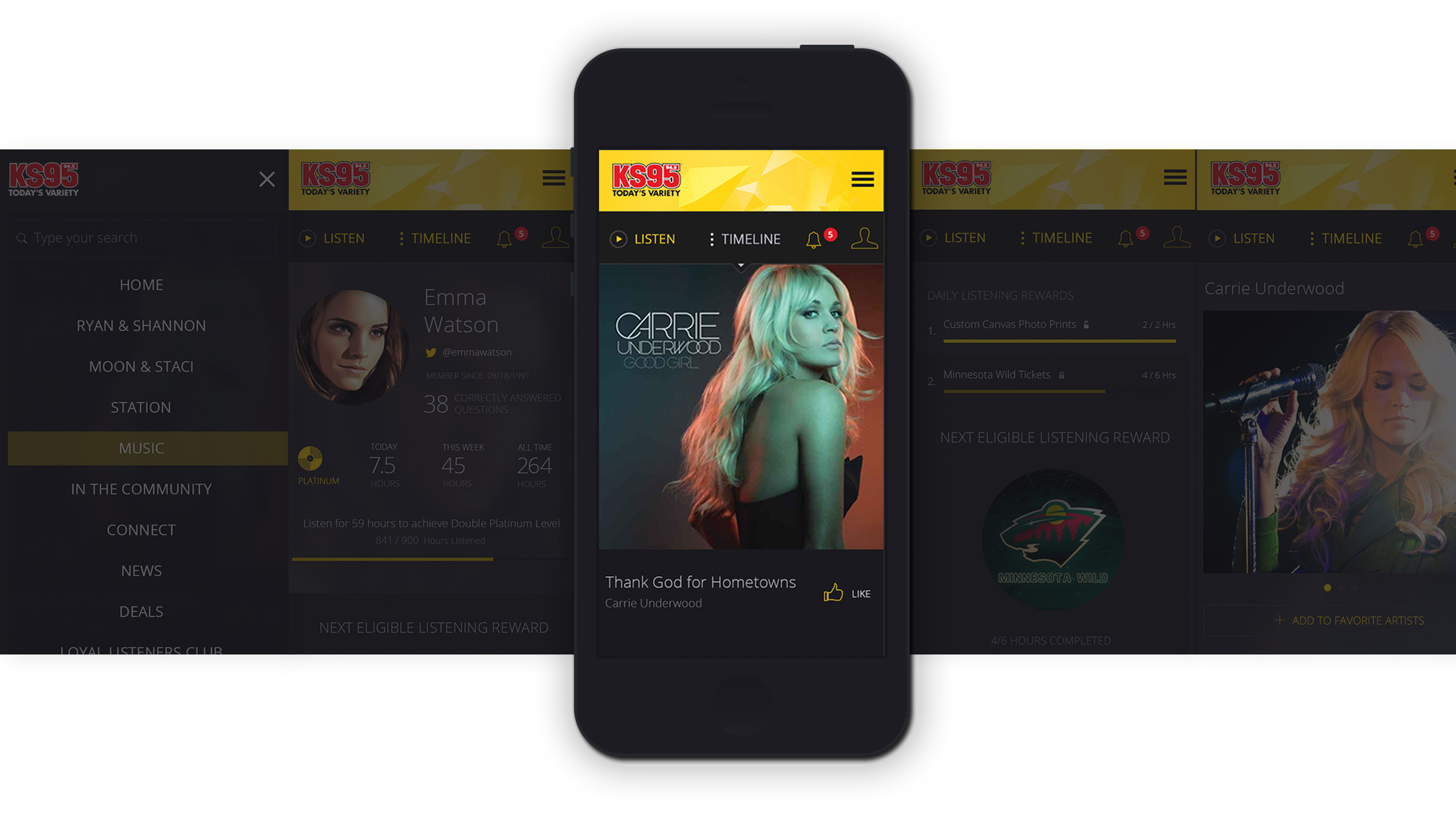 Heavily Scalable, yet Fully Optimized.
In order to support the enormous amount of concurrent users the ideal product would rely heavily on performance. We accepted the challenge of creating a heavily scalable application that is compatible with all browsers. A vast amount of programming went into customizing the API endpoints in WordPress. Keeping optimization in mind, our team maximized the capabilities of real-time socket connections.
We developed custom plugins to sync track and artist information in real time from leading music databases OpenAura and MusicBrainz. WDG implemented a premium analytics tracker, MixPanel, for mobile and web functionality. An unexplainable level of custom architecture was built to avoid WordPress server overloads. Each station can handle 4,000 concurrent authenticated users (18.5k requests per minute) per server with an average response time of 2.4 seconds.
Undoubtedly we went beyond the standard with back end development. Check out what the experts had to say.
Reducing admin-ajax requests was impossible, but you did that.

WP Engine's "Guru of Gurus"
Strategy for Success
After defining what it would take to attract and sustain the modern listener online, we authored an innovative formula that ensured premium execution on all levels. It satisfied every complexity and answering every request of the client. It was our intention to compose a web application that would have accumulative benefits with cutting edge innovation for years to come. This is how:
Responsive
The current demands of the online arena requires adaptability, flexibility, and automation. By implementing a responsive design, the screen layout is expanded which, in turn, allows more valuable real estate for advertisements. We built a framework for content to be viewed on any platform—mobile, desktop, and tablet. Responsive design allows streamlined menus that simplifies user interaction. Additionally, the option to give an advertisement a fixed position directs the attention to the most important content while decreasing visual noise.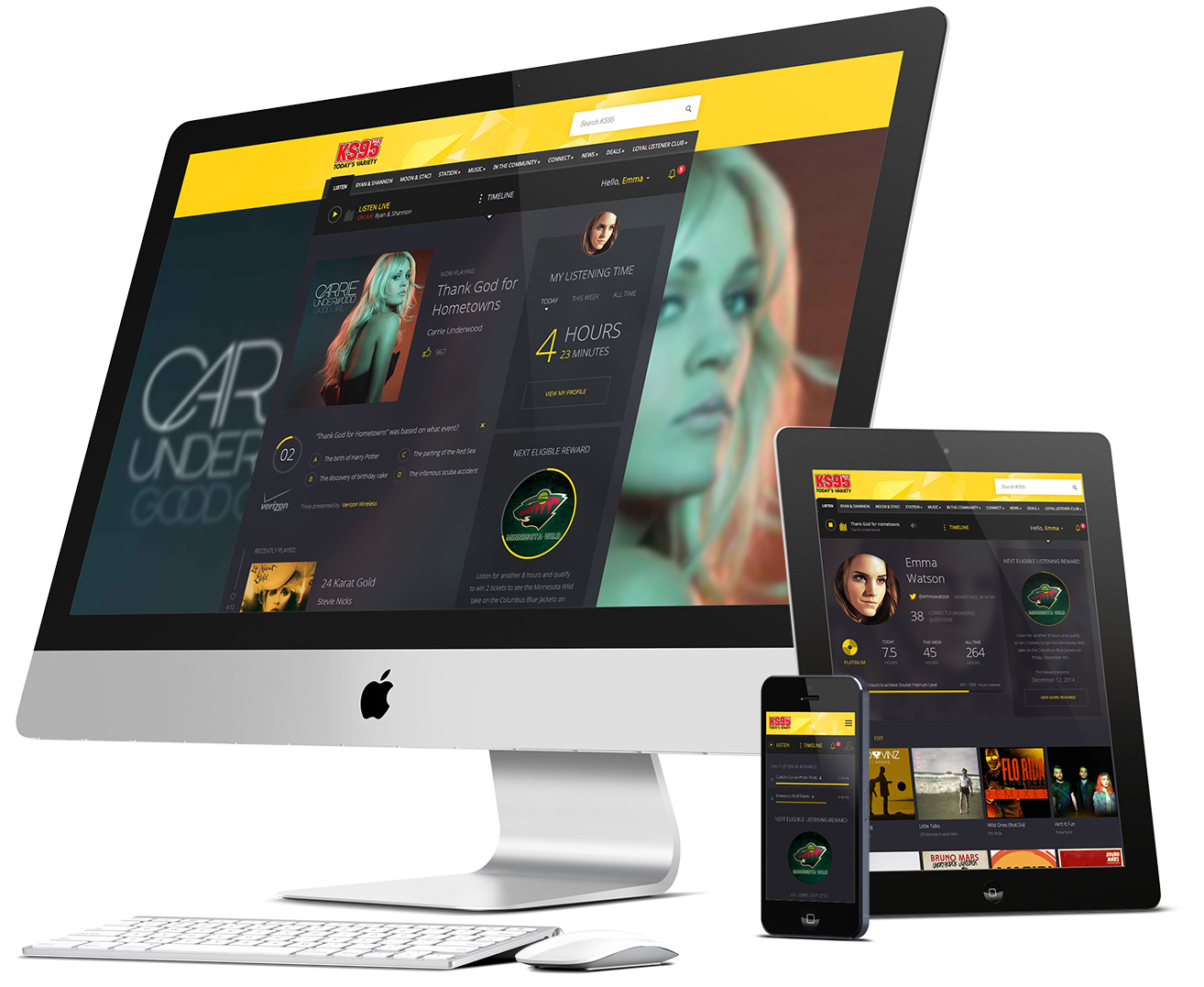 Realtime Interaction
Arguably, WDG developed a way to keep radio alive. How? Our developers did so by utilizing the capabilities of the web to create a portal that harvested real-time interaction between the listener and radio producer. By leveraging Ember as our javascript application framework, we built a fast and universal way for listeners to interact with on-air content as it was created.
Features:
Like songs
Favorite and save artist
Answer trivia questions
Access artist discography
Submit and reply to discussions
Search for similar artist or users
Share content to social media outlets
This streaming web experience now has a social interactive aspect that traditional radio may never achieve.
Rewards
Not only did we design and launch a visual masterpiece that increased interaction and engagement for Hubbard Radio, the platform also influenced their overall business model. Every listener now has a reason to log in. In an effort to increase user retention rates, we understood we had to reward the listener for their time. The winning formula consisted of a two-tiered system that rewarded subscribed users based upon time of listening and online interaction. With this system, Hubbard now has the option to present a delightful mix of prizes from major retailers along with locally curated offers.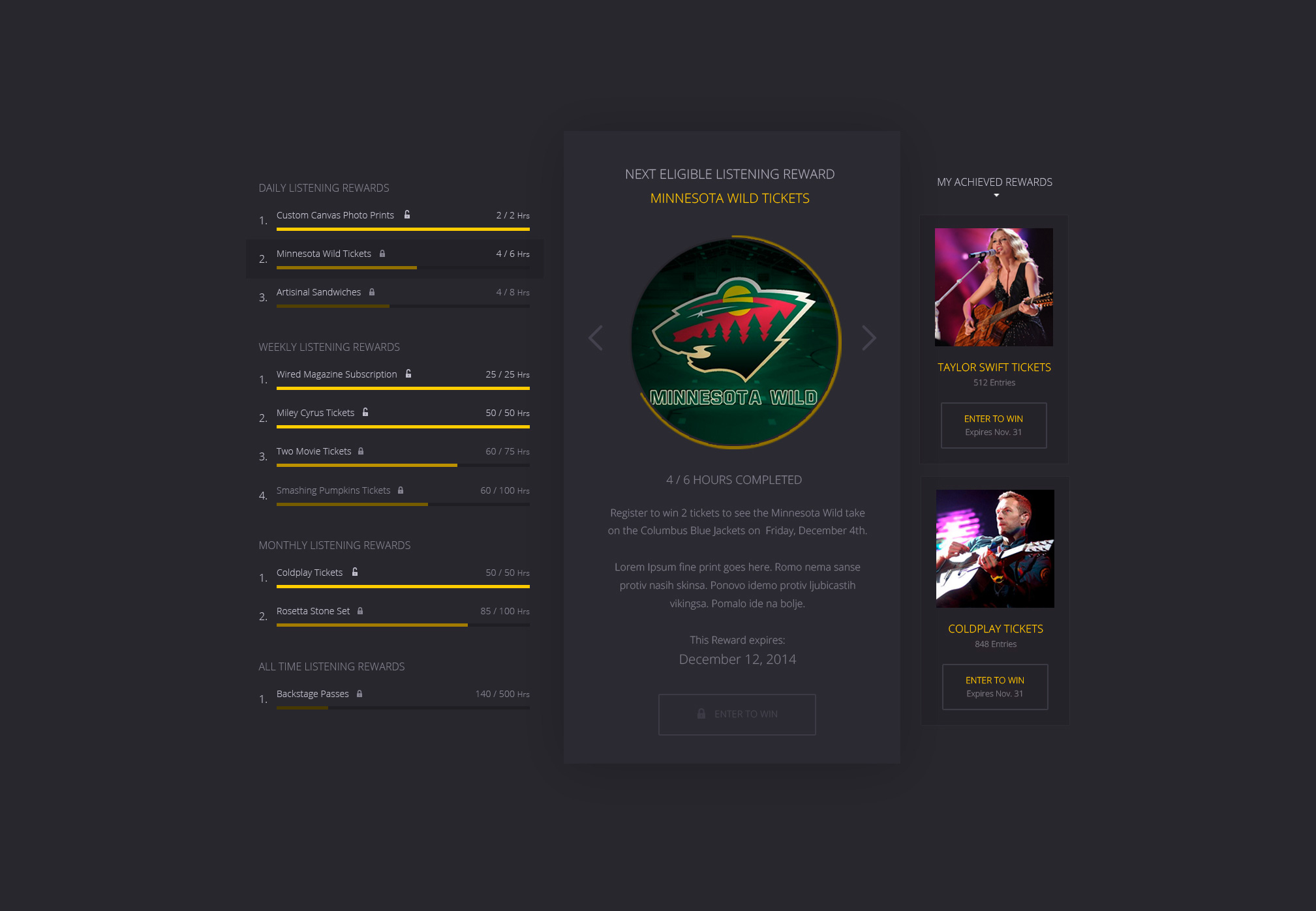 Revenue
In result of our revolutionary design, Hubbard Broadcasting will now benefit from the limitless advertising opportunities. Their new platform provokes corporate sponsor partnerships because the product sells itself on three levels. Those characteristics are usability, visual appeal, and data centric metrics. We modernized online radio in such a manner that it has become a revenue stream fueled by infinite data capabilities. Every user has a profile, which provides insightful statistics. Administrators have the ability to measure listening habits, song preferences, user location and more. Unlike other stations, Hubbard is capable of offering precise marketing campaigns that ensure targeted demographic exposure. With this bevy of analytical data, Hubbard Broadcasting will remain at the forefront of the radio industry.
The more I go through this code, especially with Ember, the more I am impressed with what you all put together.

Steele Nelson Director of Mobile Development at Hubbard Broadcasting
About The Web Development Group
At WDG, we deliver results-driven and engaging device-independent online web properties and communities. While our strategy and design teams are platform agnostic, our web development team specializes in open-source technologies, such as Drupal and WordPress.
Our clients range from successful startups and Fortune 1000 brands to higher education institutions and nonprofit organizations and we thrive on building long term partnerships with our clients. In addition to working Hubbard on the user-focused music streaming application, WDG has also developed several websites to better the digital presence of several local news publications under Hubbard, including WTOP and WFED.
Amplify your brand with WDG.