7 Tips for Revamping Your Digital Strategy in 2017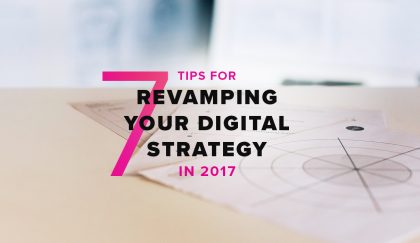 ---
2017 brought prime opportunities to revamp your company's digital strategy. Did you follow the best practices? Check out these practical ideas to make sure you are seamlessly blending customer experience with your marketing communication goals as we move towards the end of the year.
Check out our top 7 tips for making the most of your digital strategy at the end of 2017.
1. Begin with the Buyer
Your buyers are the heart and soul of your business. Whether your marketing is B2B or B2C, you have to understand exactly who you are selling to in order to make your business competitive in the new year.
This starts with refreshing your buyer personas to help build a better brand story.
To begin, think about what's changed in the last year relative to your target buyer: what new challenges, interests, priorities, and goals have they encountered? Using real data, interviews, and market research, create detailed personas with updated demographics, desires, and behaviors for your target audience.
Once you have you have fully identified who your buyers are, you can build a proactive plan that supports a renewed digital strategy.
2. Update Your Marketing Goals
Part of creating a revamped marketing strategy is reestablishing clear and precise marketing goals for the new year.
Depending on the success of your 2016 goals, these new objectives may require anything from a simple update to a total rehaul. Comparative goals such as, "We want to gain a 20% increase in online sales versus 2016" can be a great way to inspire and track measurable growth for the new year.
Once your goals are set, reverse-engineer your plan to identify the specific steps needed to reach them. Create individual assignments for team members with clearly demarcated benchmarks, and use a phased process throughout the year to measure progress in each quarter.
3. Evaluate Your Existing Marketing Collateral
Once you have a set of clearly defined marketing goals for the new year, take stock of what is already in your arsenal.
With your marketing team, evaluate which marketing tools were profitable in 2016 and which were not.
You should not only evaluate how effective each tool was for your business, but also explore how marketing trends shifted during the previous year. For example, how has the "Stories" feature on Instagram changed social media engagement for your target buyers, or how did incorporating video into marketing campaigns help create an uptick in views on particular sites?
Use these insights to inform your decisions about which tools would be most appropriate for your renewed digital strategy.
This is also the perfect time to engage your competition on a level playing field. Has your competition increased their Twitter output or hired a social media strategist? How has their use of email marketing changed their content dynamics over the last year? Evaluate what has worked (or not worked) for them in the past year, and use this data to inform part of your own digital plan for the new year.
4. Eliminate What Doesn't Work
Equally important, this is the opportune time to eliminate what isn't working for your overall marketing strategy.
Use appropriate metrics to establish which tools failed to deliver results in the previous year, and work with your team to figure out why. Was the tool simply not the right fit for your business model, or was there a gap in understanding of its capabilities and purposes?
When you have established the root cause of the issue, evaluate the corresponding expertise of your staff. Are there any areas where updated training or even a new staff member could increase your company's ability to effectively use these tools? If so, take the appropriate measures to ensure that the right tools are being used to build an effective marketing strategy as you move forward.
5. Content Curation
2017 was a prime opportunity to perfect your company's content output. "Content-first" strategies value more than what is on your website.
When evaluating your content, think about how your team can expand the company's brand across all marketing channels, including social media, email marketing, and various media verticals.
Make a list of existing content that can be carried over for the new year or even repurposed with your new marketing goals in mind, such as a previous blog post that can be repackaged as a webinar or expanded into a white paper.
Equally important, eliminate any content that no longer supports your revamped strategy. If a general overhaul of content is required, look at the project as a prime opportunity to align updated content with your newly established buyer personas.
Content is king, and if your business doesn't already have a dedicated content writer, consider using a full service creative agency to help revamp your strategy.
A refresh of your brand is a perfect way to reinvigorate your digital presence in the new year.
6. Don't Forget the Basics
As you move forward with your digital strategy in 2017, don't forget the basics. There are plenty of data-driven tools and metrics designed to help grow your marketing efforts in the new year. It's always valuable to take time to determine which ones are being used appropriately, and which need a redo for the new year. Some of these include:
Using a solid CMS (Content Management System) like WordPress or Drupal to easily manipulate and update content on your site
Utilizing SEO keywords help grow your site's visibility in organic search engine results
Using email and social media marketing analytics to evaluate the effectiveness of your campaigns and make appropriate adjustments
Using a CRM (Customer Relationship Management) system to facilitate easier customer interactions for your marketing team

7. Remain Flexible
Whatever your marketing strategy looked like at the beginning of 2017, it's almost guaranteed that it didn't look the same by the end of 2017.
You should have begun your year by mapping out a general strategy related to content, marketing actions, and smaller business goals (such as general dates for pushing out blogs, whitepapers, site updates, email campaigns, etc.).
However, you had to be prepared to adapt the plan to customer feedback and other interruptions that may impede or change the intended flow of your marketing rollout.
Too often, marketing goals aren't met because rigidity wins out over flexibility. Track your progress in a phased plan throughout the year, and assign specific team members responsibility for maintaining momentum in developing different parts of that plan.
Most importantly, be prepared to adapt and change your strategy as needed over the course of the year to help guarantee growth instead of stagnation.
By adopting these strategies, your marketing plan for the new year will be easily manageable and highly effective. Most importantly, by investing the time and effort to revamp your digital strategy, you will prime your marketing goals for a successful end to 2017.
Source: Hubspot  
WDG's strategy and content teams are experts in collaboratively creating a powerful digital strategy for organizations in almost every industry. Contact us to get started!