Surviving a Traffic Spike with Speed and 100% Uptime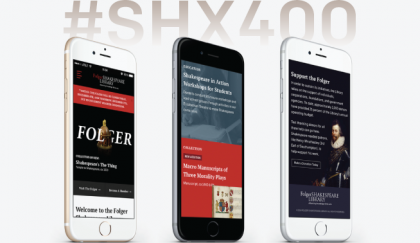 ---
Surges in website traffic is the stuff marketer's dreams are made of… and in some cases, a developer's worst nightmare. Whether you pay big bucks for sponsorship, launch a highly anticipated product, or-by sheer happenstance-become connect with a social trend or cultural event, having a spike in unique site visitors is goal #1. If the software and hardware of your site isn't prepared for the fluctuation, however, your victory will be short-lived. Instead of expanding your breadth of reach, you just might turn away, or turn off, site viewers as a result of slow speed, poor performance, and downtime. So what can you do to make sure that your site is always up to speed during a surge or otherwise? We know a all about maintaining speed with high spikes in traffic.
April 23, 2016 marked the 400th anniversary of William Shakespeare's death, which also happens to fall on the same day as his birth. The momentous occasion led to a trending spectacle, bringing a renewed interest and appreciation for Shakespeare to the edges of the cultural sphere. As a WDG client, The Folger Shakespeare Library was featured, linked to, and highlighted in The Boston Globe, The New York Times, BBC and C-SPAN, amongst others. Folger.edu saw a significant increase in site traffic of nearly 1,200% upsurge as a result!

In preparation for the surge, WDG contacted the Folger Shakespeare Library to discuss preemptive steps before the anticipated spike timeframe to ensure the site remained high-performant.  In the months prior, WDG worked with BlackMesh, the Folger.edu hosting server, to make sure that the site would be able to handle the traffic swell. During the days leading up to the 23rd, before #SHX400 started trending and the mass celebration of Shakespeare hit the web, WDG directed BlackMesh to increase key hardware specifications to handle the load.
As one of our hardware partners, WDG was in constant contact with BlackMesh during the peak to make certain the servers were functioning issue-free, and to ensure any potential hardware glitches would be swiftly resolved.

In addition, WDG employed Pingdom, an external analytics monitor, to track the Folger.edu site and all associated microsites. Pingdom works by constantly monitoring a website's uptime, checking for crashes or slowdowns, and alerts the team instantly if a problem is detected. Pingdom is a service that WDG offers to all clients and is greatly valued for the ability to verify internal host monitoring, externally.
Attracting a 1,200% growth in visitor traffic could have caused some major blips in speed, performance, and uptime of the site. However, we were prepared.  We took specific efforts to combat the risk; during the height of the peak, as a result of the increase in server specs and constant monitoring, The Folger.edu site was able to maintain maximum performance levels  and functioned at 180 milliseconds response time. This is compared to the normal 138 milliseconds response time. In layman's terms, the site was fast! Additionally, the site had 100% uptime – not crashing or going down even once, despite the escalation in traffic.
Want even more details on the Folger Shakespeare Library Project? Get all the behind-the-scenes details here.
WDG makes high-performance websites, and we always ensure that our customers are not losing visitors because of speed or implementation issues. Want to know how we can help you increase your site's performance levels? Contact us today!