We are Rebranding with WordPress!
Sometimes your company or organization needs a complete revamping. Maybe you haven't updated your marketing material in a while, your logo looks outdated, or your website lacks modern features. Either way, you don't just need a new website, you need a new web presence!
Although a fun and exciting time for your company, it can also be stressful, full of concern, and all around unnerving. At WDG, we are currently undergoing a rebranding with WordPress so we know first hand the challenges that abound when going through these periods of transition.
At the same time, this whole process has given us the best possible insight into what our clients go through. The Web Development Group knows the best practices that can be implemented to ensure your brand will have a modern, fresh, and engaging web presence. We will start by working with you closely to identify your current audience, goals, and how success will be measured.
From there, we will mock-up designs that come complete with cohesive color schemes, modern technology, and a refreshed logo (if you choose). While rebranding ourselves, we spent a lot of time thinking, "what kind of vibe do we want to present to our audience?" This helped us hone in our vision. From there, our design team really took over and went above and beyond our expectations. After a few tweaks, the development team started their work. At this point, pretty much all that is left is to finish is adding content.
Here's a preview of what you can expect from WDG. The new site will be launching in the coming days, but take a look at our new logo and let us know what you think! We are really excited about it.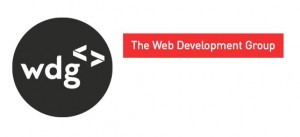 If your company or organization is interested in a rebranding, you should consider getting in touch with WDG. We are a professional web development company based in northern Virginia but we work with clients all around the DC area as well as throughout Maryland and North Carolina. We specialize in WordPress and Drupal development but also implement responsive designs so your site will look great on mobile and tablet devices!