WDG Launches Alexandria Economic Development Partnership's new WordPress website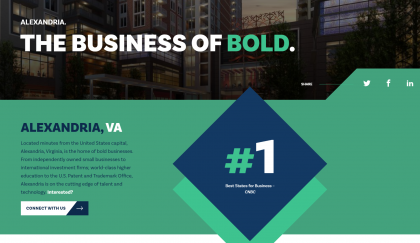 ---
We're proud to announce the newly launched website for the Alexandria Economic Development Partnership (AEDP). A local nonprofit, AEDP serves as a public-private partnership that promotes the City of Alexandria, VA as the premier epicenter for Fortune 500 companies and has recently helped secure the billion-dollar VT Innovation Campus while playing a vital role in attracting Amazon's HQ2 to the Beltway.  
A Homecoming Project
This was a fitting project for us, as WDG grew up in Alexandria, scaling from a start-up to an enterprise-level creative agency. And just as this city helped galvanize us into what we are today, working on this website rebuild allowed us to return the favor by crafting a digital presence that shapes and showcases the Alexandria of the future.
Home for Your Business
Our strategy focused on answering the essential question of Why Alexandria? We needed to inform and influence key decision/budget makers by aligning AEDP's content to clarify and contextualize the value proposition of moving your business to Alexandria. It was paramount to present a striking portfolio of commercial real estate sites along with a select set of resources for local business services, programs, and tax incentives, all complete with crucial data points.
On-brand messaging conveys the city's rich history along with its thriving, youthful community and limitless potential for growth that awaits. The site highlights the liveability, diversity, and infrastructure of a city on the rise with the overarching takeaway that Alexandria is the next perfect home for your organization.
Alexandria by the Numbers
Our streamlined UX and IA give easy access to essential statistics, featuring a Data Dashboard with at-a-glance immersive infographics that illustrate Alexandria's population demographics, real estate details and the figures behind the city's largest private-sector employers.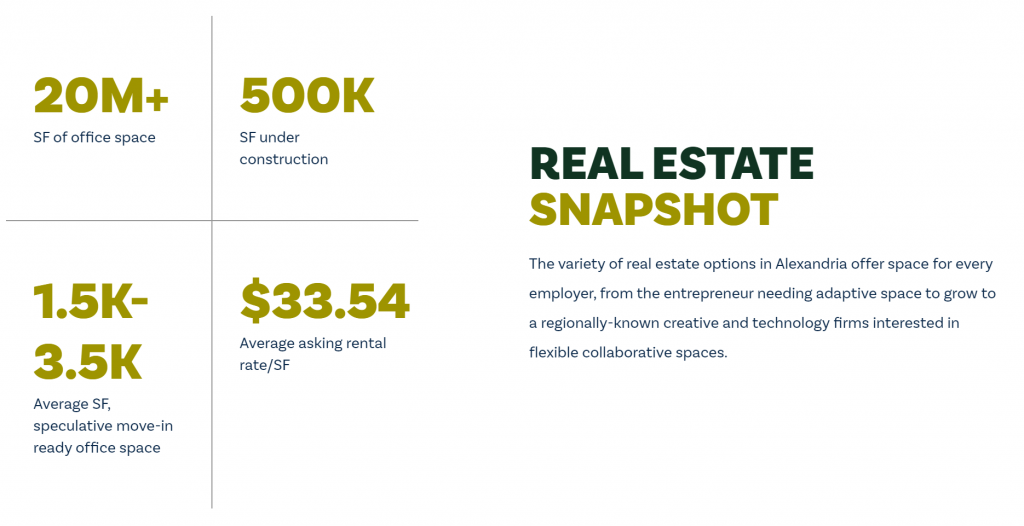 A city-wide Property Search allows you to peruse the latest available commercial spaces, sites and buildings while our custom-designed map leverages the city's Mid-Atlantic location, featuring its proximity to all of the major business hubs of the Eastern seaboard.
Developing + Designing a City
Implemented on a WordPress CMS by our development team with the new in-line editor Gutenberg, our designers created bespoke visuals that speak to the new, burgeoning energy of this waterfront ideopolis. A responsive framework and flexible, customized layouts allow the site to fully showcase the vibrant energy and professional gravitas of the city's offerings in attention-arresting detail.
A Future Together
This partnership and project allowed us the opportunity to pay it forward to the city that helped make us who we are, along with being an active part in reshaping Northern Virginia as the new entrepreneurial frontier. Just as Alexandria is the perfect place to build your brick-and-mortar business, WDG remains the ideal agency to help grow your organization digitally.