The Association of Clinical Research Professionals
The Association of Clinical Research Professionals
The Association of Clinical Research Professionals
Modular custom design layouts
Swiftype integration
Robust resource center
The Association of Clinical Research Professionals (ACRP) is a DC-based non-profit professional organization that supplies clinical research solutions, including membership, trainings and certifications to a network of over 13,000 professionals from around the world. Because many of the ACRP's resources and product offerings are digital and online based, the organization released a request for proposals, seeking a qualified web development agency that could redesign and rebuild the ACRP website into a robust portal, better suited at achieving the organizations mission and meeting KPIs than the association's current web site. The Web Development Group (WDG) was selected out of a number of agencies, with thoughtful attention given to WDG's specialty in designing sites for associations and foundations, as well as the agency's expertise in complex search functionalities. The Web Development Group was brought onboard to provide ACRP with strategy, planning, information architecture, wire framing, design and development.
On the heels of a brand redesign…
The Association of Clinical Research Professionals onboarded The Web Development Group on the heels of a brand redesign, offering the WDG creative authorities ability to fashion designs that showcased the brand's updated logo, more sophisticated use of color and professional imagery. Custom iconography, tactical use of color and typography were all implemented by the WDG user experience specialists to create a custom eye-catching home page that would bring the new refined version of the brand to life.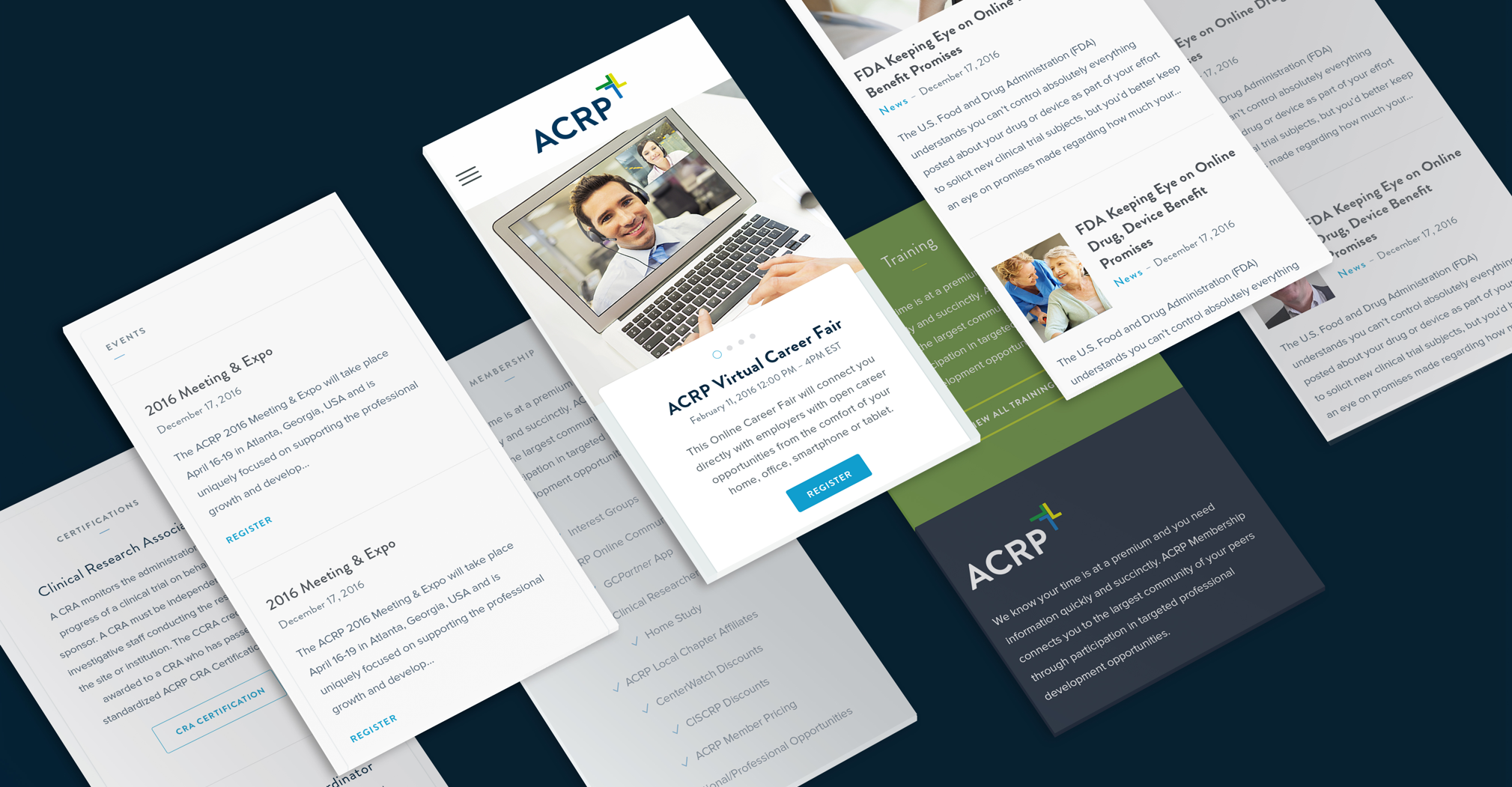 Creating a modular layout
Beyond the design of the site's homepage, one of the main requirements asked of ACRP was the use of a modular layout and the ability to customize design as the internal team completed the site's content. To facilitate a streamline and attractive design, WDG designers created "building blocks," designing individual modular pieces, opposed to full-page designs. With this method, ACRP was given a database of strategically designed sliders, content boxes, sidebars, text boxes, resource displays and more, which could be arranged and used as needed, in the design of an interior site page. These design blocks were built to offer ACRP various color options, layout selections, button choices and structure, to allow for unique editing and assembly capabilities, all while remaining in-brand, expertly designed, and fully responsive.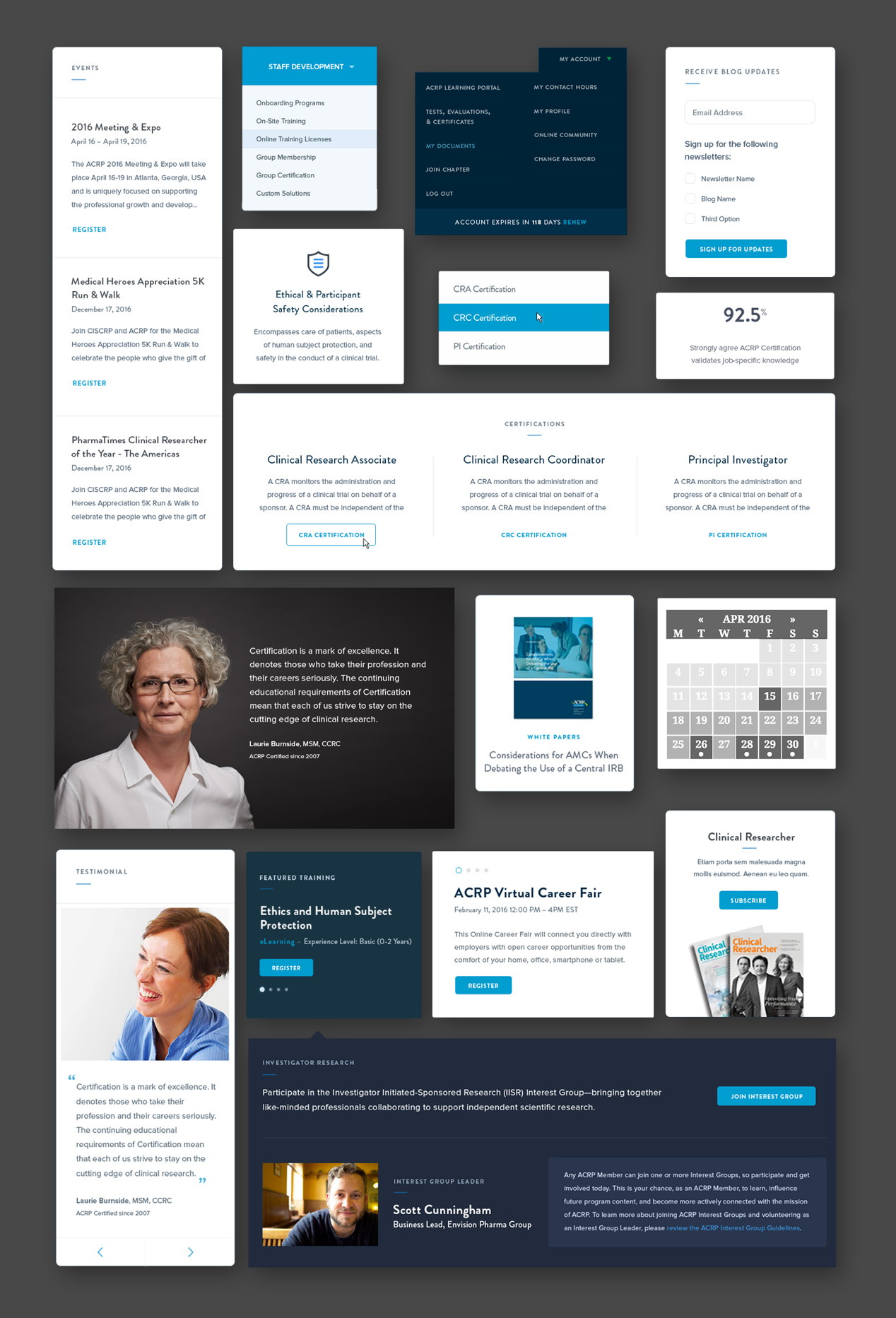 Using WordPress to accommodate internal assembly
To accommodate the internal assembly and implementation of the modular "building blocks," WordPress was selected as the CMS for the new ACRP site. Using a browser-based dashboard, ACRP administrators are offered a user-friendly process for inputting content and creating interior site pages. The Web Development Group expert development team implemented a unique flexible content layout editor in WordPress, creating 15 different responsive layouts, with various different options for each layout. So as products, content, events and resources grow and change, The Association of Clinical Research Professionals have all the tools they need to update the website as they wish; a growing trend in website design and development.
Developing a robust resource center
One of the largest components of the ACRP website redesign was the creation and implementation of a robust resource center. The ACRP offers a dynamic selection of white papers, e-learning tools, trainings, reports, articles and more, making quantity and mass content an important factoring constituent. But accessibility played a large role as well. Being a member-based association, some of the aforementioned content is meant to only be available to members, while others are available for the public view, and further, select content is only meant for members with certain certifications or designations. Additionally, the ACRP has 7 different site properties, and thus some of the abovementioned content lives on the main ACRP website, while other pieces are hosted throughout the various microsites. So creating a streamline resource center that conveys a professional design and boasts a clear user interface all while being high-performant with complex "under the hood" capabilities, created for an intricate implementation project.
The wonders of Swiftype
To facilitate the robust resource center, WDG expert designers employed Swiftype as a federated search integration. With Swiftype, users can search through resources from multiple properties for specific key words and sort those results by both relevancy and chronology. With Swiftype, WDG developers were able to create custom settings, such as offering advanced funneling and narrowly filtering of search results by knowledge level, content type, primary role, foci and partners, and even deeper levels within these facets. To enhance the user experience while in the resource center, WDG designers built special features into the search functionality, such as "filter history," so that as a user progresses through a search, the specific filters and facets are recalled and automatically implemented. Additionally, the WDG development authorities built in the ability for the ACRP administrators to customize what is viewed in the search results. Based upon analytics, the internal team is able to determine what key words that are commonly searched, and can edit the results derived from such key words to direct users in a certain direction, or place hierarchy on various results. Further, Swiftype offers the ability to edit the abstract, or brief synopsis, that appears under a search result, to best illustrate the content within.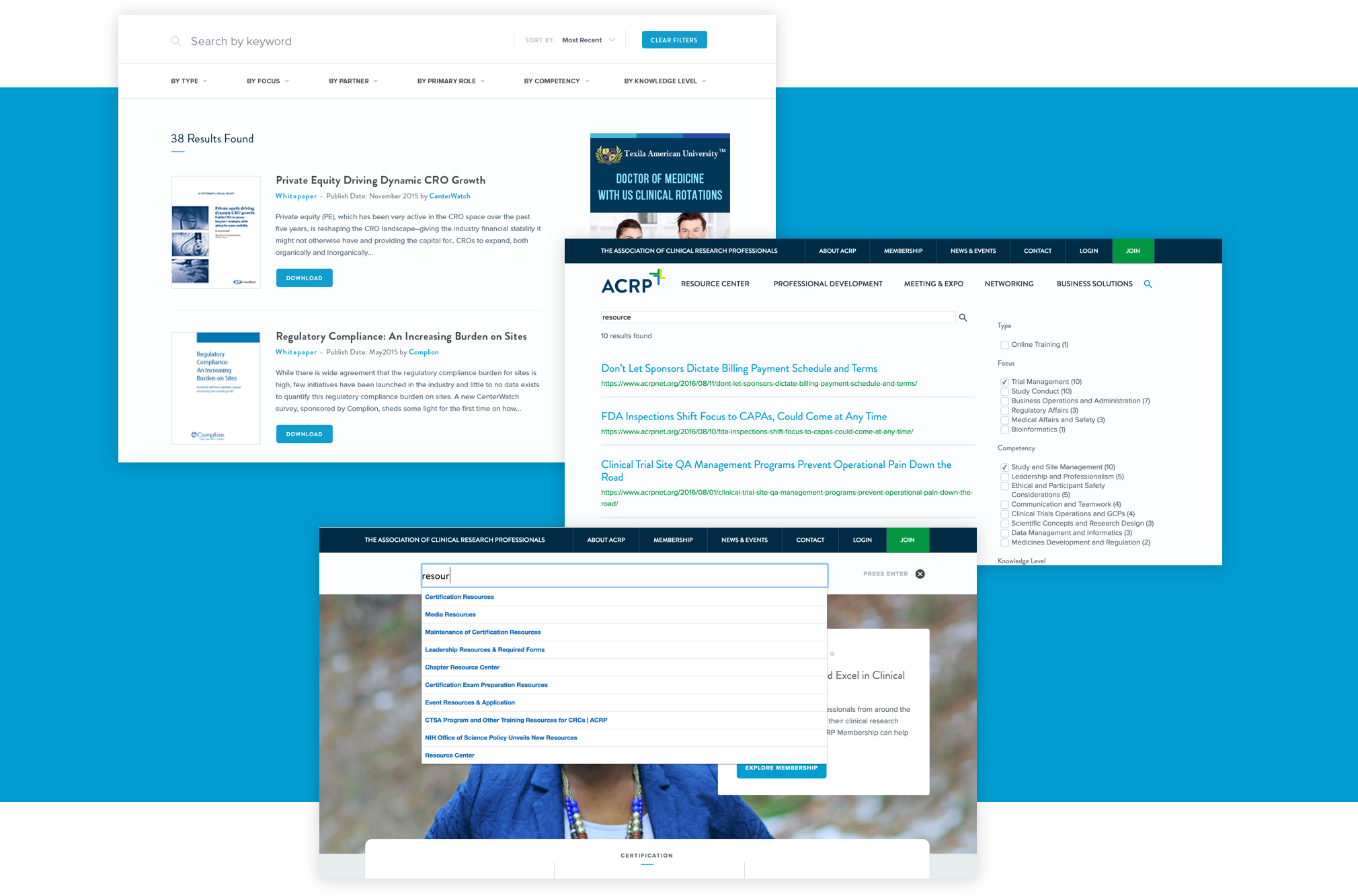 Single sign-on Integration
Another large component tackled by the WDG development team was the integration of the ACRP Association Management Software (or AMS). As previously mentioned, ACRP has 7 other digital properties, and one of the desired features for the website redesign was the implementation of a single sign-on. The WDG development specialist integrated WordPress with netFORUM, ACRP's AMS, so that once a member logs into one site, they have access to all the associated sites, without having to log in on each site separately. Additionally, content on WordPress can be restricted to certain users such as those with an active membership or have a specific certification.
Have a site in need of an upgrade? Need help creating robust resource center and powerful search function? We're the experts and we're here to help. Send us a message at [email protected] and let us know how we can help build your dream site.
WDG can help your organization expand.