DLT
A new step for an award-winning IT solutions provider built with the power of Drupal.
A new step for an award-winning IT solutions provider built with the power of Drupal.
Marketing Automation
Content Strategy
Drupal 7 Implementation
Ambitious Timeline
DLT is an award winning Washington IT solutions provider located in Herndon, Virginia. With over 20 years of experience, they have solidified themselves as a market leader, servicing federal and local government agencies with cloud computing, cyber security, and data management products.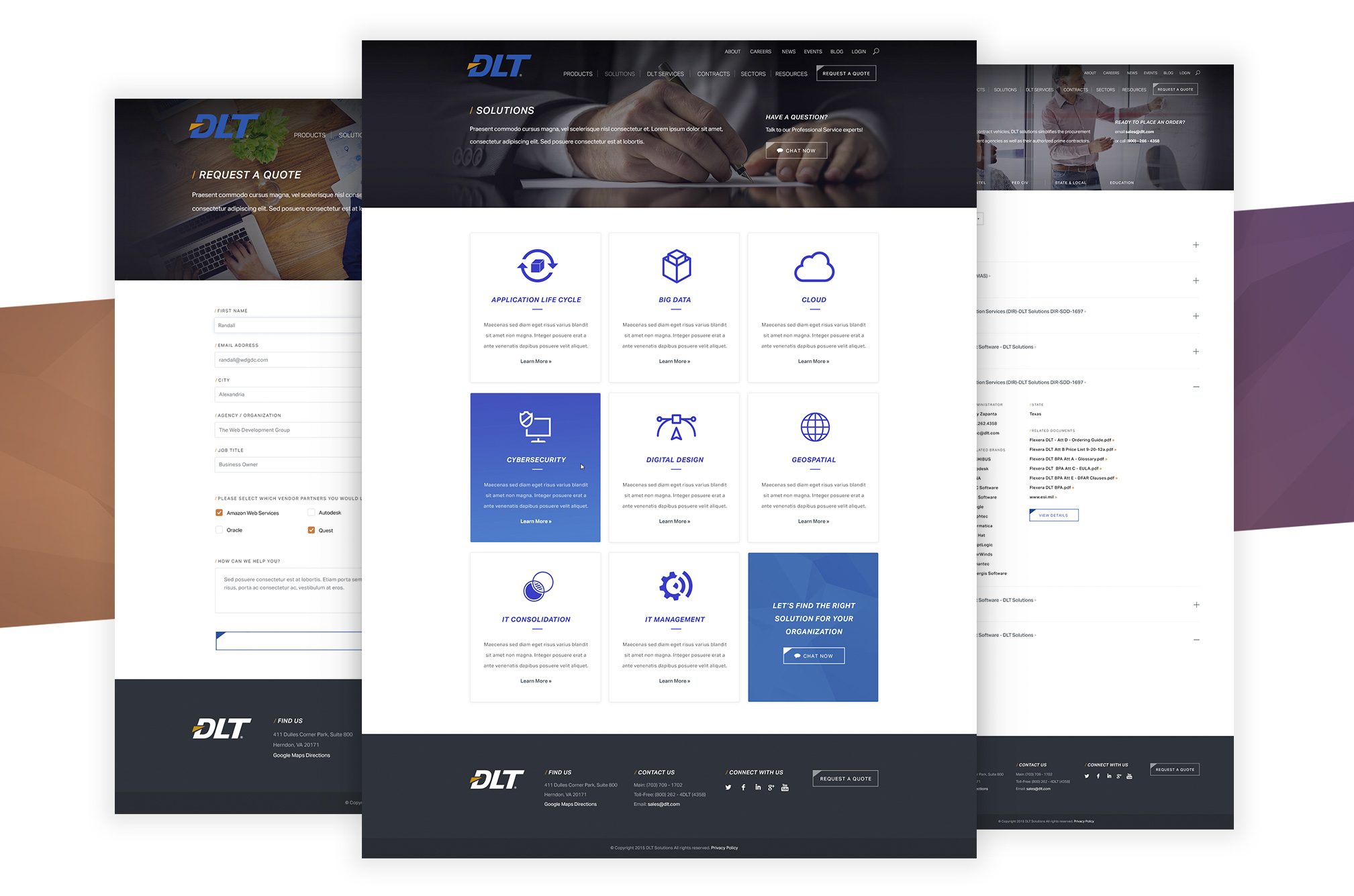 Presenting a More Accurate Face to the World
DLT's previous web presence was outdated and lacked a level of technical sophistication that reflected DLT's leadership, services, and technical capabilities. Their website no longer portrayed them as the market leader within the competitive technology sector. From a business perspective, there was no formal process of attracting new online sales leads. WDG was tasked with designing a web space that thoroughly conveyed the modernization of the DLT brand while also luring new long term clients.
Transformative Process
Centralized Media Management
Visitor and Event Tracking
Our initial strategy involved increasing DLT's bandwidth for collecting and responding to leads by integrating marketing automation tools that increased visitor interaction and engagement. The process required designing web pages equipped with easy contact forms and calls to action. An essential part of increasing conversion rates involved producing uncluttered responsive web design templates that emphasized the benefits of their services/solutions. The winning formula consisted of highlighting their digital assets with worry free lead generation modules integrated into Eloqua's CRM system.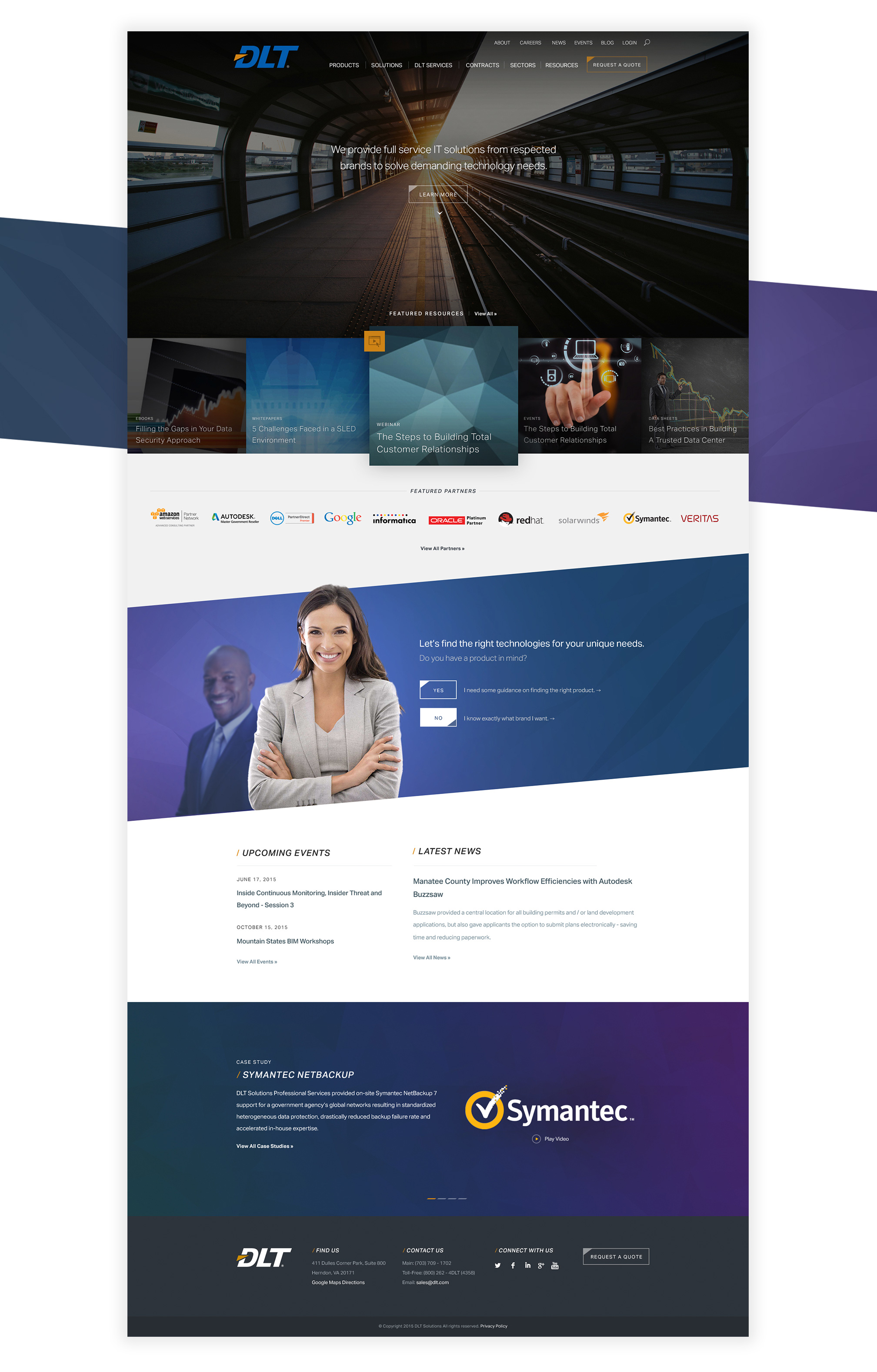 Utilizing Media to Engage
We wanted to break the corporate IT web design mold with a dynamic home page. The goal was to avoid the overused basic homepage elements like static banners and redundant slideshows. Instead, a full-screen video header was used to increase user engagement. First time visitors absorb this presentational format with an emotional response.
A video header works as a brochure that exhibits an organization's marketing messages, vision, and capabilities. With mastery precision, DLT was revamped with a sharp video header accompanied by an inviting call to action. Our web designers then followed the header with an eye catching cover flow design that linked to attractive product offerings. The site is now a seamless promotional tool for generating leads, filled with multiple call to actions.
Drupal Web Development
WDG's expert Drupal developers built an elaborate site with digital marketers in mind. Not only did we increase interaction with visitors but we gave DLT a way to gauge user's behavior. With our custom-built theme leveraging Drupal's content management system DLT now has the ability to control every aspect of their new website.
Additionally, our team implemented cloud-based software that allows multiple employees to access sales information simultaneously. DLT is now capable of compiling points of contact and buying preferences; including functionality that assists visitors with custom sales support. Tracking a customer's life cycle will positively influence customer relationship management.
Start a Project
Let WDG Help You
Grow Your Business!
Let's Talk