Drupal to WordPress Client Migration Review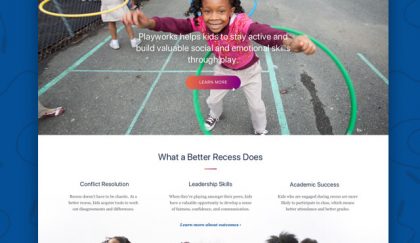 ---
Our client participated in a third-party interview with a Clutch Analyst. This interview about WDG's services was with the former Senior Web Producer for Playworks.org, a children's health non-profit. Read their story – https://www.playworks.org/about/ or view the WordPress multisite web redesign case study https://www.webdevelopmentgroup.com/work/playworks/
Challenge & Opportunity.
The main challenge for Playworks was the outdated Drupal CMS which was clunky and misconfigured. Playworks team and business had outgrown Drupal and needed a more flexible content management system with a modular design system built in. During the technical discovery, WDG traveled on-site and completed a major technical discovery session and recommended a Drupal to WordPress migration including a complete redesign. As part of the discovery process, team leads from strategy and technology teams completed a content audit and technology audit. WDG reviewed the primary website, campaign websites and affiliate websites. All running on different platforms.
Their team gathered requirements and conducted a final analysis. They then entered the design phase and assisted in choosing technologies.
How was WDG's digital team assembled
We interacted with a team of five experienced people consisting of lead members from their strategy team, technical team, creative team, UX team and a dedicated project manager. The team leads provided the initial creative and technical vision and was part of the final development along with their production team. Our project manager, kept us updated and held weekly status calls to answer any questions and to provided us with an update on milestones, risks, and overall budget burn rate.
Project performance wise, WDG did well. They were well organized, thoughtful, and explained their tasks throughout the project. We knew what to expect, they explained our responsibilities and understood their responsibilities. WDG is experienced and strategic. Their team first understood our technical skillsets, and experience and they then catered around our level of web savviness and were able to explain concepts in an understandable way for us. One small issue we had was when both project managers on the client and creative agency side had overlapping time offs, and project hours could have been better communicated by the interim project manager. However, once identified as a project challenge, WDG assigned more staff and readjusted their project management process.
How were you recommended or referred to WDG.
I found WDG while researching articles about WordPress versus Drupal. They had glowing references, excellent portfolio and we enjoyed our introductory call with them. We initially hired them to assess our Drupal website and to propose a new content management systems or solution. They provided great service and well documented recommendations and we decided to continue working with them on the creative redesign and implementation. They also wrote content migration scripts, implemented a WordPress multisite allowing us to run our primary playworks.org and independent but brand consistent microsites underneath our primary WordPress website while still giving our affiliates control over their microsite.
Stats:
An increase from 1.85 million unique page views to 14.5 million unique page views. We launched our website in 2018 and have stayed with them for WordPress maintenance, support and professional services since. Since 2018, we have seen a tremendous increase in the number of unique page views. The first year, the number of unique page views, increased from 1.85 million to 14.5 million. Although the website alone was not fully responsible for that increase, it was a large contribute as we felt better with investing in media buying and having the ability to build custom landing pages and messaging that could support our marketing campaigns.