WDG Earns Top Spot in Clutch's Research of Leading Web Development Firms in Washington, DC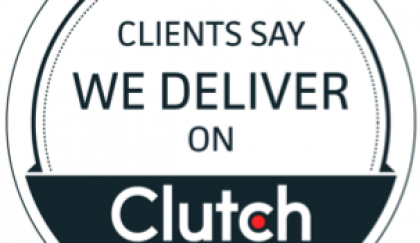 ---
WDG Earns Top Spot in Clutch's Research of Leading Web Development Firms in Washington, DC
Years of experience in technology leadership and guiding digital innovation, paired with some of the top tech talent in the world allow us to help firms with nearly any technical challenge. From revamping and updating existing systems to building custom solutions from the ground up, we supply some of the world's most innovative firms with the talent they need to reach their goals. We like to believe that our reputation precedes us, but we are always excited to be recognized.
We are pleased to share that we are featured on Clutch, a ratings and reviews platform for B2B service providers. Clutch uses in depth research, including considerations for marketing presence, former clients, and client reviews. After evaluating thousands of developers across the globe, Clutch listed WDG as the top web developers in Washington DC in their 2019 research.
In addition to the research that they collect, Clutch analysts conduct extensive interviews with a firm's clients to properly assess the quality of their work and their reliability as a partner. We've been fortunate enough to have 15 of our clients share their experiences working with WDG, earning us a total 4.9/5-Star rating! Take a look at some of our most recent reviews:
"They created a flexible platform that presents our content in a unique and interesting way." – Web Comms. Manager, International Affairs Company
"WDG turned our website into an improved lead generation tool." – Former Employee, Government Data Solutions Firm
"Their staff is some of the best in the business." – Former VP, Government Communications Firm
We take pride in supplying our clients with top talent and solutions that leverage the most recent technology, and we are grateful that our care is being recognized.
In addition to being recognized for our web development expertise, we have also been named one of the top web design agencies in DC by The Manifest. The Manifest provides industry insights, how-to guides, and recommendations of service providers to small and mid-sized firms. Although recognition from industry authorities bolsters our reputation, we prefer to let our work speak for itself. We have included a portfolio of some of our best work on Visual Objects, a site which allows firms to have clients view and compare the work of tech firms and web development companies.
We leverage top tech talent and cutting edge technology to deliver nothing but the best solutions for our clients. We love what we do, and we love who we do it with; thank you to everyone who has helped us reach this point. Above the pride that we feel is gratitude for everything you have done for us.