Why Associations and Nonprofits are Redesigning Their Websites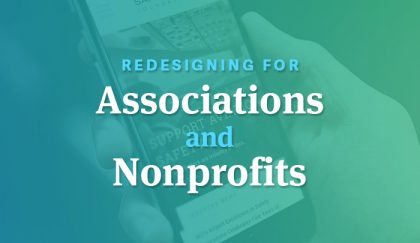 ---
Our digital strategy team has noticed a new pattern of challenges and needs from associations and nonprofits seeking website redesigns. Organizations are going through a transition period where their members or readers are demanding more value, especially if users are part of a paid membership.
Most organizations have gone through a redesign 3-4 years ago. For some, it may seem a little odd that they would require a major redesign so soon after their last. However, much has changed in the past few years. The rise of mobile, social media, and content marketing has placed pressure on many industries to adapt to new demands.
We have broken down the challenges and immediate reasons of why associations and nonprofit organizations are in a hurry to redesign.
A User-Friendly Website
Association or member-driven clients have primary audience who can be members and prospective members. Secondary audiences frequently include corporations or sponsors, Some have a tertiary audience which can be lawmakers, hill staff, general public or the media.
Unfortunately, many association and nonprofit websites run into the problem of effectively targeting multiple audiences. This can be exacerbated if organizations have sister or rogue websites that live on different platforms/domains and are not integrated with each other. Users consistently seek a one-stop-shop for content. Companies like Netflix and Amazon have been incredibly effective in promoting a user-friendly experience. In contrast, organizations with patchy navigation, lack of a robust insite search, or poor mobile capabilities negatively impact user experience.
The Need for Content Strategy
Many association and nonprofit organizations complain that their websites do not effectively communicate the mission of the organization and/or do not guide the user to conversion points including membership, donations, or advocacy. Members or readers, especially paying ones, have placed increased value on organizations which provide relevant content and resource centers.
We have increasingly seen resource centers as pain points, because they are often key points of engagement. However, resource centers without a robust content strategy may be difficult to navigate or fail to provide the type of content a user is searching for.
Content strategy can also address Inconsistent voice and tone. Associations and nonprofits may have professional writers on staff, but they may not be well-versed in writing for web. Redesign projects which request content strategy have frequently included a voice, tone, and/or branding direction tailored to their web content.
A More Flexible, Scalable and Secure CMS
An inadequate CMS or a CMS built incorrectly on Drupal or WordPress can adversely affect an organization's ability to adapt to new needs. Associations and nonprofits have been requesting recommendations of flexible, secure and reliable hosting. During redesign efforts, they may also request content management system recommendations, as well as unique features from a CMS.
Specialized association and nonprofit CMS requests have frequently included:
Workflow process (admin, author, editors etc)
Analytics tracking
User friendly publication tools
Tagging and categorizing content through the CMS
Inserting and integrating multimedia files
Another challenge–which is a project in and of itself–is data migration. Organizations may seek to migrate content from their old to new website, from a different CMS, or in some cases multiple websites into one. Many migrations are not just "drag and drop" and require special handling from an expert technology team.
Websites today are no longer owned by the IT department, but by the marketing department. These groups are looking for post launch support not only for maintenance, but also to serve as a consultant to review analytics, perform CMS upgrades, and serve as the creative director to maintain the user experience of the design. This also includes assistance with digital marketing services such as content marketing, search engine optimization (organic or pay-per-click), and more.
Seamless Integrations with AMS or CRM Systems
Associations and nonprofits support their mission and conversions through AMS or CRM systems. When seeking a website redesign, they require integrations between CRM or AMS system such as SalesForce, NetForum, MicroSoft dynamics, Imis, etc.
The level of integrations depends on the needs of the organization. Basic integrations include web forms pushing data to the CRM. More complex integrations have included developing a SSO (single sign on services) with the CRM to allow users access to certain parts of the website. Each member may also have a different level of membership and can access only certain content based on membership level. These members should have full control over their contact information and able to make edits, payments, and check out products from a commerce section.
Planning for an Ideal Association or Nonprofit Redesign
Associations and nonprofits benefit from partnerships which support a comprehensive digital presence, networking, and professional development. Successful partnerships will increase user digital engagement as a means of expanding an organization's mission.
When determining best practices for a redesign, it is important to research the industry's leading edge as well as the organization's individual needs.
Learn more about digital strategy for 2017 redesigns and whether your advocacy is effective.