4 Things You Can Do to Make WordPress More Secure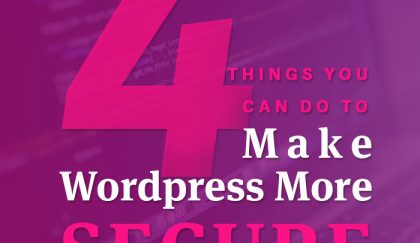 ---
WordPress is a highly customizable and easily manageable open source content management system. Originally designed as a popular blogging tool, it has grown into a robust platform powering 74.6 million sites worldwide.
With massive growth over the last several years, organizations of every size increasingly turn to WordPress to power both their primary websites and microsites.
One of the first questions people often ask when encountering WordPress is, "Is it secure?"  Because of its reputation as an extremely popular blogging tool, WordPress can often be misunderstood in terms of its security capabilities. When used correctly, it is in fact quite powerful in helping protect your site from vulnerabilities.
As a premier WordPress Development agency in the Washington, D.C. area, WDG's high profile clientele demand secure WordPress environments. We break down four ways to help increase the viability of WordPress' security capabilities.
Implement a Clear Process
At WDG, our developers have a unique multi-step approach to WordPress security: prevent, monitor, and update. Though WordPress is designed to be secure, it is always beneficial to bolster your system with preventative measures.
For example, our senior WordPress team is able to uniquely restructure the way wp-config and other sensitive files are referenced by the WordPress core to prevent automated hacking tools from targeting your WordPress site.
We also use an automated, secure deployment process that affords us the opportunity to more securely lock down permissions on sensitive files and folders to prevent them from being accessed by malicious third parties.
Monitor Your Site Continuously
After deployment, a dedicated WordPress team should continuously monitor your website for downtime and attempted breaches. At WDG, we utilize a suite of WordPress security tools and plugins to further enhance our security monitoring efforts.
Our team takes pride in staying up-to-date with the latest core and plugin security updates. WDG uses iThemes Security, other tools include Acunetix WP Security Scan, Sucuri Security, All in One WP Security & Firewall, and BulletProof Security.
Our continuous monitoring efforts allow us to cross reference your active plugin lists with our up-to-date database of recent WordPress plugin updates and security patches. Keeping your WordPress core and WordPress plugins updated is the most significant step you can take to keep your website secure.
Understand the Targeted Risks
It is true that the popularity of WordPress can make it a target. According to WP White Security, 41% of hacking on WordPress came from a security vulnerability on the hosting platform, roughly a quarter were hacked via either the WordPress theme or plugin, and a tenth were hacked due to weak passwords.
However, WordPress is incredibly strong in pushing out fast security patches and they release major updates with new features and security updates on a regular basis. Still, there are other valuable steps you can take to prevent and manage your security measures, including keeping permissions tight and making sure the core and plugins up to date.
Invest Time in Thought Leadership
It is equally important to invest time and energy in education from the vast WordPress community. As one of the most widely used open source platforms in the world, WordPress' strength lies in the skilled contributions of developers and users. The SEO-friendly CMS currently offers over 47,000 plugins, for example. By regularly participating in the rich community of resources, security will be much less vulnerable.
WDG developers are thought leaders in the WordPress community by regularly contributing expertise and conference leadership. For example, WDG's Chief Strategist Vajaah Parker and Lead Developer Kurtis Shaner recently presented at the prestigious Wordcamp in Baltimore. By being an integral within this community, we are able to help shape the security so many of our clients enjoy on their WordPress-powered sites.
Ultimately, WordPress can be a highly secure platform designed to manage any organization's websites and microsites if the proper strategies and tools are implemented.
Want to create a highly secure WordPress site for your organization? Our development team works with projects of every size and scope to create a customized WordPress solution for your most demanding projects. Contact us today!