Shenandoah University WordPress Launch
Reading Time:
2
minutes
The design and development team at The Web Development Group is happy to announce yet another successful WordPress site launch! Shenandoah University is one of the largest sites we have built thus far. The site itself is custom designed and developed by the web wizards here at WDG. Keep reading to learn more about the custom features we built specifically for the new Shenandoah University website.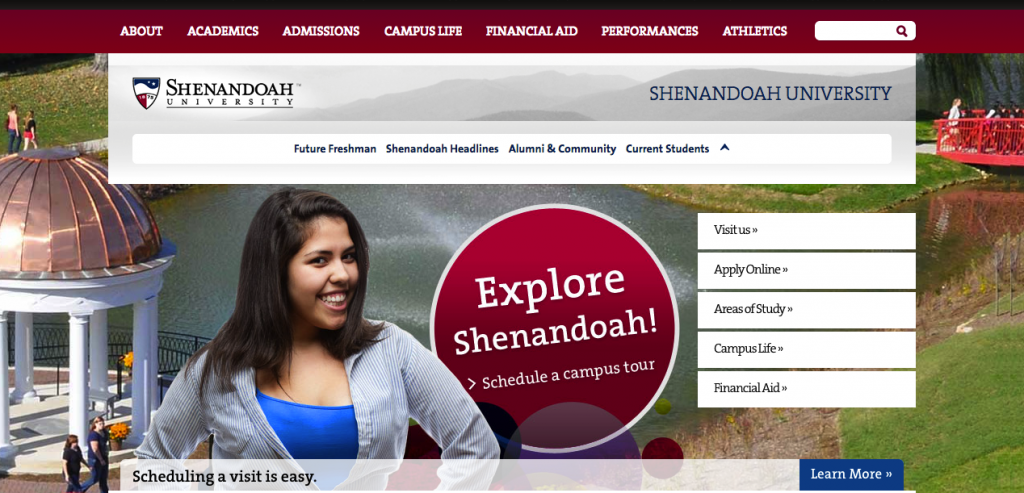 Development
Lenses allows the audience members to view the site in a way that is most relevant to them. For example, a parent can click "parent" on a scroll down menu and all the information will be tailored to them.  For a site that will receive a lot of traffic from many different audiences, lenses was a key part of the development but it was far from being the only developmentally advanced feature on Shenandoah University's new site.
We also built SU's site as a multisite. This means that there are many smaller sites incorporated within the SU.edu umbrella. This is best illustrated in the top menu bar. When a user clicks on 'Academics' they are taken to a new site that is housed under SU.edu. This is important because it allows certain admins to only have access to particular pages. At the same time, admins from any of the sites are allowed to pull content from the main site and bring it to the smaller sites.
Finally, SU.edu was built with Carrington Build. Carrington Build is essentially a drag-and-drop page layout for WordPress. It creates a grid on your WordPress page and allows you to put information within each box by simply dragging and dropping images or text into the desired location. This allows the site admins to easily add content to the pages in the exact location that they want.
Design
The design team at WDG worked with SU staff to make sure the site was going to look and function exactly how they had hoped. The old site was thin and left a lot of blank space on the page. The new site takes advantage of the whole screen. It was also important that the site was mobile friendly. In the coming weeks we are going to make it responsive, so check back soon!
One of the key features of SU's new website is its ability to allow for easy navigation of all audience members. The layout of the pages are intuitive and parents, alumni, students, and prospective students alike will be able to navigate around the site easily. The site also incorporates the school colors without being too loud.
At the Web Development Group, we work with all of our clients to make sure that we are designing and developing the kind of site that they want. Our clients are not only receiving a new website but they are also receiving a new web presence. We offer training throughout the setup process for both of our WordPress and Drupal projects. As one of the premier web design and development companies in the DC metro area, we also work with clients in Virginia, Maryland, and are eager to move towards North Carolina! Let us know if you want help with your next redesign project.