Identity Guard
Promoting unparalleled personal protection service.
Identity Guard
Promoting unparalleled personal protection service.
20+ highly customizable pages

Design and digital strategy for a multimillion dollar product

Fully responsive
Identity Guard, the primary competitor to Lifelock, introduced a new personalized identity protection product aimed to inform and empower customers in a world with increasing digital risk. Identity Guard has helped protect the identities of more than 47 million consumers for over 20 years. Their services have been recognized by the Online Trust Alliance as "Top of the Class" in implementing the best practices in data security and privacy and by Kiplinger Finance magazine as 2015's "Best ID Protection Service".
The Web Development Group created a web presence which would not only inform potential customers about the identity theft risks inherent in the modern digital world, but would also present a unique product story.
Never Sacrifice Quality, Even With Time Constraints
The Web Development Group was one of several vendors mobilized to launch a new product within the identity theft protection industry. In addition to our own services, we worked closely with our partner organizations under the project to ensure a smooth integration of services.
The project relied on several dependencies and very tight turnarounds. Without wireframes and other tools to support design and development, we had to radically change our average timeframe and processes for a successful project. Our aggressive timeline ensured a speedy deployment of a complex, cutting-edge product. In a testament to our precise timeline and work ethic, we not only provided multiple design options during this fast-paced environment, we also later revisited designs to incorporate additional branding opportunities for IBM's Watson AI for the product launch.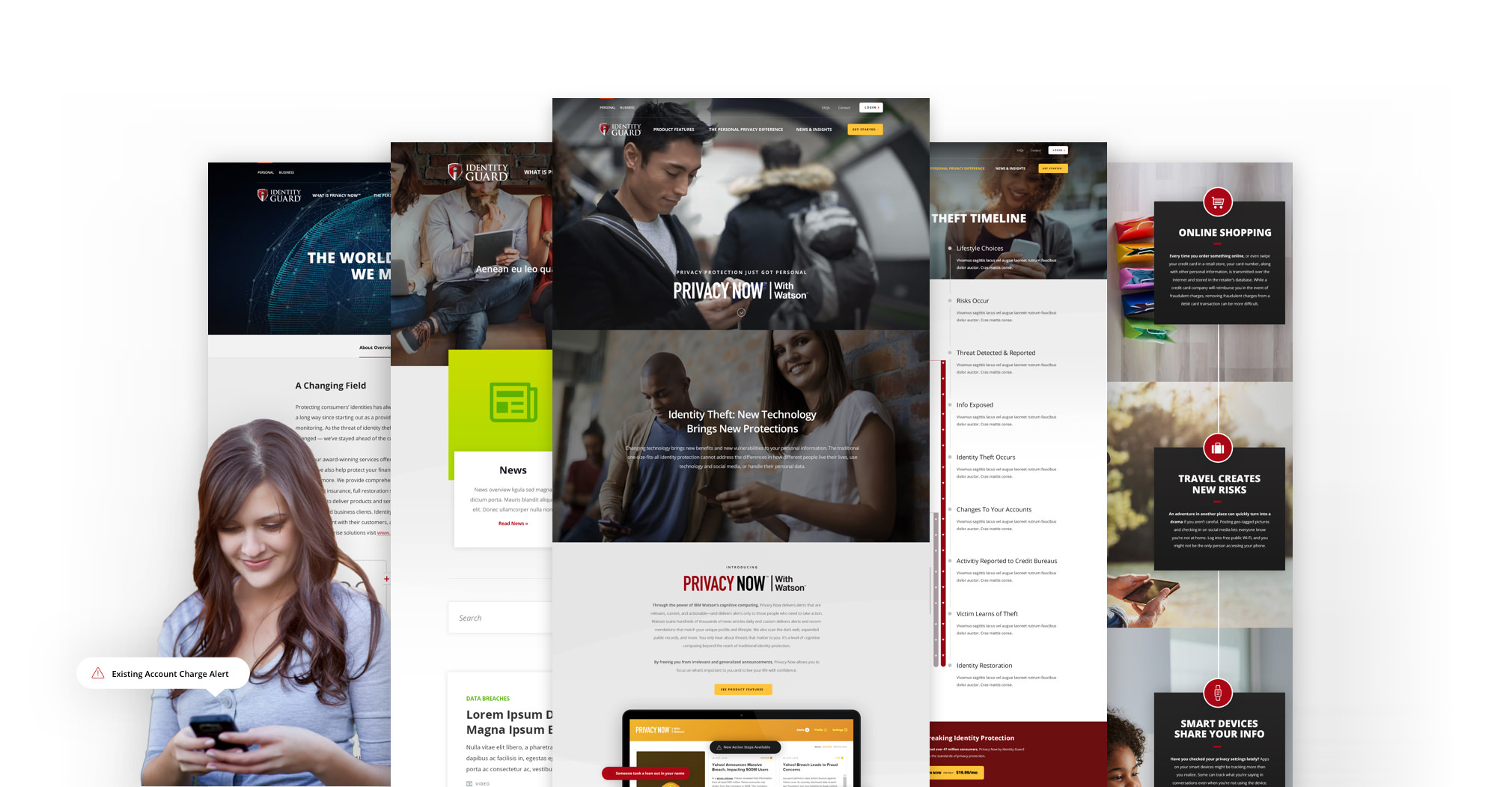 A Tailored Strategy in a Complex World
Tasked with building the B2C website for the initial reveal, the strategy team made content recommendations to pair the navigational structure with standard customer experience life cycles. Research & Discovery kicked off by digesting web analytics, user surveys and conducting a comparative analysis to benchmark current sentiment and industry standards. We then familiarized ourselves with the product's positioning within the market. These findings would be contextualized throughout the process as assets were created to showcase Identity Guard's competitive advantage. Ultimately, the website needed to aid the consumer to research, compare, purchase, use and recommend the product to others.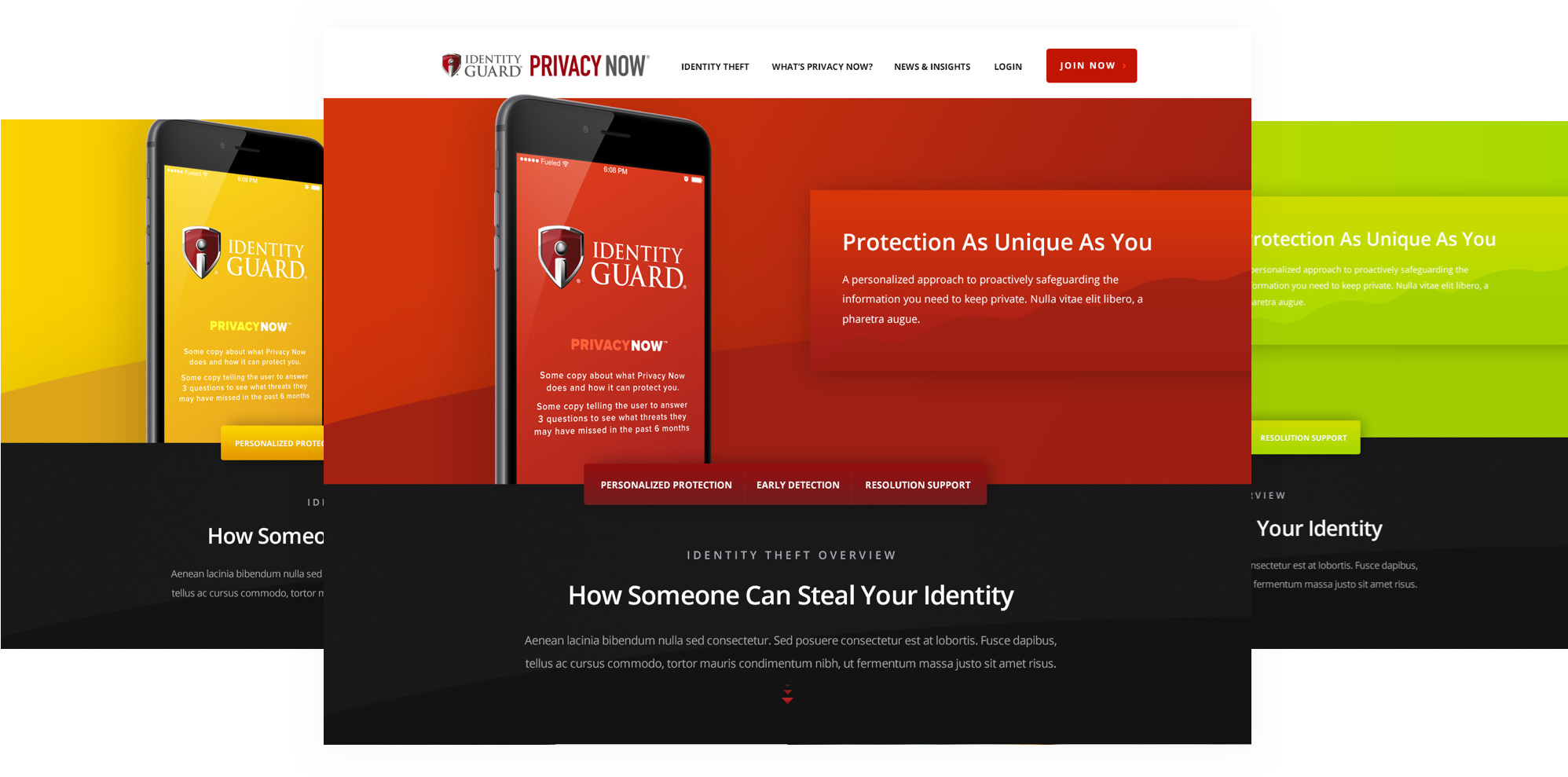 Customized Landing Pages
Intermittently, our team received product sneak peeks to knit the feature set with its aesthetic depiction. As the project was highly customized; we approached every page as a unique landing page. Every story had to be custom to the user. Every template was customized for maximum effect. No stone was left unturned. Two templates were created to anchor keyword and campaign-specific traffic. Our developers implemented tag manager Tealium to establish reliable information architecture. An SEO template was built to anchor text rich pages that inform end users on key areas of interest within the vertical. Another landing page was created to be repurposed for driven traffic initiatives converting from paid media avenues.
For example, a new Resource Center was rolled out under the guise of "News and Insights," the sections were rebuilt with topical taxonomies and various content types (news, alerts, white papers, webinars, tools, etc) in mind. The resources would be leveraged to anchor upcoming inbound marketing campaigns. We also created a customized HTML email template tailored to the capture cycle of Identity Guard's lead generation.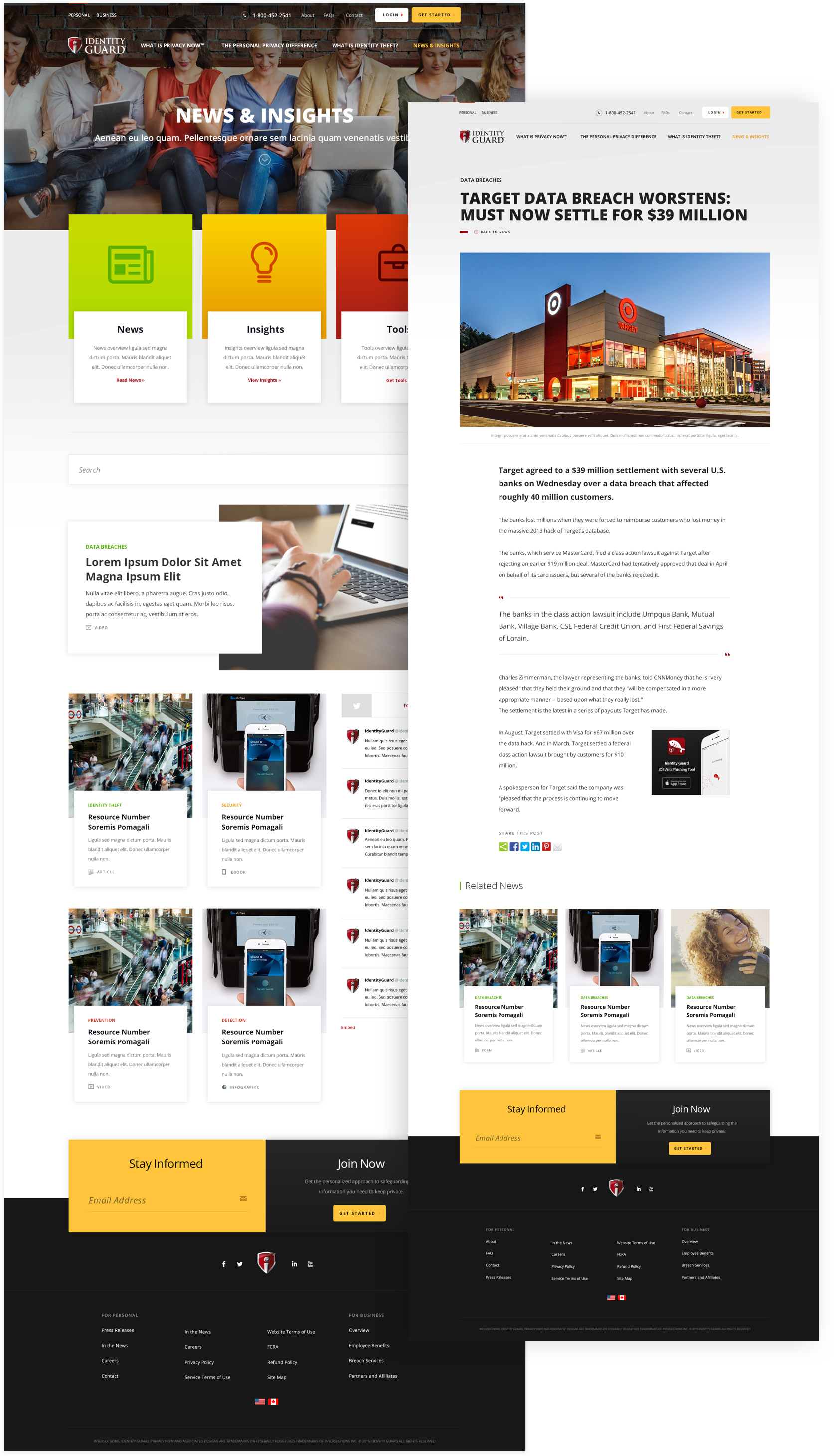 We Told a Story Everyone Needs to Hear
Our team managed to create a visual story to connect users with a product many people are not yet aware of. Increasing vulnerabilities online means an increased risk of identity theft. We worked closely with Identity Guard to uniquely position their product in a world where few customers are aware of their vulnerability. We balanced an informing tone with an empowering message; it is not too late to get the tools you need to protect yourself.
We also wanted to bring a human face to Identity Guard. Our design and development teams implemented a background video with timed HTML text managed by the CMS to engage and attract users upon initial view.
Of course, we would not have been able to create a website preaching online security without ensuring their security. Our build passed an InfoSec security scan before it was considered deployment ready. Our developers thoroughly vetted open source plugins and ensured WordPress best practices were used to protect the fidelity of the platform's core code base.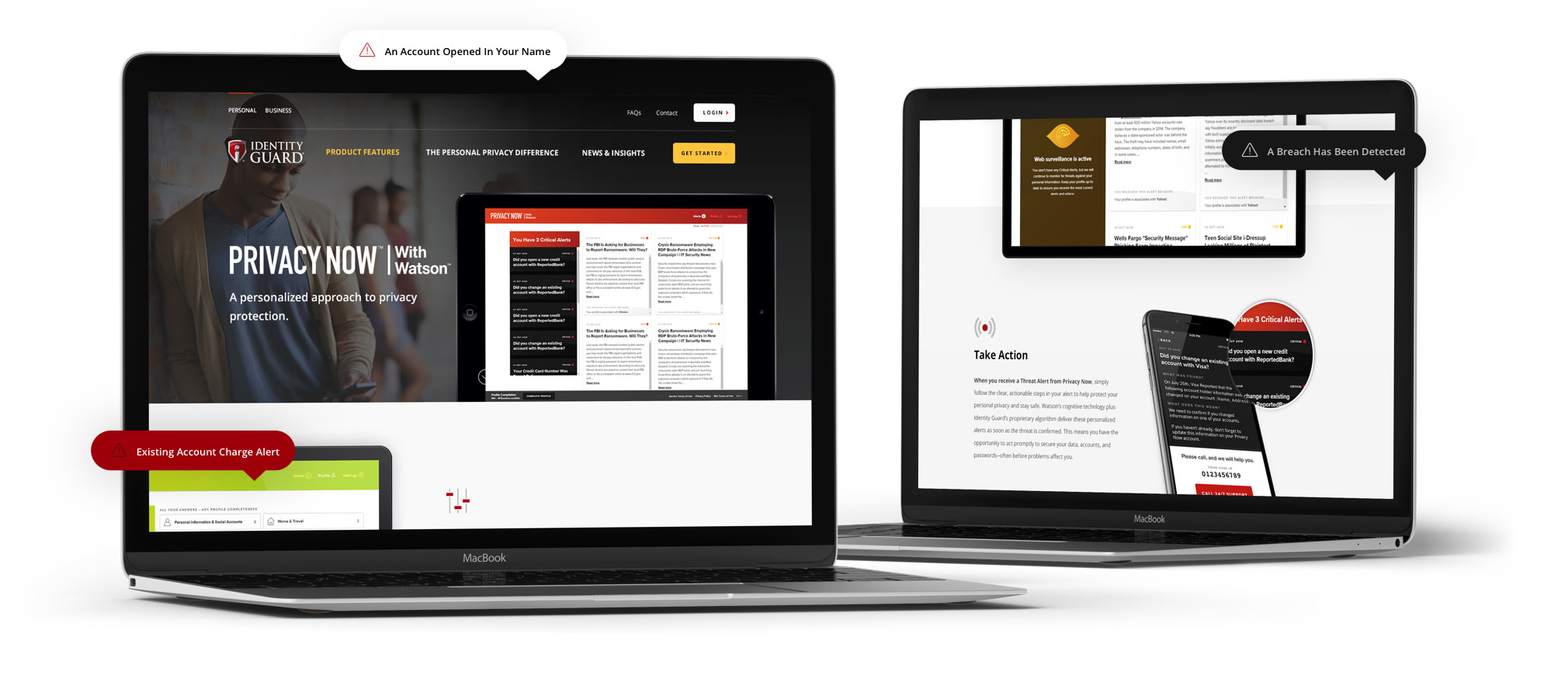 Identical Information Regardless of Device
Identity Guard's product was required to be responsive on any device. We ensured Identity Guard's responsive site would be fully fleshed out, including the home page. We ensured no information was dropped on any screen size. As mobile usage increases, so does demand for fully inclusive and responsive websites.
For Identity Guard, we tested the site on multiple devices and on multiple browsers. Our tests focused on the integrity of every text piece and image. Someone using a smartphone or tablet would have access to the same information as a desktop user.
Closing Thoughts
We successfully visualized Identity Guard's brand by taking their product's initial communication points and framing the messaging in a digital-first capacity. We coordinated with Identity Guard to develop concepts to integrate audience-targeted imagery and messaging. Our strategy conceptualized personalization technologies such as Adobe Target which would benefit Identity Guard's business model going forward.
In addition to IdentityGuard.com, The Web Development Group partnered with Intersections Inc., Identity Guard's parent company to launch two other projects, Credit Alert and Identity Guard Business. Credit Alert (Canada), was positioned as a B2C product offering for credit monitoring and personal protection. Identity Guard Business was a B2B product offering positioned to anchor their self transacting business lines.
Next Steps
To learn more about how redesign, mobile responsiveness and improved navigation can drive website traffic, improve usability and increase lead generation, connect with us at [email protected].
WDG will help you pivot towards your target audiences.