Identity Guard
Promoting unparalleled personal protection service.

Identity Guard created a personalized identity protection product to empower customers in a risky digital world. Their services have been recognized by the Online Trust Alliance as "Top of the Class" in implementing the best practices in data security and privacy.
WDG successfully visualized Identity Guard's brand by framing the product messaging in a digital-first capacity while integrating audience-targeted imagery and messaging.
Challenge
Create a strong web presence and share a unique product story to inform potential customers about the identity theft risks inherent in the modern digital world.
Solution
Created digital-first product framing and integrated audience-targeted imagery and messaging. Launched Credit Alert and Identity Guard Business as two distinct projects.
Result
Templates were created to anchor keyword and campaign-specific traffic, leading to an increase in SEO, lead generation, and time spent on site.
28% increase in avg. session duration
59% decrease in bounce rate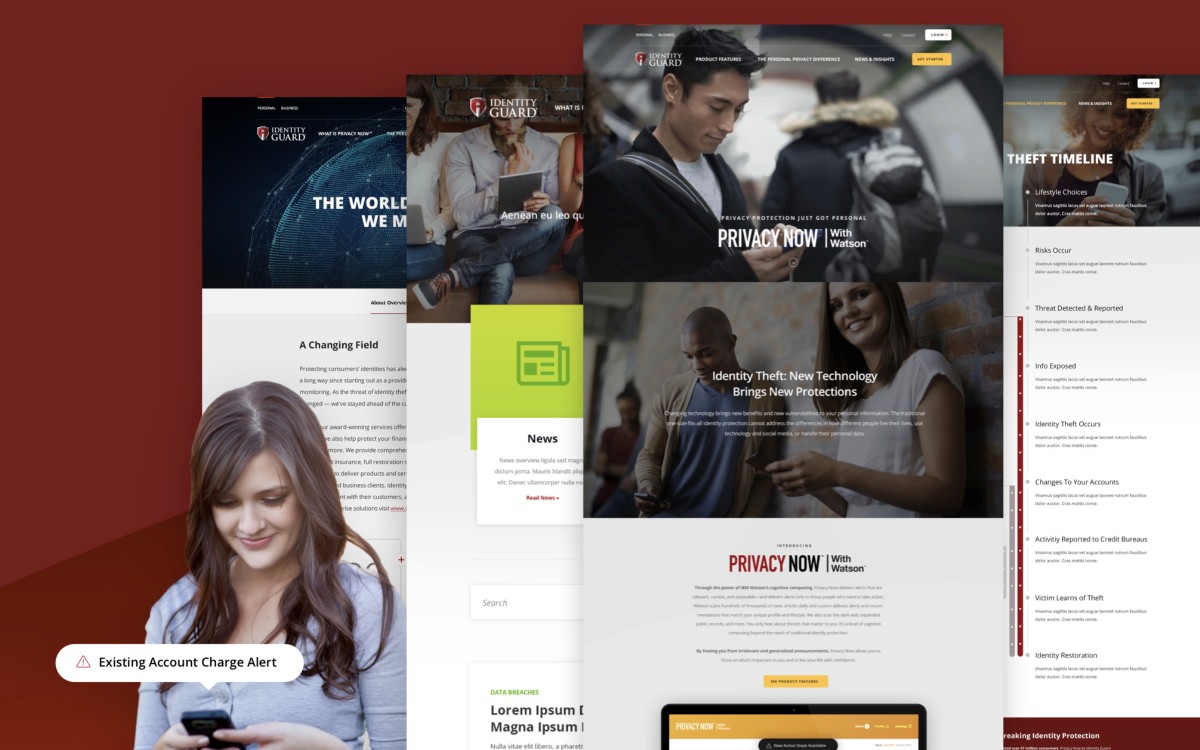 WDG's creative team worked in tandem with several vendors for Identity Guard's complex redesign, joining with our partner organizations to ensure a smooth integration of services.
With aggressive timeframes and very tight turnarounds, the project scope relied on an agile methodology to ensure consistent quality. In a testament to our precise timeline and work ethic, we not only provided multiple design options but also later revisited designs to incorporate additional branding opportunities for IBM's Watson AI for the product launch.
WDG strategists utilized web analytics, user surveys, and comparative analysis to help create a new navigational structure that coincided with standard customer experience life cycles. In order to carefully position the product within the market based on comparative analysis, we contextualized assets to best highlight Identity Guard's competitive advantage. By targeting key audiences through this content curation, the final product encourages brand dispersion amongst a variety of audiences and marketing channels.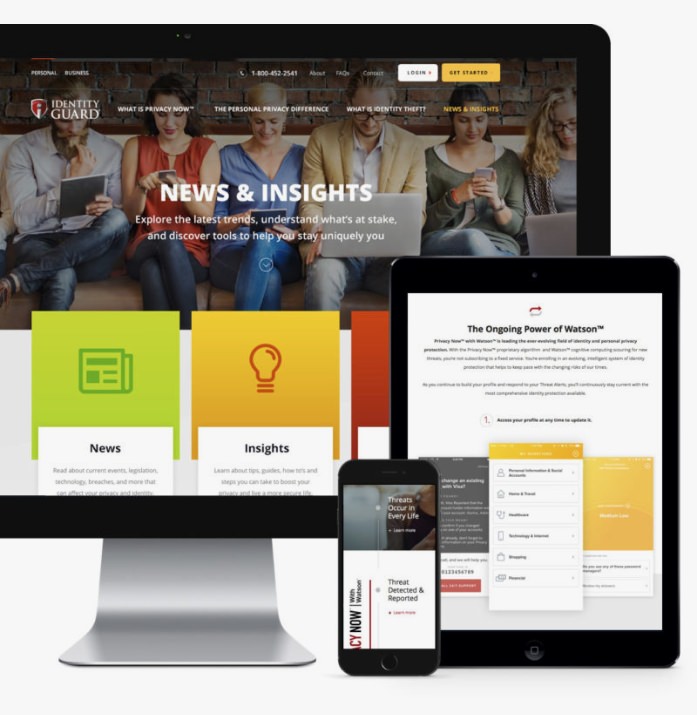 Responsive
WDG's development team ensured Identity Guard's responsive site would be fully fleshed out on every device, including the custom home page. We thoroughly tested the site on multiple devices and browsers before deployment, focusing on the integrity of every text piece and image throughout the testing process.
WDG strategists received sneak peeks of Identity Guard's new product to best knit the feature set with its aesthetic depiction. Two templates were created to anchor keyword and campaign-specific traffic. Another landing page was repurposed for driving traffic initiatives from paid media avenues. Our developers implemented tag manager, Tealium, to establish a reliable information architecture (IA). An SEO template was built to anchor text-rich pages with key areas of interest within the vertical for users. A new Resource Center was built with topical taxonomies and multiple content types, which were leveraged to anchor upcoming marketing campaigns. We also created a customized HTML email template for targeted lead generation.

Start a Project
Let WDG Help You
Grow Your Business!
Let's Talk