Good Food Institute
Good food done digitally.

A Global Food Presence
The Good Food Institute (GFI) is a global non-profit organization working to develop plant and cell-based meat, dairy, and egg products for a more sustainable and secure food system that is better for the planet, people, and animals. With a 5 year anniversary in February 2021, GFI partnered with WDG for a full digital transformation. The final transformation highlights the clear and clean designs, depth and diversity of its members, and the adaptable identity that has been developed. The digital presence is now powered by WordPress Gutenberg with a design system that provides GFI the flexibility they need as they continue to grow exponentially.
Challenge
Revamp basic site structure and collaborate for rebranding
Solution
Through a detailed strategic discovery and a revitalized content strategy, a new site was launched to be a digital hub for sharing solutions, knowledge, and resources freely. There are more resources to help inform the community and initiate new partnerships.
Results
The new WordPress Gutenberg powered website launched celebrating 5 years of hard work and a look to the future with a user friendly and visually appealing site for many years to come.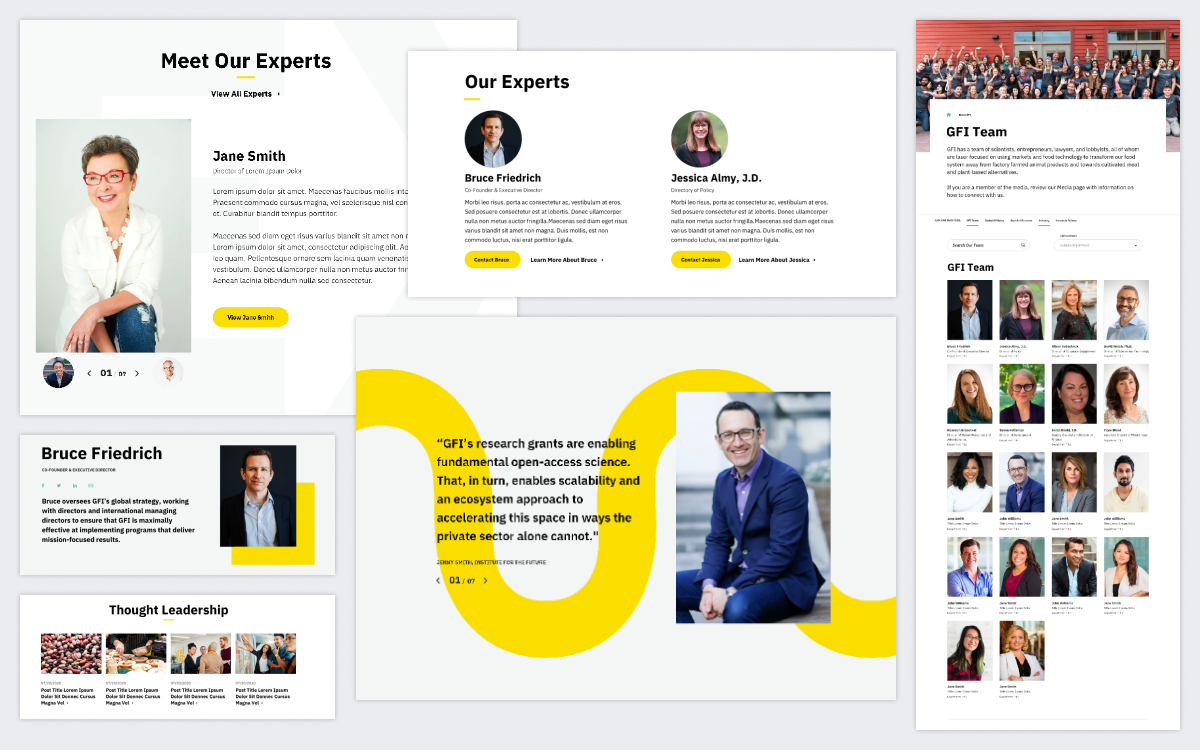 Working with the Good Food Institute leadership team, we recommended and designed a digital experience that showcased a deep-hued, diverse color palette that pays homage to nature. We shared a strategic brief on content and user experience that focused on technology and visual appeal. The design is focused and sharp to help remove distractions and be universally accessible and understood, whether on mobile or desktop.
To extend the life of the website, we designed and developed a flexible design system that considered all current and future design elements allowing GFI's marketing team to launch landing pages, custom sections, and conversion based mini-sites quickly.

The final Transformation included:
Updated Information Architecture
Content Strategy
Migration to WordPress Gutenberg
Content reorganization
Content migration
Responsive best practices used to develop mobile experience
Improve the in-site search experience with WordPress premium plugins
Integration
Assist in rebranding – visual appeal and designs
A design system
WCAG 2.1 AA accessibility
Start a Project
Let WDG Help You
Grow Your Business!
Let's Talk