Keep it Clean: Cyber Hygiene and Digital Health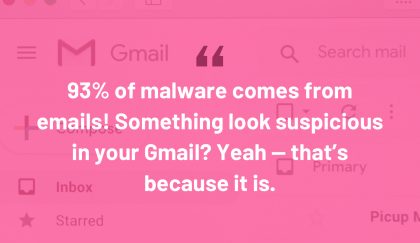 ---
Everything you have is on the Cloud, which means it is safe — right? Lisette and Andrew break down the best practices of digital maintenance so that your devices and data remain secure on the latest Strategy Bytes.
Podcast Transcript
Cue DRAMATIC NOIR MUSIC.
LISETTE
(stylized delivery)
It's 10 o'clock in Washington, D.C. Do you know where your data is?
Kill Music. 
ANDREW
Wow, super dramatic intro. What are we talking about today?
LISETTE
We'll be discussing … hygiene.
ANDREW
Perfect — I was just about to wash my computer.
LISETTE
Wait…no! DON'T DO THAT?!
ANDREW
Welcome to Strategy Bytes with — 
LISETTE
Lisette and —
ANDREW
Andrew! Welcome back to your favorite pod where we deliver dollops of digital tips and tricks that like any perfect snack, are both good and good for you. This week's episode: Cyber Hygiene.
LISETTE
Yes, Cyber Hygiene. Digital Wellness. Tech Welfare. 
ANDREW
All great baby names.
LISETTE
So Andrew, even though you bizarrely mentioned washing your computer —
ANDREW
It was a joke  — 
LISETTE
— it's still apropos, as with all kinds of hygiene, cyber hygiene keeps up the health of your tech through routine maintenance. Just as your brush, floss and clean your teeth every day, giving your devices a little TLC goes a long way.
ANDREW
Yes, it's all about the practices and precautions users should take with the aim of keeping sensitive data organized, safe and secure from theft and outside attacks like malware.
LISETTE
Proper cyber hygiene also ensures the safety of one's identity and other details that could be stolen or corrupted with a focus on the twin pillars of maintenance and security — and all your hardware, software and applications should undergo these processes. 
ANDREW
Here are some common problems everyone runs into — starting with lost or misplaced data.
LISETTE
Any data you have that is not backed up on a hard drive or online Cloud storage is vulnerable to hacking, corruption, and straight-up loss. There are potential security breaches from hackers, identity thieves, advanced viruses, and intelligent malware — all contributing to a potentially hostile digital-scape.
ANDREW
Yes, I prefer remedial viruses and dumb malware.
LISETTE
While predicting these threats is difficult, preparing for and preventing them is still possible and can mitigate a lot of future damage … Andrew?
ANDREW
Oh, sorry — I just noticed I hadn't backed up my Mac and I just lost uhhhh….everything. Well. . Another common problem will be dated software or older security systems, which only exacerbate these issues of digital vulnerability. 
LISETTE
And what do we say about vulnerability, Andrew?
ANDREW
That I'm in my 30's now, so it's finally okay to let people in —
LISETTE
No. Document all current equipment and programs, then audit and analyze your inventory. Scrutinize this list. Unused equipment should be wiped and all user passwords should be changed —
ANDREW
My password's always 1-4-5-0 —
LISETTE
Andrew!
ANDREW
Yeah, exactly — then my name with an exclamation point. It's gotta be alphanumeric with punctuation. 
LISETTE
How are you alive? In any case, certain software programs and platforms should be chosen to be the dedicated choice for particular functions. For instance, Google Drive and Dropbox are both used for file storage — one should be deemed the primary and the other used as backup or just deleted. Sorry, Dropbox. 
ANDREW
Create a common set of practices for the newly clarified network of devices — these processes should be documented into a set of guidelines for all those who have access to the network. Some items you should always include are *ahem* password changes, software/hardware updates, managing new installations, and keeping an updated inventory.
LISETTE
Also — limit users. Only those who need admin-level access to programs should actually have it. For next-level measures, an organization can employ a cyber security framework and look into deeper steps like biometrics. Privacy is a huge aspect of cyber hygiene, too. Think about what kind of data your organization captures from users! How are you keeping that information safe? 
ANDREW
Exactly. It's not just your organization's or your personal data at risk. Think about the emails you gather, credit card information, even addresses. How are you keeping your client and user information secure? This is especially important if your organization falls under things like healthcare HIPPA laws. Associations, B2Gs, and even nonprofits can be held liable for not securing their users' data properly!
LISETTE
Look up what laws apply to you and your organization and keep a system of privacy and security best practices to protect everyone's information.
ANDREW
We're going to share the following stats not to make you paranoid but to make you weary. A quarter of data breaches are caused by human error — meaning it's not always some black-hat hacker savant — it's just Chase from Accounting.
LISETTE
Ugh — Chase … Another fun fact — 93% of malware comes from emails! Something look suspicious in your Gmail? Yeah — that's because it is. 
ANDREW
Also — there's a cyber attack every 39 seconds. 
LISETTE
Which means there's been three since you started listening to this episode. Data breaches can cost organizations millions of dollars — last year in the US, over a thousand cyber breaches exposed nearly half a billion records. The world traffics in over 16 zetabytes of data —
ANDREW
Okay, now I know you're making words up now.
LISETTE
Exactly — a trillion gigabytes. With all this data, it behooves users and organizations to maintain a thorough, sparkling cyber hygiene routine. 
ANDREW
Clean it up.
LISETTE
Back it up. 
ANDREW / LISETTE
(in unison)
Stay safe out there. 
LISETTE
All this month on Strategy Bytes, it's Cyber Security September, as we'll detail the dangers of the digital world and how to best prevent and mitigate these threats. This will all culminate in our end-of-the-month interview with Jack Barsky, cyber security expert, former spy, ex-KGB, technical advisor on FX's show 'The Americans' — and also, really nice guy.
ANDREW
Hey Lisette, what time is it?
LISETTE
Um — 10:05 — 
Cue DRAMATIC NOIR MUSIC.
ANDREW
(callback delivery)
It's 10:05 in Washington, D.C. — do you know where your data is?
Kill Music. 
LISETTE
Hey, you stole my bit!
ANDREW 
What bit?!
As they jabber on, have the DIALOGUE SLOWLY FADE OUT as the OUTRO MUSIC DROWNS THEM OUT. 
LISETTE
In the beginning, that bit!
ANDREW
Oh — that was your bit? I thought you lifted it. 
LISETTE
No — you lifted it. 
ANDREW
Thanks for letting me know what a zetabyte was, though.
LISETTE
Maybe we should change the name of the show to Zetabytes … 
ANDREW
… or Exabytes …
LISETTE
… or …