Social Media Gaffes: Unsubscribe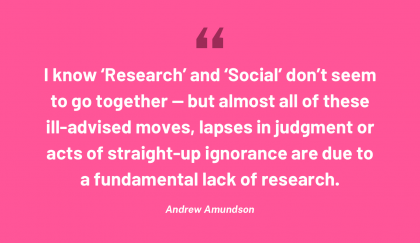 ---
Have you ever experienced Tweeter's remorse? Wish someone could have influenced you to make a better Instagram post decision? Feeling disconnected on LinkedIn because your GIF fell flat?
No? You're lying.
Everyone messes up on Social — from civilians to corporations. Andrew and Lisette showcase some of the worst blunders on Social Media along with breaking down how to minimize these mistakes and more crucially, how to learn from them.
Podcast Transcript
Cheesy game-show music/canned audience applause.
ANDREW (game-show host affectation)
Welcome back to another round of 'Would You Rather?' We're joined with our returning champion, Lisette Alvarez!
LISETTE
Wait, Andrew — what's happening?
Canned audience laughter.
ANDREW
Exactly! So Lisette, in the ultimate showdown of either/or … … would you rather … punch Chris Brown OR … slap Rihanna?
Vinyl needle stops.
LISETTE
Wait, what the *beep*?
ANDREW
Exactly. This 'Would You Rather?' content was an actual post from Snapchat to its users in 2018. As you can expect, it went the opposite of well. These kinds of mistakes happen all the time on Social, from civilians to celebrities to corporations. The casual immediacy of Social media has always lent itself to these kinds of absent-minded faux pas.
LISETTE
And we're all for pausing before posting — as you might have an audience of millions. And one wrong phrase …
ANDREW
… One wrong word …
LISETTE/ANDREW (in unison)
Could kill your brand.
ANDREW
But no worries, that's why we're here! She's —
LISETTE
Lisette! And he's —
ANDREW
Andrew! And we're digital content strategists here at WDG.
LISETTE
In this episode of Strategy Bytes, we'll be covering our favorite fails of the internet — and how to avoid them — Social Media Gaffes. 
ANDREW
The worst of the worst of Social Media gaffes are the digital dumpster fires that keep the other dumpster fires warm at night. Why do they keep happening? Because people put in Social content — and people never stop making mistakes.
LISETTE
But messing up on Social sometimes comes from a good place — how many times in this industry are we told, 'Be disruptive, take risks, differentiate yourself' …
ANDREW
Exactly. We just came from our weekly 'risky disruptive differentiation' meeting.
LISETTE
The problem is, trying to stand out — while worthwhile — is always inherently a gamble. And the thing about gambling is, you usually lose.
ANDREW 
People lose their jobs over a Tweet. An Insta post. Just like that. A few words. One picture. One hashtag. One GIF. It can kill a career. For organizations, it might not destroy you but it can certainly tarnish your reputation. Meaning, the 'all publicity is good publicity' maxim of old is dead. That publicist wasn't on the Gram.
LISETTE
You don't always have to play it safe on Social — but you should always play it smart. This requires editorial oversight. This requires research. Take the 'Wendy's/Pepe the Frog' fiasco — the fast-food giant tweeted a likeness of the 'Pepe the Frog' meme in 2018 — because who doesn't love memes — except that Pepe had been co-opted by the Alt-Right as an anti-Semitic mascot. Oops. This all could have been avoided with one Google search. 
ANDREW
Memes and GIF's and jokes are fine — but you have to know the context and be aware of the cultural climate. If you're trying to bring the funny — keep in mind that humor well done is rare. It's also super subjective. For instance, I think I'm hilarious.
LISETTE
And I don't.
ANDREW
See! Super subjective. Jokes will often misfire or underwhelm — that's okay. What's less okay is if what you post is completely tone-deaf …
LISETTE
… or obviously racist, sexist, homophobic, hateful, etc.
ANDREW
Obviously. Just use common sense. But like a wise woman once told me, 'Common sense isn't so common.'
LISETTE
Oo — was it me?
ANDREW
Nah — it was some other lady.
LISETTE
It's okay to have terrible ideas — Andrew has them all the time — but it's one thing to have them — it's another to then publish/post them.
ANDREW
Yes, every time I see a terrible ad — I don't think, 'Whose idea was this?' I think, 'Who greenlight this idea?'
LISETTE
And regarding the cultural climate, we're aware that 2019 audiences are a highly sensitive, reactionary sort.
ANDREW 
Yo, your micro-aggressions are really destabilizing me …
LISETTE
Go to your safe-space, Andrew —
ANDREW
But Alec … booked the safe-space already …
LISETTE
In short, it's easy to offend people these days. It doesn't take much. But as a marketer, you should be privy to this landscape and act accordingly. Furthermore — and this goes back to the basics of content strategy — know your audience, know your brand and ask yourself, 'Why am I posting this again?'
ANDREW
Yes, whatever you're trying to do — start a conversation, piggyback on a trending hashtag, always know the context of the content you're posting. I know 'research' and 'Social' don't seem to go together — but almost all of these ill-advised moves, lapses in judgment or acts of straight-up ignorance are due to a fundamental lack of research — the kind of research necessary to ensure that you don't offend your audiences.
LISETTE
For large organizations using Social, it seems clear that once you have enough of a following it might seem almost inconsequential what content you post — the law of attraction is at play with their audience. If a user sees that something has 10K likes they're more inclined to offer the post one more — there must be a reason it has so many likes — and it must be a good reason. Hearts beget more hearts.
ANDREW
Nevermind an influencer with 30K followers, if you're a company with millions you must feel that level of seeming inconsequence. Not so much 'invulnerable' but an air of, 'what does it matter anyway?' That might be true of content that's uninspired, boring, basic, or even good — but when you tap into something offensive — or perceived as offensive — people will always take notice … and they will flip the *beep* out.
LISETTE 
There are over three billion users on Social. And instead of just delighting in the fail parade when Social goes wrong, try to learn from it. Know your audience. Know the culture. Know the context. Know that some jokes won't work. Apply common sense. And always make sure you have a second pair of eyes check your post before —
ANDREW
Hey, Lisette — look what I just tweeted!
LISETTE
Wait, Andrew — no!
Musical segue.
ANDREW
And now we bring you another daily dose of … Ab-stractions …
Cue Ab-stractions.