Improving Your Email Marketing Strategy After a Website Redesign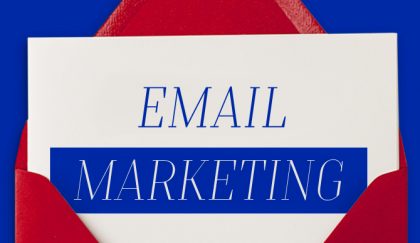 ---
Over 70% of US consumers say that email is their preferred method of communication from businesses, according to research conducted by Adestra.
There is never a bad time to start or amp up your email marketing, but following the launch of a website redesign is a particularly strategic time to revamp your email marketing strategy. You've just invested countless hours and funding into the redesign of your site, creating an updated brand image, a rejuvenated use of imagery, a refreshed strategy for reaching your KPIs, and crisp messaging — and this should all be carried over to your email marketing.
By utilizing the following guideline, you can easily refresh your email strategy and make blasting outdated and dull emails a thing of the past. We've also provided you with a FREE planning template, as well as a template for tracking your email sends.
Download Planning and Tracking Templates 
Your List is Everything
Before you jump headfirst into email design and composing witty subject lines, you have to get your contact lists squared away. Your lists are everything, and quality wins out over quantity every time. Clean up your contact lists by looking for duplicates and de-duping, scrub your list of hard bouncers, and wipe out broken addresses. Doing so not only ensures list cleanliness, but it affects your sender reputation as well; continuously having high bounce rates will cause you to be red-flagged by email providers such as Gmail or Yahoo, and you will notice deliverability issues. The goal is to have a 2% or less bounce rate. List cleaning is a tedious process, but many email automation providers offer services to assist with this task, which can be a big help.
Once your list is nice and tidy, you will not only improve deliverability rates but also practice advanced segmentation. Hosting your newly redesigned site on WordPress or Drupal will offer advanced capabilities for designing lead-capturing forms, so we recommend collecting as much data on your site visitors as possible. Gating content with pop-up forms is a popular way of collecting email addresses, and requiring contact information before proceeding to white paper downloads, for example, is another spot where your new site can facilitate the organic growth of your email list.
With these records, you can create segmented marketing lists to narrowly target a specific audience. You should never have one mega catalogue of contacts, but rather a compilation of many distinct lists. You can create email campaigns that are targeted geographically, by site activity, by age or interests – the options are limitless so long as you collect the right information and store it properly. By tapering your audience and sending messages tailored specifically for a targeted group, those recipients will find the email more relevant — and relevant campaigns get better results. In a study conducted by email automation provider Mail Chip, it was found that creating segmented email campaigns returned nearly a 15% increase in open rates, and a phenomenal 60% increase in clicks, along with other heightened metrics across the board.
Get Organized
Now that you have a collection of clean and segmented contacts, or at least a process in place for establishing such lists, the next step in revamping your email marketing strategy is to establish a creation process, send frequency, integration with social media and your website, and a vigorous tracking process. These standards will change from business to business, and you have to go through the exercise of determining what is right for your organization.
Frequency of sends could be as minimal as a monthly newsletter or as frequent as multiple email sends a day. Commonly, retailers and product-based business will send at higher frequencies, many times daily, and sometimes, multiple times a day. A non-profit, on the other hand, might only send a bi-weekly update coupled with a monthly call for donations.
Rate of frequency is based on your business, but what we do recommend is to make send-times consistent. Generally, recommended send times are 7-9 am, noon, and 2 pm.  However, there is room for testing send times and finding what works best for your particular audience. As far as days of the week, there is clear winner.  As a general rule of thumb, Monday and Friday have the lowest open rates for the work week.
For establishing an email creation process, you can follow the standardized practice we have implemented at WDG.  You will also find these steps in the free email-planning template.
1. Determine your send date and email topic
– When are you sending this email and what will it be about?
2. Select your target and determine your audience
– Select your contact list(s) and targets. Will you be segmenting this campaign? Who are you addressing? Determining your audience before content curation and design will give you focus for the overall message of the email.
3. Establish a goal
– What are you trying to achieve from this email blast? Is the goal to receive donations, event sign-ups, membership registration, product sales, or simply a high click-through rate? Setting your goals will give you measurable KPIs to determine the success of your email campaign.
4. Curate email content
– Based on the segmented list for this send, curate relevant content to be featured in this email and compose drafts of your messaging. Remember, email serves as a middleman between your inbox and your website or a landing page. The point of an email is not to present all information upfront, but rather offer a snippet or preview. If you present in-depth content in the email, there will be no need for viewers to click forward and traffic driven to your site or landing page will be low.
5. Make room for split testing
– You can split test countless components of an email including subject line, images, color, headlines, format, buttons vs. links, and so forth. Determine ahead of time what, if any, elements you want to split test with this send. We recommend limiting it to one or two elements.
6. Compose a subject line(s)
– It has to be relevant to the content at hand and compelling enough to yield high open rates. By determining a subject line before designing your email, you can more easily create a cohesive message. If split testing subject lines, make sure to create all possibilities upfront.
At the WDG, we utilize the resource subjectline.com. With their subject line testers, you simply input your intended subject line, and you are given a grade based on a 100-point scale. Anything over a 77 (a C+) is considered to meet industry standards. You will be given a breakdown of where you gained or lost points; for example, using the words "you" or "your" grants you four points, while not including a word that creates a sense of urgency is a whopping minus fourteen points! With this feedback, you can alter your subject line for the highest score/ best open rate possible. Here are some tips to keep in mind while creating subject lines:
• Keep it short and sweet – inboxes only display up to 50 characters
–"Weird! 8 strange work facts that will surprise you"
• Apply a field of relevancy, ie localization, personalization by name, etc.
–"Sara, you received a discounted rate, only for DC residents"
• Create a sense of urgency
–"Hurry! 24 hour sale starts NOW"
• Emojis (if it fits your target audience) – fun way to standout in the inbox
7. Design and development
– We're not saying to throw out your old emails, but your website is the face of your brand; it is in the best interest of your new email marketing strategy to move in a design direction that best reflects your updated branding.  This probably means tossing old emails and starting fresh. You can save a great deal of time by utilizing templates, which will also assist in campaign consistency and uniform brand image portrayal, not to mention cutting down on send errors. Using a WYSIWYG ("What You See is What You Get") editor, or by hand-coding an HTML/CSS emails, WDG recommends crafting four or five different templates that can be circulated.  Which template is used depends on the content being sent (always use the same template for the same message type). While email design is more limiting than web design, there is still great room for creativity and crafting successful formats. When developing your templates, make sure to keep in mind:
• Brand visibility
• Content hierarchy
• Relevant use of imagery or animation
• Design consistency with the aesthetics of your new site
• Format length
• Prevalent calls to action – we recommend at least 6 linkable objects
8. Make it responsive
– This bullet really belongs as a part of design and development, but it is so important it deserves a dedicated mention. We know that creating a responsive website was on the top of your redesign must-have list, and the same should go for your email templates. Studies show 55% of email opens are via a mobile device. Since more than half of your audience opens your email from their smartphone or tablet, make sure your emails are developed to be completely adaptive. Designing with a mobile-first approach is not a bad idea either.
9. Test, test, and retest
– Test and test again. Read your email from different browsers like Google, Firefox, and Safari, as well as in various email providers like Gmail, Hotmail, Yahoo Mail, AOL, Outlook, etc. Check your email on a desktop, iPhone and Android smartphone, and a collection of tablets. All browsers and providers render emails slightly different, so what looks great in one might be a little off in another.  It's all about finding that balance and testing to make sure it reads correctly, no matter where the email is being viewed from. There are providers, such as Litmus, who offer previews of your email from various platforms. These can save you a good deal of testing hassle, but shouldn't replace the real thing. Beyond testing for the overall display of your email, don't forget to:
• Make sure links and buttons go to the right place
• Affirm mobile responsiveness
• Double check grammar/spelling
• Subject line(s) – is it getting cut off? Are emojis coming through?
If you are split testing, test both email variations, even if only one element is changing. At the very least, two people should be proofing all emails.
10. Send!
– Complete campaign setup in your CRM and double check your list selection/ list suppression, send time, sender, and subject line in your email platform… then hit the big red button.
11. Track and collect analytics
– We've provided you with a template for tracking your sends. We recommend analytics be recorded 48 hours after send. Using these metrics for the future will provide you with insight on what works and what doesn't, as well as comparative results of any split tests so you can continuously improve the design and messaging of your emails.
Cross-Channel Marketing
Now that you have designed, developed, and executed an email campaign, you can hit your audience with a one-two punch by practicing cross-channel marketing. One of the main principles behind inbound marketing is utilizing your different properties cohesively to establish brand governance and promote conversion. This concept should be accounted for in your new email marketing strategy, and email should be thought of as a piece of the puzzle, not an independent effort. Your email campaign will be made that much more effective by coupling it with a social media campaign and promotion on your new website. Utilizing WordPress and Drupal flexible editing features, it is easy to highlight various elements on your new website, such as an event, a featured product, an important message, and so forth. In coordination with a specific campaign, mimic the language and vocabulary used in your email.  Include matching images to create a featured highlight or slider element on your site. The same is true for social media. Coordinate email sends with organic and sponsored posts on various social media channels for the most effective campaign and brand building possible. We recommend coordinating your email schedule with your social media calendar.
Track your campaigns
How did your email do? Can you do something better? The secret to developing the most robust email marketing strategy possible is to analyze and measure your sends and split tests to gain insight into the highest and lowest performant elements. We've provided you with a free excel template for tracking your sends, which includes the following metrics:
1. Total number of emails sent
2. Total number of emails delivered
Of the email addresses included in your list, how many of those successfully landed in an inbox?
3. Total Emails Opened
Of the email addresses successfully delivered to an inbox, how many were opened?
4. Total Clicks
 How many unique individuals clicked any link in your email?
5. Deliverability
The calculation of the number of emails delivered divided by the total number of emails addresses in your list. This gives insight into bounce rate and deliverability issues. A deliverability rate above 95% is the goal.
6. Open Rate
The calculation of the total number of emails opened divided by the total number of emails successfully delivered to inboxes. An open rate of 20% or higher is considered strong and would mean that out of every 10 emails delivered, 2 were actually opened.
7. Click-through Rate
The calculation of the percent of recipients who clicked a link in your email out of the number of total emails opened.
8. Opt Outs
How many people unsubscribed from your email list after receiving this email?
9. Spam Score
How many people marked your email as spam? If you buy marketing lists (which was warned against), your spam score will be significantly higher than if you grow your list organically.
And there you have it.
You are armed with a new website, and now you have the tools you need to develop a fool-proof email marketing strategy.
Need help getting your email marketing strategy started? Our team of email marketers is here to assist you from developing custom templates, to helping you develop a strategic email strategy.
Contact us or tweet us today!