How to write a Website Design RFP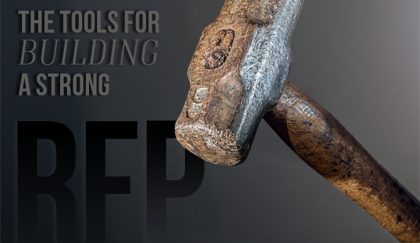 ---
Designing, or redesigning your website is a major undertaking, and you might not even know where or how to start, other than knowing you need to find a capable web agency to carryout the project.
So how do you find that perfect web development team that has a toolbox full of vetted talent and ample relevant experience, who will stick to the budget and deliver your new website within a reasonable timeframe? In a perfect world, you will have a trusted source who "knows just the guy," but, in reality, opening up a Request for Proposals (RFP), will return you with a number of design agencies to choose from. Composing an RFP is not as easy as one might think though, and receiving a written and relevant response is even tougher. At The Web Development Group (WDG), we have passed on responding to dozens of RFPs, simply because they were too broad or full of unrelated buzzwords.
Remember, an RFP is a two-way street, just as you are seeking a web agency that is a good fit, those agencies are looking for reasonable clients, and the best agencies are picky about which requests they respond to. To help you ensure a good response rate, we have broken down the process and crafted a step-by-step guide for attracting the best bidders!
Timeline
In your Request, make sure to include your intended start date in addition to your target launch date. Note if you are open, or intend to complete your project in multiple implementation phases. Denote your RFP deadline, the deadline for questions, and how long you anticipate the selection process to be. Also let vendors know if they can expect to hear back from you, and if you intend to disclose the winning agency, and when.  A web redesign can take 3 to 12 months. Here are examples of typical timeframes :
A "marketing brochure" website with less then 300 pages and straight out-of-the-box WordPress or Drupal features, with limited integration should take 3-4 months.
A mid size web redesign project – an association website or corporate website that requires strategy, stakeholder interviews, KPI planning, custom design tailored to your audience, custom integration with a AMS or CRM systems, content migration (300-1000 articles, PDF's, media) etc., will take between 4-7 months.
We recommend 7-12 months if your requirements require intense research, information architecture, user and stake holder interviews, prototyping, user-testing, multiple decision makers, complex integrations with third-party systems such as SalesForce and multiple data set migrations.
Not sure how long your project will take? Give us a call, we are happy to listen to your needs and desires and give you a realistic timeframe.
Budget
Be open and realistic with your budget. As a rule of thumb, transparency with your budget will give bidders the opportunity to suggest realistic solutions and functionalities that will meet your goals within the means. If you aren't upfront about your financial restrictions, agencies will draw up your dream site, with all the bells and whistles that you might want… but might not be able to afford. Communicate what features are nonnegotiable and must be budgeted for, and what items are desired, but can be compromised if funds don't allow for it.
Request for a pricing grid that shows a breakdown of deliverables, how much each is estimated to cost and an outline of the implementation process. This will give you a succinct point of reference and a clear idea of what cost what. Ask for multiple pricing options or pricing plans that are broken up into phases.
A website redesign can cost anywhere from $5,000 to several millions. With an experienced web design company that only hires senior web developers, here is a quick overview of what to expect: Here's a few examples of budgets for different size sites:
Marketing brochure websites can cost $20,000 to 60,000
Mid-size marketing websites that manages integrations, customers and is the core of the business, $50,000 to 200,000
Large websites that require intense strategic consulting, custom content management system implementations, data migrations, integrations with multiple third-parties can cost $150,000 +.
Getting some expert opinions before hand will help with determining a feasible budget. Shoot us an email if you want to sit down and discuss what your dream site will run you.
Location of an agency
Is it important for you to work with local agencies, or are you willing to expand your geographical range and open up your bid to agencies that are not as close. Things to consider are time zones, how you value in-person meetings or videoconferences and the convenience of email and technology. When designing or redesigning your site, you are embarking on a tight-nit and long-term relationship with your chosen agency, so selecting the right one is critical. It is not unlikely that you will find capable agencies close by, but, if there are more experienced firms outside of your range, you have to weigh location versus past performance.
(WDG is based in DC and we service clients within a radius of 200 miles. If we need to meet, the distance is easily drivable or a quick train rides away. We provide web development services in Virginia, Maryland, Washington DC, New Jersey, New York and North Carolina.
Technology – Open source vs. proprietary
Whether your website is hosted on a proprietary or open source platform will significantly change the route of your project. Ask for details on the direction, implementation and upkeep. A propriety website is built with closed-source technology that you owns and control. You license it and often continually pay for access to it, and that access is quite restricted. With open-source technology, like WordPress or Drupal, your site will be built for within these platforms, and edited via a browser-based dashboard, with possible integrations with different plugins and third-party sources. Most websites today are built with open source technology, and your RFP should ask agencies for specific recommendations for WordPress over Drupal for your specific project, and what their experience is with each.
Although our design team is platform agnostic, our web development team is focused on open source because:
Its community supported (meaning that we have access to thousands of free resources and features)
There is an unlimited amount of documentation available online
The open source platforms are updated frequently (both on features, and security)
The talent pool of developers using WordPress and Drupal is great
Its more affordable to maintain
These platforms are extremely scalable and flexible
WordPress and Drupal require no limitations to design, functionality or integrations with third-party systems
Curious about some of the differences between WordPress and Drupal? Give us a call and schedule a time to sit down with one of our experts.
Past Performance of an Agency
Just like screening potential candidates on job interviews, it is important to request that agencies provide examples of past relevant experience. To received the most pertinent responses, provide vendors with a comprehensive list of A) what your organization sets out to accomplish, B) what your organization does to accomplish these goals, and C) what tools your current site utilizes to aid in these efforts. Providing this breakdown will allow vendors to in turn provide you with contextual experience working in your industry, with business who maintain similar goals to your own, and examples of the unique solutions implemented to achieve them. Ask for responses that address your particular needs and illustrate different approaches, so you can best determine which vendor has the deepest breadth of experience that aligns your goals, desires and necessities.
Requirements
In order to receive the most relevant examples of an agency's past performance, list out your requirements in detail. Your RFP should request responses that go into detail on experience and suggestions for:
Methods of Implementation
Integration
Data Migration
Deployment
Post launch services like inbound marketing, email marketing, content editing/writing, social media management, virtual reality and experiential marketing
---
Many RFPs ask for anything and everything…
but fail to request the aforementioned, or points that truly relate to the project at hand. We've broken down some common elements that you can leave out as you compose your requests for proposals.
Requesting spec work
Creating mock-ups and spec work is extremely time consuming, and are essentially shots in the dark at the RFP stage. You can easily gauge and agency's design aesthetics and experience by taking a look at their portfolio and past work. Requesting custom specs might persuade a busy agency to not bid on your RFP, and, even if designs are submitted, they will undoubtedly change substantially and the project is underway.
Closed communication and not accepting phone calls or intro meetings
The relationship between a vendor and client plays a crucial role in the success of a website design project, and having meetings and phone calls can offer a glimpse into the kind of client support and relationship offered by an agency.
Asking for more then 3 references
References can offer a first-hand account of an agency's work, timeliness and client relations, but to save time all around, this step can be taken after the first round of selections and not in the initial RFP. In addition to interviewing 3 references, more importantly, review an agency's case studies.
---
How do you find agencies to Your RFP to?
Ask Google: We know we might be stating the obvious here, but, there is no better way to seek out capable and talented agencies than to firstly see their own SEO in action, and also, to look at their own site. Here are examples keywords:
Web development companies in DC
Web Development Groups
WordPress development companies in DC
Drupal development companies in DC
The Web Development Group is here and happy to help you get started on your next RFP, or assist you in composing it from start to finish (or we can send you examples of good RFPs that we have received). Drop us a line  and let us know how we can help!