Design
The aim was to create a modern and stylish website design while keeping the user navigation very intuitive. The site design was focused on making the user's experience as simple as possible when it came to find a favorite program and showcase MHz's catalog of videos and live streaming.
Core design choices such as layout, typography, and color palette were chosen to provide the client with a fresh design with a strong visually pleasing impact. The corporate identity colors supplied were black, white, and gray. We were able to give them creative insights to why additional colors will work best in order to communicate their brand goals. The white space on the homepage keep the site clean and attractive, whereas the video playback is dark to give it a theater effet focusing your attention to the video. The website is also responsive for mobile devices.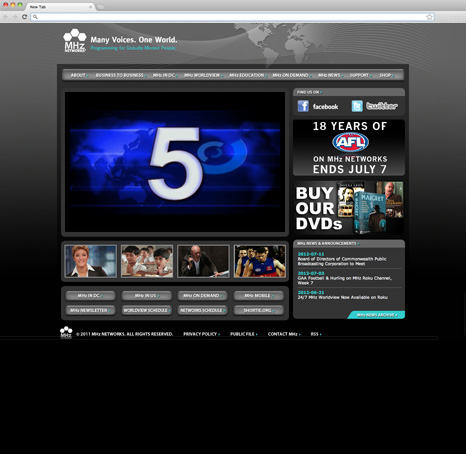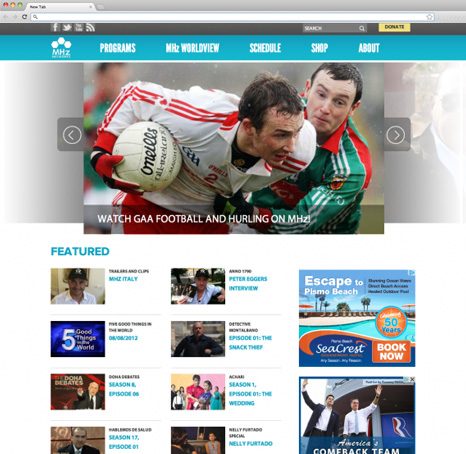 Development
Drupal 7 was chosen as the appropriate CMS for MHz Networks. The primary reason for this is Drupal's longstanding, solid, relationship with Brightcove (the leading online video platform). The Brightcove integration on Drupal allows for complete control over the settings of each video. If a video is uploaded to MHz Networks and it is intended to be private or only viewed via a login feature; that can be easily accomplished. Another reason why Drupal was the chosen CMS was the ability that the web administrators have in controlling all content and how it is displayed on the site. Drupal's node queue has a drag and drop interface that allows you to manipulate content. The strong integration between node queue and Drupal's taxonomy is seen in content tagging. Whenever content (in this case videos) is uploaded to the website, it is tagged and then automatically sorted and added to the appropriate pages. Finally, Drupal was the right fit because of the large amounts of customization this site required. Many of the pages were built from scratch and although this can be done on other CMS's, it is expected on Drupal.
The site was built in two phases. The first phase focused on providing video integration and live streaming to MHzNetworks.org. The second phase began to move the organization in the direction of being a global news source with a new layout that is clean. The new slideshow does not require high quality images (although those are recommended) making it easier for the site to be updated.
MHz is a responsive design meaning that all images are automatically resized for the screen it is being viewed on. The responsive design is also meant to promoted the MHz Networks' app. As the screen is resized, buttons for the mobile app and the Google play appear on the top of the screen. As a fluid responsive design, the images are based on percentage and the space between the objects change as well as the size of the objects. Check it out!