We help you expand the reach of your digital fingerprint
by building beautiful web experiences.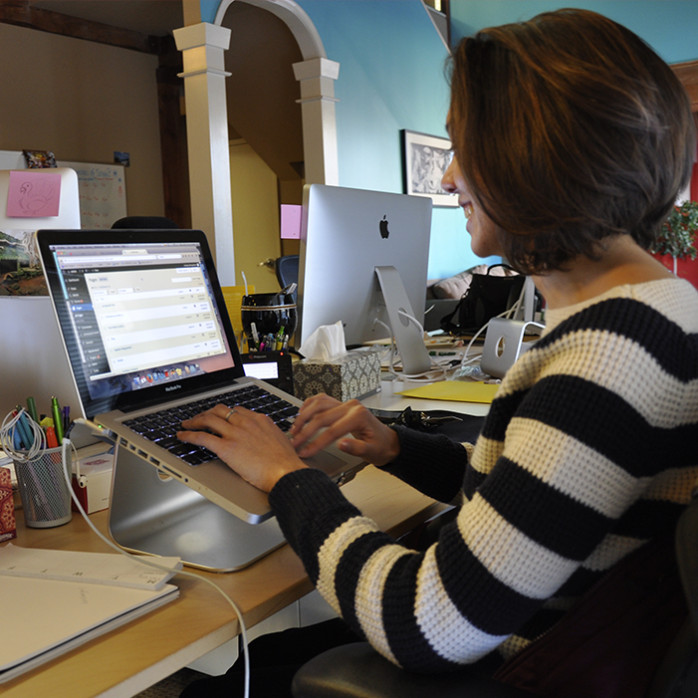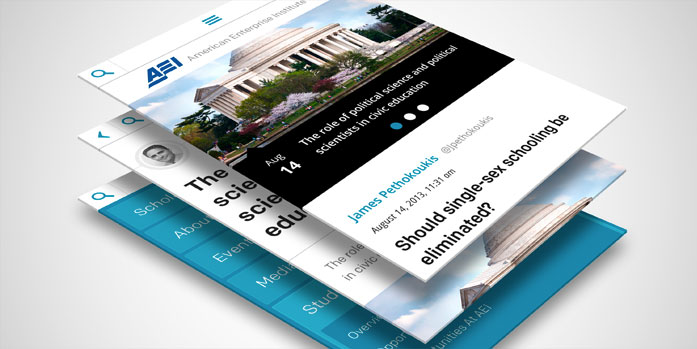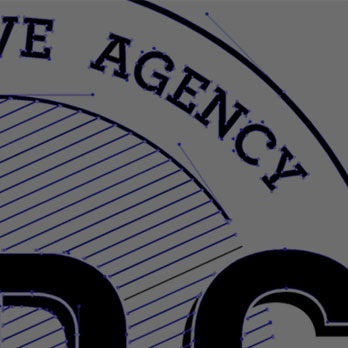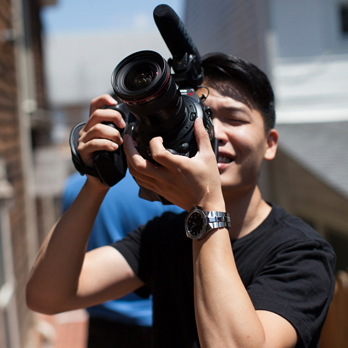 Research
We are digital problem-solvers. But no challenge can be taken on without thorough research.
To validate our decisions, our strategists first conduct research with analytic reviews, competitive analyses, stakeholder interviews, and user testing sessions.
Through research, we uncover valuable insights into how we can address your needs effectively. We collaborate with you to analyze current pain points, strategize compelling solutions, and make technical recommendations.
Business Objectives
Your objectives are important to us. Iterative working sessions give us insight into understanding and actualizing your business's online goals.
Working sessions help us fully understand your business goals, your key performance indicators, and how you plan on measuring performance of the improved interface.
User Research
The flow and function of your website depends on the needs of your audience. Discovering those requirements is essential. We help you to identify with your audiences using proto-persona exercises.
Proto-personas facilitate a user-centered mindset for all involved in the project. Internal stakeholders are given a deeper insight into understanding targeted audiences, and discovering new ones.
The result is a consistent focus on the end-user to ensure optimal user experience.
Competitive Analysis
We assess your competitors thoroughly. Every insight obtained and every weakness accounted for by analyzing how your competitors structure their content will advance our process of strategizing you a proven, but provocative, solution.
Usability Audit
A thorough assessment of what does and what does not function on your existing website helps us determine the ideal solution for your brand.
Stakeholder Interviews
Dissecting stakeholder expectations helps our strategists better understand business goals and audience motivations, and allows our team to craft the best user experience for you.
We work directly with you to understand expectations and goals of all the involved stakeholders to better your project end-goals.
Content Audit
Before drafting recommendations, we evaluate the current content structure to understand how it connects to each individual element. Content review requires input, which is acquired through in-person and virtual stakeholder interviews.
Analytics and Data Review
We analyze trends, identify user flows, and take note of all the strengths and weaknesses within your existing website.
Usability Testing
If a website does not solve user needs, it cannot be effective. Usability testing and user feedback help us investigate, down to the finest detail, what your users are looking for using interviews, surveys, and other user tests.


Strategy
Beautiful design incorporates the best of evolving technical capabilities with your industry's standards. Understanding both helps uncover the perfect online solution for the digital sphere.
Information Architecture
Nothing is more damaging than a confusing user flow. Information architecture structures the presentation of your content and information from a user's point-of-view so their experience remains as streamlined as possible.
We help produce and define navigation elements, including taxonomies, levels, types, and landing pages.
User Experience
A clear user experience is like a digital piece of machinery, ensuring that all aspects of utility work together to benefit the user. Website usability is always our ultimate priority. We guarantee to deliver your users a flawless experience every step of the way on a range of devices and browsers.
Taxonomy Structure
We organize content into sound taxonomies to ensure your navigation's structure is intuitive and globally accessible.
Content Strategy
Having a durable content strategy is essential. We help you plan, create, and deliver meaningful content to connect and engage your audiences with.
Content Hierarchy
With a site structure in place, we identify where content will live on each page in order of significance.
Project Management
Our experienced and reliable project management team have worked directly with some of the largest brands out there, ensuring all assets are delivered and milestones are met. From start to completion, you can feel confident your new website will be implemented in a professional and timely manner.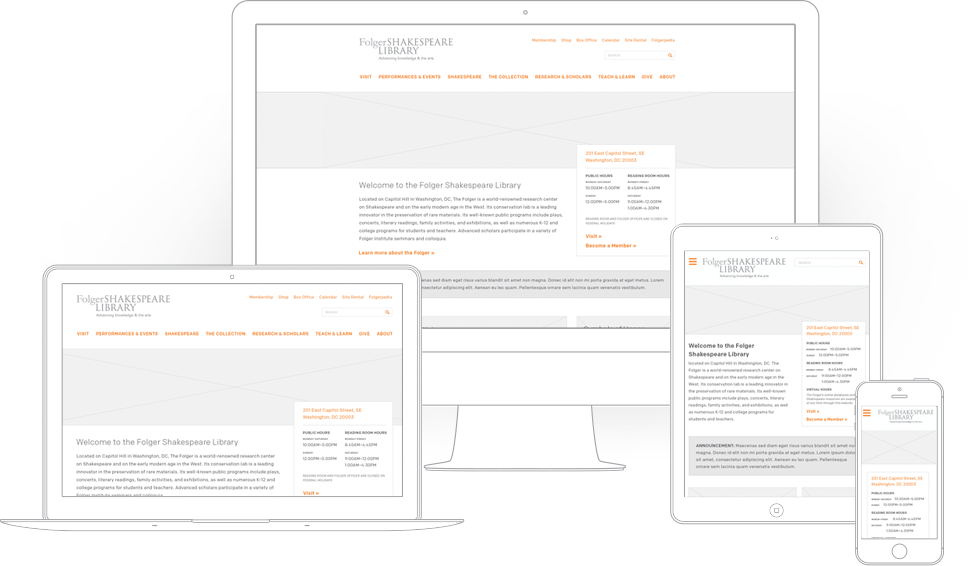 Creative
We create superior interfaces to help you make meaningful connections with your audience. Our digital solutions set your brand apart from the competition.
Wireframes
The visual design process begins with creating wireframes, which are foundational blueprints of your improved website. Wireframes help establish ideal user interfaces that break down for three screen sizes, including desktop, tablet, and mobile.
Wireframes lack design elements, and instead focus on functionality, behavior, and priority of content. These blueprints focus on overall screen experience, not necessarily on visual design.
Creative Direction and Interface Design
Elevating the approved wireframes into aesthetically stunning solutions will bring your website to life with custom-tailored user interface design concepts.
Our experienced visual designers work with you to identify a design direction that will best highlight your brand in a functional, engaging way. We focus on highlighting all experiences—from desktop to mobile—to guarantee the design is beautiful and accessible.
Illustration and Data Visualization
Transforming dense information into visually captivating images makes it easier for your audience to digest large amounts of content.  These can be in form of basic infographics with a few data points to complex infographics with hundreds of different and unique data points.
Photography and Videography
Incorporating custom photography and videography communicates sincerity and trust between you and your audience. We can deploy a team of skilled photographers and videographers for onsite- or location-based shooting sessions. We also provide full editing capabilities.

Development
Our knowledgeable website development team comes from diverse backgrounds and are well-equipped to provide custom programming services that guarantee code and website longevity.
Specializing in back-end and front-end development, our developers can build sturdy design prototypes, whether they are designed by your internal team or our own.
CMS Integration
As a website development firm, we leverage the agility and strength of open source technology, WordPress and Drupal, to build stable and scalable solutions.
Our preferred open source platforms can be used for projects ranging from micro-sites to large, complex websites with thousands of articles and integrations.
WordPress
WordPress is a minimalistic but highly robust content management system, making it the ideal platform for content-heavy websites.
Its easy-to-understand visual editor makes formatting content a simple task, while simultaneously ensuring content is easily indexed and read by various search engines. WordPress can handle various types of websites, especially when expertly integrated with third-party systems.
Our WordPress website development team can build and deploy custom WordPress platforms to help grow your digital reach.
Drupal
Drupal continues to grow as one of the most popular and powerful open source content management systems available.
Supported by an extensive community of developers, improvements and updates are constantly released to both the core and contributed modules on Drupal. In addition to its functionality, our Drupal development firm can customize this sturdy platform to meet your needs, using one of the many agile themes.
AMS and CRM Integration
Integration to an association management system guarantees your website's security while you populate your databases with member information.
The Web Development Group's proven record of successful AMS integrations include work with Avectra netForum, Euclid ClearVantage, Salesforce, and Breakeven.
Search Integration
As website content management systems, both WordPress and Drupal include powerful search functions that allow users to search and filter for content easily.
For additional solutions, The Web Development Group can configure search integrations—Elasticsearch, Solr, and Google CSE—for enhanced search user experience.
Data Migration
Whether you have a hundred pieces of content or 500,000, we can seamlessly migrate your valuable data onto any content management system. We have migrated large databases from different systems into WordPress and Drupal.
Support
Our website development team will work with you directly to answer all of your post-deployment requests so you understand precisely how your new website functions.  We offer different support and retainer packages and can be used for maintenance, helpdesk or additional new design, development services.
Let's build something together.