TITLE:
Designing & Developing for a Cause
---
PROJECT OVERVIEW:
DC Diaper Bank was a participant in CreateathonDC 2012. As one of the selected nonprofits, they received a new web presence in 72 hours from a team of dedicated volunteers from the DC area. The purpose of the new website was to help DC Diaper Bank push out their message and built credibility as a nonprofit.
Measured results (Nov 2011 V Nov 2012):
Visits: 121.33% increase
Unique Visitors: 100.00% increase
Pageviews: 103.01% increase
Average Visit Duration: 22.92% increase
Featured on WordPress Showcase.
CLIENT:
DC Diaper Bank
Launch Site
Design
The clients specifically requested that the site didn't feel overly "babyish". As a result, we were sure to stay away from too many pinks and light blues. The site is beige with green and blue accents throughout. The large slideshow on the homepage combined with the counter create a dynamic site that draw audience members in.
The site comes complete with two infographics that were designed during CreateathonDC. They also received a toolkit (a custom-designed hand-out that promotes the organization and can be edited for different functions) and Facebook/Twitter branding. All of which works off of the website design and color-palette.
highlights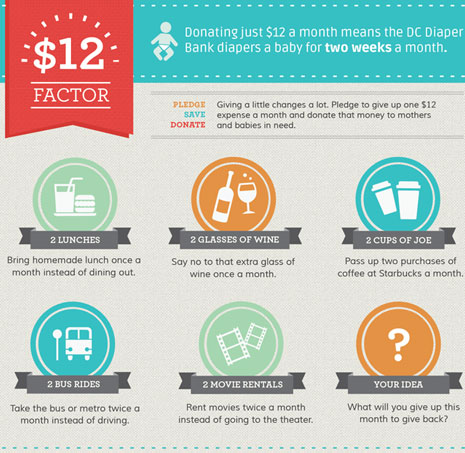 Technology
WordPress was the chosen CMS because of how easy it is for the site admins to update. As a nonprofit, DC Diaper Bank would rather not put their time or funds into a complicated site that is difficult to maintain. A custom built WordPress site offered the perfect solution. To make the site dynamic, a custom javascript counter was built. This feature appears to count the number of diapers donated in a realistic way. It increases at different rates while the user is on the site.
The site also comes complete with a fluid responsive design. The Web Development Group has a mobile first approach with all the websites we build. This means we always encourage our clients to consider a responsive design for their website. With DC Diaper Bank, the choice to build a corresponding responsive design was clear. One of the important features of the site is a map that shows drop off and pick up locations for diapers. The development team thought it was important to have this feature accessible on a mobile device.
highlights